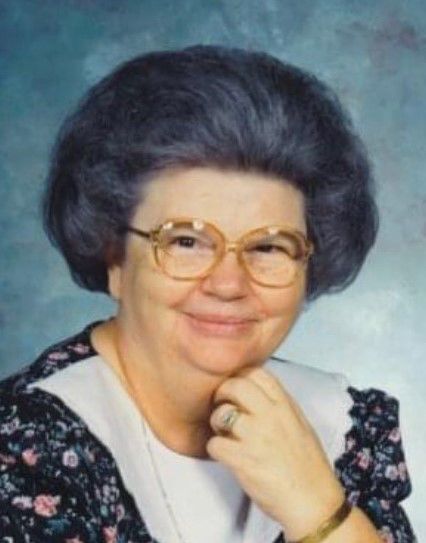 SMOAKS --Barbara Ellen Mitchum Hucks, 86, of Smoaks, passed away on Monday, May 3, 2021. She was the wife of the Rev. John Thomas Hucks.
Funeral services will be 3 p.m. Wednesday, May 5, at Harleyville Southern Methodist Church, with visitation in the church one hour before the service. The committal service will follow at 5 p.m. at the Spell Family Cemetery, 6624 Augusta Highway (Highway 61), Smoaks. Services will be led by the Rev. Haskell Parler, assisted by the Rev. Damon Williams, the Rev. Bruce Scott and the Rev. Chris Sweatman.
"Miss" Barbara was born Aug. 23, 1934, in Vance, the daughter of the late Theodore Peter Mitchum and the late Mary Magnolia Avinger Mitchum. She was a pastor's wife and teacherusicianhurch worker at several Southern Methodist churches, including the SMC of Summerton, Hilda SMC, Ehrhardt SMC, Harleyville SMC and Rocky Swamp SMC. She was a past WMS district president and also a past local chapter president of the Woodmen of the World. She was a graduate of Holly Hill High School and attended Orangeburg School of Nursing. She was a homemaker and worked in various ministries, including Foundry Press Christian Bookstore and Southern Methodist College,
Survivors include her husband of 65 years, John T. Hucks of Smoaks; sons, John Theodore Hucks (Sarah Lea) of Orangeburg, and Thomas Harry Hucks (Gwen) of Smoaks; daughters. Kathy Lynn Hucks Davis (Kenny) of Orangeburg and Patricia Ellen Hucks of Smoaks; six grandchildren, Ellen Renee Hucks of Orangeburg, Rachel Hucks Carter (Jamie) of Orangeburg, Hannah Kathleen Hucks of Columbia, Katelyn Hucks McCoy (Matt) of Smoaks, Melody Hucks Peters (Khyle) of Greenville, and John Thomas Hucks II of Smoaks. She is also survived by cousins, nieces, nephews and many Christian friends. A special thank you to her caregivers, Mrs. Teresa McCutcheon and Mrs. Tina Blair.
Memorials may be made to Southern Methodist Missions or Southern Methodist College at 541 Broughton St., Orangeburg, SC 29115.