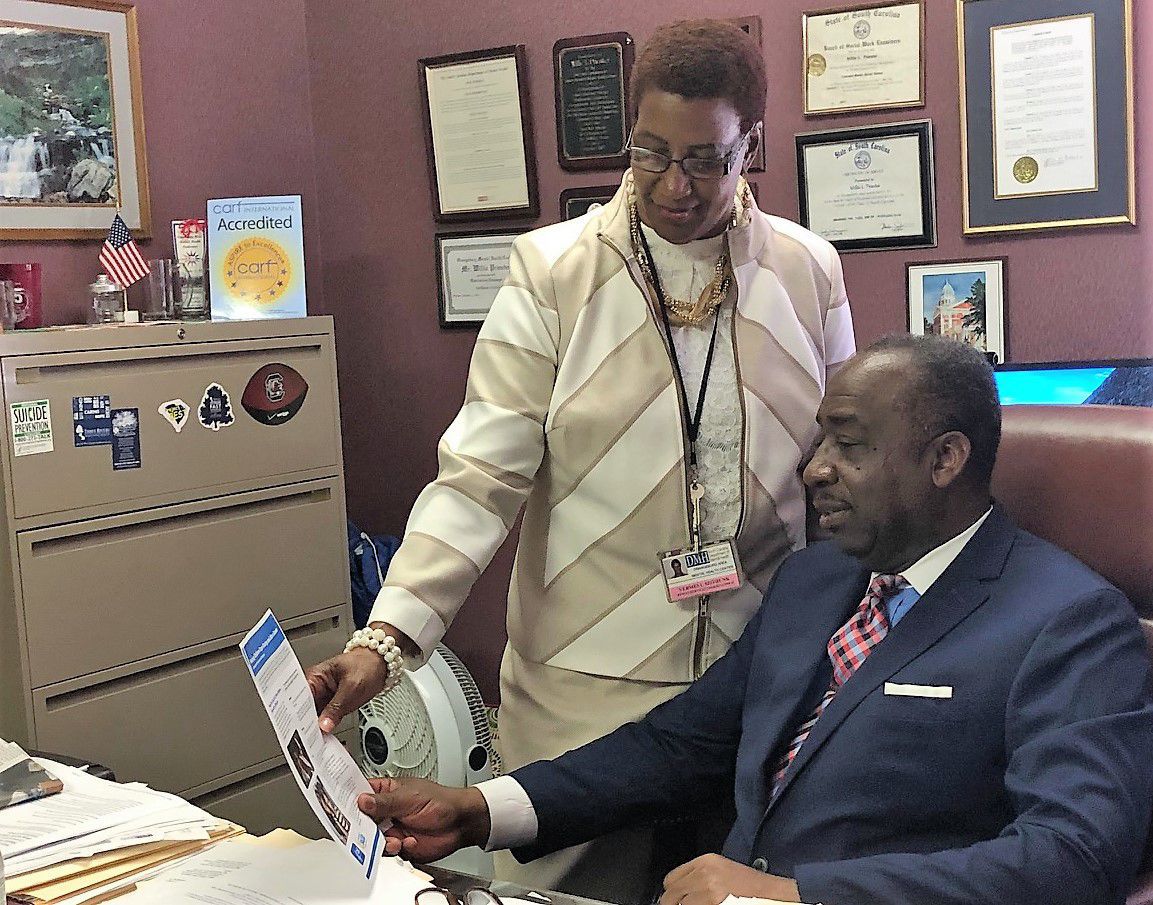 As concerns over the coronavirus reshape daily life, mental health officials are urging calm.
"I think people have to keep things in perspective. It's very difficult because, for most people, this is the first time in our generation we have ever experienced anything of this magnitude in America. We've read and heard about pandemics and epidemics, but never has it hit so closely to home as this," said Willie Priester, executive director of the Orangeburg Area Mental Health Center.
"We've never had to adjust the way we do business or adjust our daily lives like we have with this -- and this is just seemingly the beginning for us. So this is very different, but I think that we have to try to stay calm," Priester said.
"I think we have to do things to somewhat take our mind away from it 24-7. One of the things that makes people more anxious is when they turn the TV on and they watch it for hours. They become more anxious by watching it. I think you have to do some things ... like walking or watching a movie -- and not a scary movie or one about pandemics," Priester said.
With sports tournaments and other activities cancelled, Priester said there are other options.
"You may have to watch some nostalgic sports from the '70s, '80s, '90s. Do some different things that are going to help you to not just survive this, but thrive. If you allow this to just commandeer your mind, it makes it very hard to function and do anything," Priester said.
Staying healthy physically also plays into good mental health, he said.
"I don't think that we need to give up our health at a time like this. We need to eat healthy, we need to exercise, we need to spend quality time with family. We can't congregate in these large settings like we used to because it's somewhat dangerous in a sense, but there are things we can do," he said.
At what point may talking to a licensed counselor or therapist be necessary?
"When you can't function normally, or when it's actually gotten to the point that it's totally consuming. You don't even care for the daily activities that you used to enjoy, or if it causes you to overindulge in alcohol or drugs," Priester said.
If an individual is sleeping too much or too little, becoming aggressive, having thoughts of harming themselves of others, those are other indicators that professional help may be needed, the executive director said.
Working from home may also present its own set of challenges, he said, including finding ways to stay focused.
"We have to take breaks. We have to walk outside, we have to maybe walk around the house. You've got to do something to not have you so consumed by what we're experiencing," Priester said.
He said the coronavirus pandemic has presented unusual challenges.
"It's the enemy that you can't see. I think that that's probably more difficult than anything else. It's the kind of thing that really could cause people to go off the deep end if they're not mindful of what they're doing," Priester said.
Vermell Sistrunk, OAMHC's director of adult emergency services, said Orangeburg County participates in a Community Crisis Response and Intervention program.
Under the South Carolina Department of Mental Health program, anyone experiencing a mental health crisis, or who knows someone experiencing a mental health crisis, can call a toll-free number at 833-364-2274.
"If they feel overwhelmed and it's an emergency, they can call that line and talk to someone during the day, night, or on weekends or holidays. We have a way to reach out to those people and talk to them about how to de-stress. We use cognitive behavior therapy, which teaches about the mind, focusing the mind, relaxation techniques, to help them so they can maintain as best as possible," Sistrunk said.
Priester said children also need to be reassured during a time when many may be longing for the social interaction they once had with friends and others in school.
He said children should be reassured that they will be taken care of.
"Assure kids that you're going to keep them safe and that you're going to be reviewing disaster plans so that they can understand if something happens, that it's going to be OK," Priester said.
He added, "Parents have to stay calm and be reassuring. Parents can't be on the deep end and expect their kids to be normal. Kids are going to ask lots of questions. Answer them as truthfully as you can without panicking. I think that's a big part of it."
Talking to children on their level also helps, he said.
"You can't talk about stuff that you would talk about in graduate school to a kid who's 8 years old. That's just not going to work. You might scare them even more. Parents also have to be very mindful of what their kids are watching on TV and what they're doing on social media," he said, noting that that brings its own set of problems.
"All of these things can cause kids to get more anxious. I think we have to be very careful that when we do talk to them, that we don't let other things infiltrate their minds so deeply that everything you've said goes to waste," Priester said.
He said the fruitful use of social media includes using it to connect children with activities and friends online.
"You can have them play games together. If they're young children, you could have them do art and stuff together. I think that's very easy to do. You could have them do things where they could still connect with each other. I think if it's monitored by parents, it makes it much easier for them to still stay in touch," Priester said.
The executive director said keeping kids calm and structured requires more than just one conversation.
"I think that we have to have multiple and continuous conversations with the kids to reassure them that it's OK, that they're going to be safe, that you're going to be there for them, and that they're going to be able to manage to get through this."
Sistrunk said children need structure.
She added, "As long as they know that they have structure, they feel safe. You want them to feel secure. Basically continue with a regular routine and answer questions at a level that they can understand."
Concerned about COVID-19?
Sign up now to get the most recent coronavirus headlines and other important local and national news sent to your email inbox daily.