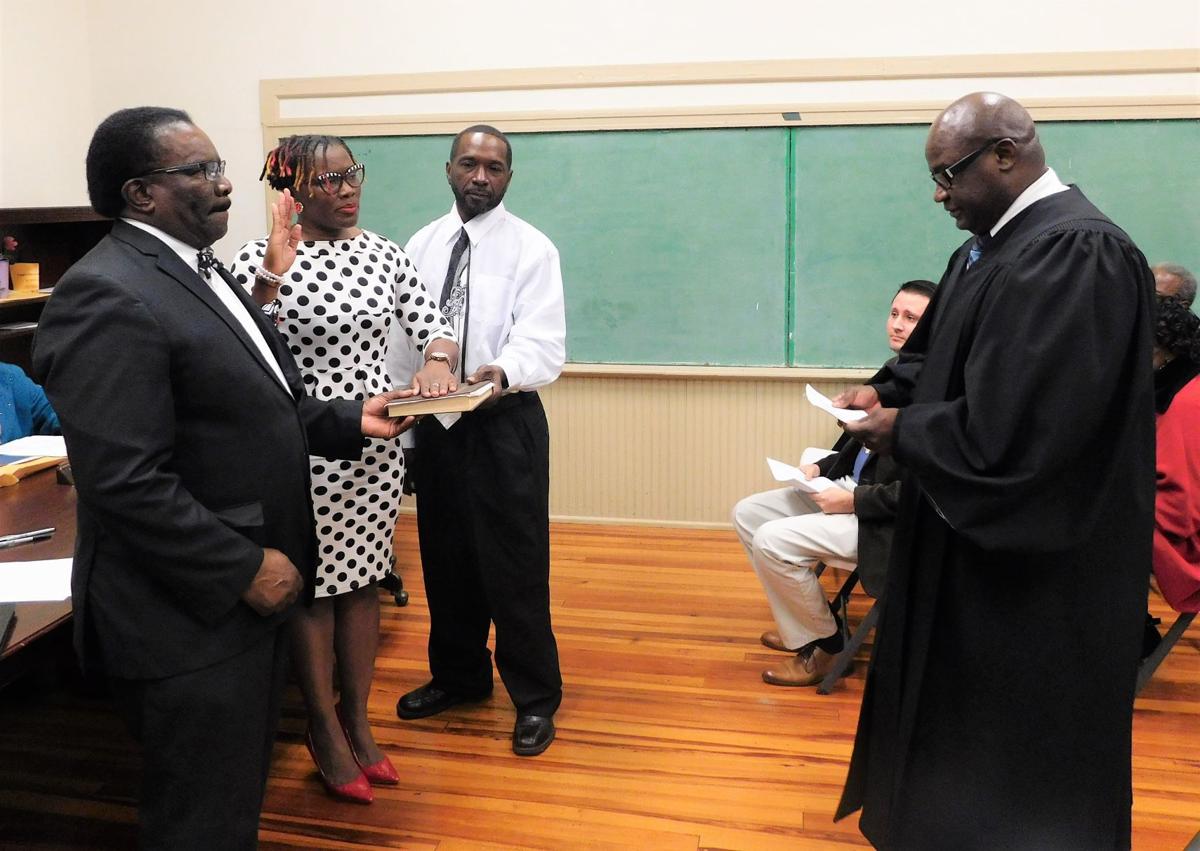 NORWAY – More than 50 citizens, officers and dignitaries spilled into the hallway as Norway Town Council chambers became standing room only during the swearing in of the new mayor and tow councilmen.
New Norway mayor Tracie Clemons, new Councilman Travis Golden and incumbent Councilman Greg Covington took the oath of office from Orangeburg County Chief Magistrate Derrick F. Dash at the January meeting.
Springfield Mayor Edward Furtick, his wife, and the town's police chief and officers came to show their support.
Before the ceremony, outgoing mayor Ann Johnson said, "I want to thank everybody who supported me during my seven years as mayor."
After being sworn in, Clemons thanked the citizens for attending and for electing her.
"We trust that together we can forge a bright future for this town," she said.
She thanked Johnson for the work she had done.
Clemons said, "We must crawl before we can walk … With great privilege comes great responsibility … Together, we can beautify our neighborhoods. Together, we can improve our parks and recreation. Together, we can create a sense of respect."
She stated that in the coming weeks, she will be laying out a broader vision for the town.
"Let's find that common ground for the sake of our town," Clemons said. "We will not always agree ... I will not be able to please everybody … Let us remember to put Norway first above agendas, politics and self-serving ideas.
"There is our way, and it is Norway."
• Council entered closed executive session to discuss a personnel issue. Upon return to session, council agreed to hire a new administrative assistant for the pay rate of $10 per hour to replace an administrative assistant who resigned effective Dec. 31.
• Clemons asked for a motion to hire an interim police chief in the absence of Chief Scott Ward, to look into into releasing an officer and getting a replacement from the Orangeburg County Sheriff's Office, and to look at changing from day court to night court and a potentially having a new magistrate judge for that. Council approved the motion.
• Clemons also asked for a motion to look at water bill accounts that are behind three months and enforcing disconnection of those that are three months past due after giving residents 30 days' notice. Council approved the motion.
• Council approved motions to designate Councilwoman Bonnie Fogle as mayor pro tem, Dee Gore as municipal clerk and treasurer, Covington as police commissioner, and Golden as water and waste water commissioner.
• Special meetings in 2020 include Jan. 11, March 23, June 22 and Sept. 28. The Jan. 11 meeting will be held at 9 a.m. The others will be held at 7 p.m. These are in addition to regular council meeting.
• Clemons said she is extending the town hall's Friday business hours so that people can conduct business with the town after work. The town hall will now be open from 8 a.m.-5:30 p.m. on Fridays. It will continue to be open Monday through Thursday from 8 a.m.-3:30 p.m. She said that her office hours will be Thursdays from 5 p.m.-7 p.m., subject to change, and Fridays from 7 a.m.-5:30 p.m.
Get local news delivered to your inbox!
Subscribe to our Daily Headlines newsletter.