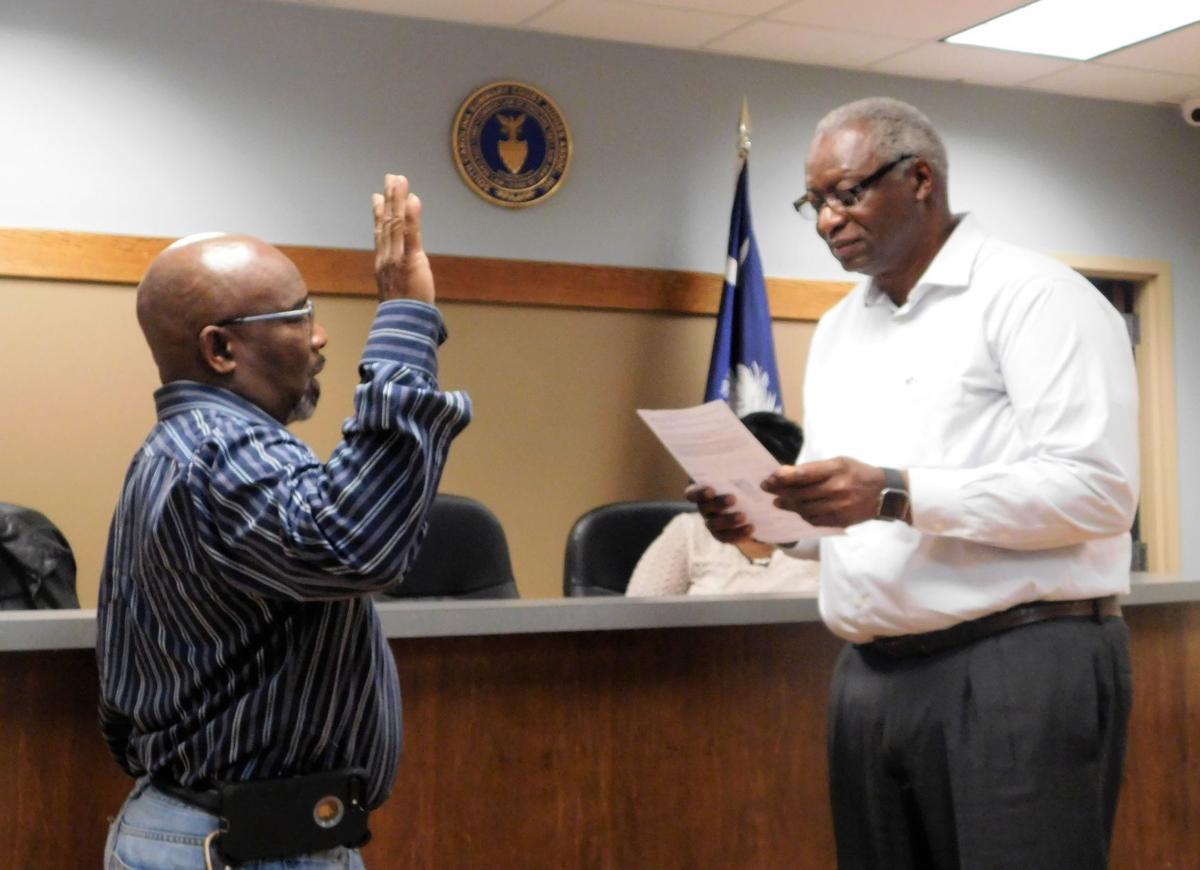 NORTH – Daniel Jackson was sworn in as a councilman by North Mayor Julius Jones at February's town council meeting after being selected in a special election.
Jackson has served in that role previously in North.
Jones said Wanda Whetstone, who was also elected in the special election, was not present and would be sworn in during the March meeting.
Jones mentioned that the town needs a volunteer for the Election Commission.
Councilwoman Jennifer Williams spoke of grant initiatives on which she has made some progress.
"On Jan. 23, I met with a grant writer from Aiken. She was amazed at how North was a nice place with great potential."
Williams said she discussed two proposals with the grant write, including a historical visitors' center and a wellness center. She said that this is a long-term process that can be done for the town.
"I was able to go to Aiken to see their Railroad Visitors Center. They went from the baby stage to where they are now," she said.
Williams said that the first piece of advice she obtained from the grant writer was to get a community board in place. She said she he would be looking for people in the community to serve on the board.
"North has so much history behind it. With the railroad coming through, I was talking about purchasing part of a train, a railcar or caboose," she said.
She said she also spoke with a grant writer from Orangeburg and was referred to an individual who does heritage grants for groups trying to start a visitors' center.
"We as a community here in North are open to ideas," she said.
Charlie Barrineau, field representative with the Municipal Association of South Carolina, spoke about potential changes in business license taxes.
"North has adopted our standard recommendations for business licenses," Barrineau said. "The business license tax is a privilege tax. It is 20-30 percent or more of your (the town's) revenue."
He mentioned that the S.C. House of Representatives wants to move billing from net to gross and that the Municipal Association is opposed to this move.
In the police report, Chief Lin Shirer said that an adult at Dover Elementary School was arrested for unlawful conduct toward a child. On a separate note, he said that this past Friday at North Middle-High School, there was an assault on a student, and two juveniles were arrested for assault and battery.
Shirer also said that law enforcement was recently advised of a pistol outside of a recent ballgame, and the individual was arrested and also possessed marijuana.
He mentioned that the owner of the NAPA building in town has recently had his or her property condemned, that the building is being inspected for asbestos, and it could take as long as a year to be torn down.
Shirer said that his department presented 54 cases in North Municipal Court for December and 63 cases for January. There were 26 incident reports in December of last year and 31 by Jan. 20. Officers worked four vehicle accidents.
Police arrested five defendants and obtained four arrest warrants in December and arrested two defendants and obtained two arrest warrants in January. The department will be conducting traffic checkpoints during the next 30 days, he said.
Jones noted that business license renewal fees are due to the town by the end of March. He also noted that the new North Branch of the Orangeburg County Library is slated to open in April. He said that the U.S. Census will begin April 1, and the town is asking people to participate and spread the word. He also said that Southeast Housing and Development is seeking tenants.