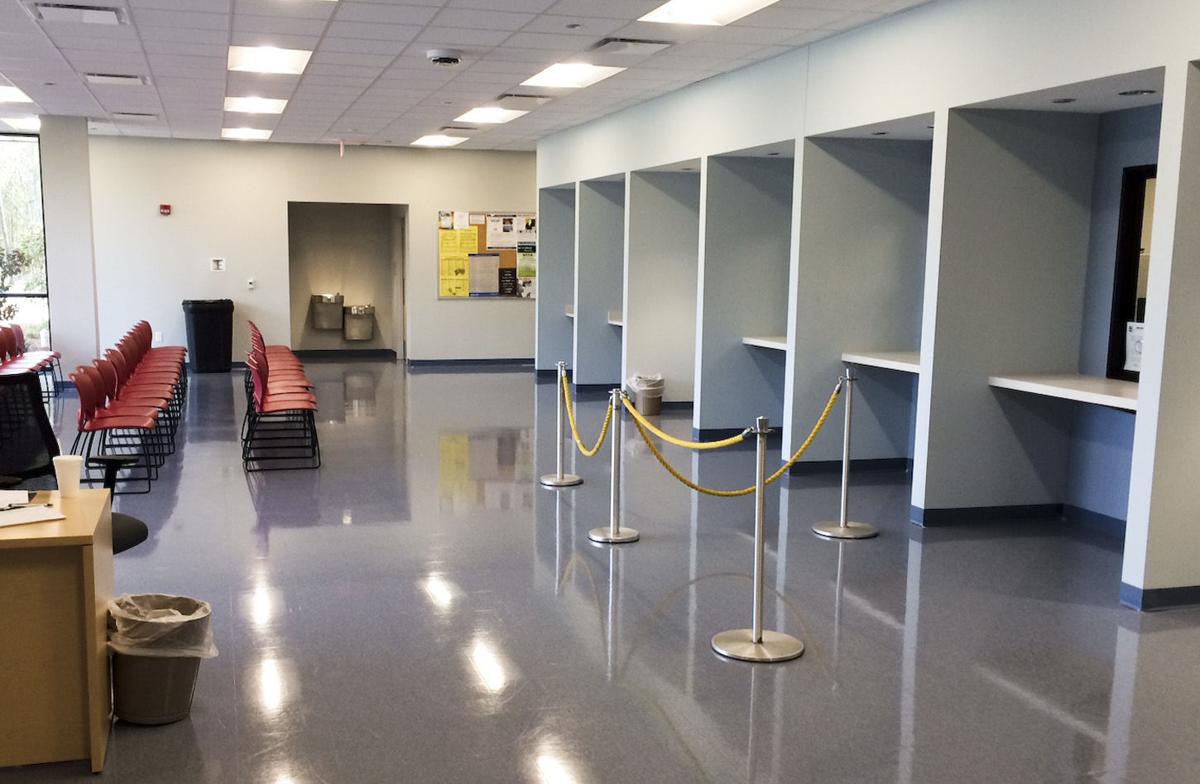 The new Orangeburg County Department of Social Services building is open for business.
The new single-story 30,000-square feet DSS building, located near The Technology Center on Magnolia Street, opened its doors Feb. 11.
A grand opening and ribbon cutting is tentatively scheduled for April, though an exact date has yet to be finalized.
"The new location was greatly needed as the old facility was outdated and had more than served its purpose through the years," Orangeburg County DSS Director Brian Gotses said. "This new facility is an outstanding resource for Orangeburg County and brings the agency into the present."
Gotses said the new building is a win for employees and customers.
"They (employees) now have an updated and professional atmosphere to serve the community," Gotses said. "Most importantly, I am happy for those that we do serve that they now have a comfortable and welcoming setting to come into to have their needs met. We are very grateful to the county for making this possible."
Currently, the building is open from 8:30 a.m. to 5 p.m. Monday through Friday.
The building, which was designed by Columbia-based Studio 2LR Inc., includes several Department of Health and Human Services and economic services interview rooms, job development space, two visiting rooms, an observation room and a board room.
The contractor for the project was O'Cain Construction.
"We are pleased," Orangeburg County Administrator Harold Young said. "It definitely turned a bad situation into a good one. They were working in substandard conditions. We felt like we could do better as a county and County Council stepped up to the plate."
Young touted the new DSS building as providing more security to families and children going through the child welfare and foster care systems than the former facility on St. Matthews Road.
The new DSS building also has a number of windows, unlike the former DSS building on St. Matthews Road, which was formerly warehouse space.
"That building will serve us for a lot of years to come and we wanted to give citizens what their tax dollars deserved," Young said.
The county will lease the $5.6 million DSS building initially from North Carolina-based Piedmont Companies Inc. and will pay for it later when the proceeds come in from the next round of the 1 percent capital projects sales tax.
Ground was broken on the building in July 2017 and occupancy of the building was anticipated by the late summer or early fall of 2018. The opening was delayed until winter of 2019.
A new DSS building has been a priority of the county for quite some time.
The S.C. Department of Health and Human Services issued a report in 2014 citing a number of problems at the St. Matthews Road facility.
The report said the building had interior and exterior problems, including malfunctioning heating, ventilation and air-conditioning units.
In addition to DSS, the St. Matthews Road building also houses the Orangeburg County Council on Aging and Senior Catering, with the rear of the building currently being leased by Kimlor Mills Inc. as warehouse space.
"We are looking at potential properties for the Council on Aging," Young said. "We are doing a facility study to see how much room they need."
Young said council wants to do it right and will strive to "phase it into the budget and not cause any additional millage increase."
As for the building itself, Young said, "we are looking around and have to study and figure out the best use of that building if it can be used at all."
Young said Kimlor Mills will continue to maintain its plant at the site.
For more information about Orangeburg County DSS, call 803-531-3101.