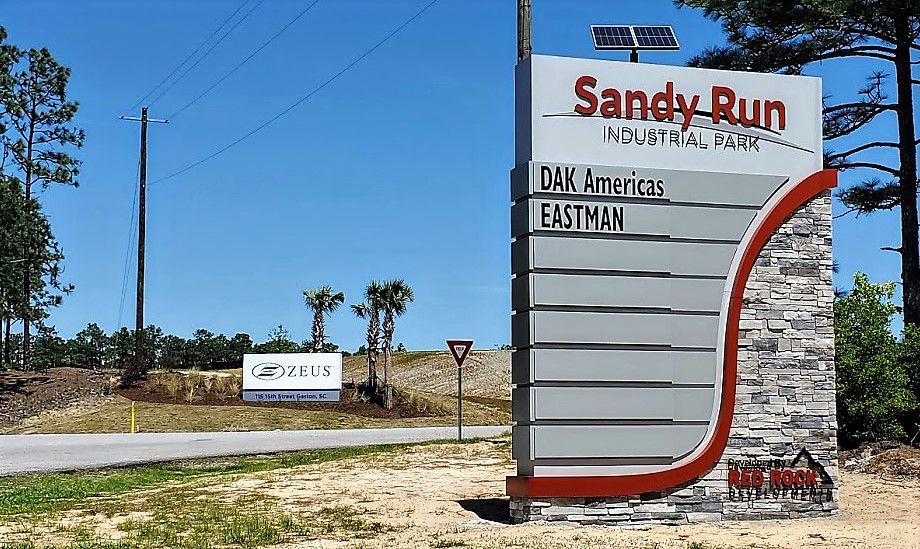 SANDY RUN -- A 761-acre industrial park is under development in the Sandy Run area.
The park straddles land at the Lexington County-Calhoun County line. It is already home to a new Zeus Industrial Products plant.
"Even as we deal with the severe but temporary measures related to the coronavirus, Calhoun County looks forward to the great potential of the development in Sandy Run Industrial Park once the virus is no longer a threat," Calhoun County Councilman John Nelson said.
"The future assembly of industry in this park will complement the new Zeus plant, a state-of-the-art facility providing high-paying jobs and significant tax base to Calhoun County," he said.
Red Rock Developments and NAI Columbia announced this week they are developing the park. Other investors include Calhoun Land Investors and Alliance Consulting Engineering.
The park is located off of U.S. Highway 21 on Interstate 26 (Exit 119) near the DAK Americas property, which was formerly home to Carolina Eastman.
About 580 of the 761 acres is developable, according to Calhoun County Administrator and Director of Economic Development John McLauchlin.
"This investment is a testament to our location, skilled workforce and pro-business environment," McLauchlin said.
The park has been entirely privately funded.
"We are assisting in the future some with funding," McLauchlin said.
McLauchlin said the park received some interest before the COVID-19 pandemic.
"It is fully served on the interstate and it has the Columbia market we can capture from a labor standpoint and livability standpoint," McLauchlin said. "Once the economy gets back going, I think the park will take off."
The park has access to all utilities, Interstate 77 and Interstate 20.
Red Rock Developments plans to complete over 5.9 million square feet of "Class A" industrial space in the park. "Class A" industrial space represents the newest and highest-quality buildings and infrastructure.
"The park is near the Charleston port, Volvo's new manufacturing facility in the Lowcountry and BMW in the Upstate," Red Rock Developments CEO Bill Smith said. "The location, coupled with the excellent highway system of the Midlands, makes this an excellent option for companies looking to locate in a 'Class A' industrial park within the great labor shed of South Carolina."
NAI Earle Furman CEO Jonathan Good said, "We are fully vested and confident that Sandy Run Industrial Park is the best location as a 'Class A' industrial park to serve Columbia and the Midlands market."
Red Rock Developments is a privately held real estate development and investment company. It has developed over 18 million square feet of "Class A" industrial space.
NAI Columbia, a full service commercial real estate firm, officially launched on Jan. 1, 2019.
The new company is a partnership with NAI Earle Furman and eight local principals, all of whom were senior brokers with NAI Avant, which has served the Midlands market for over 50 years.
A groundbreaking ceremony will be scheduled at a later date for the industrial park.
Zeus Industrial Products' newly constructed, 148,000-square-foot manufacturing facility will eventually employ 350 people. The plant is not quite yet operational.
Get local news delivered to your inbox!
Subscribe to our Daily Headlines newsletter.