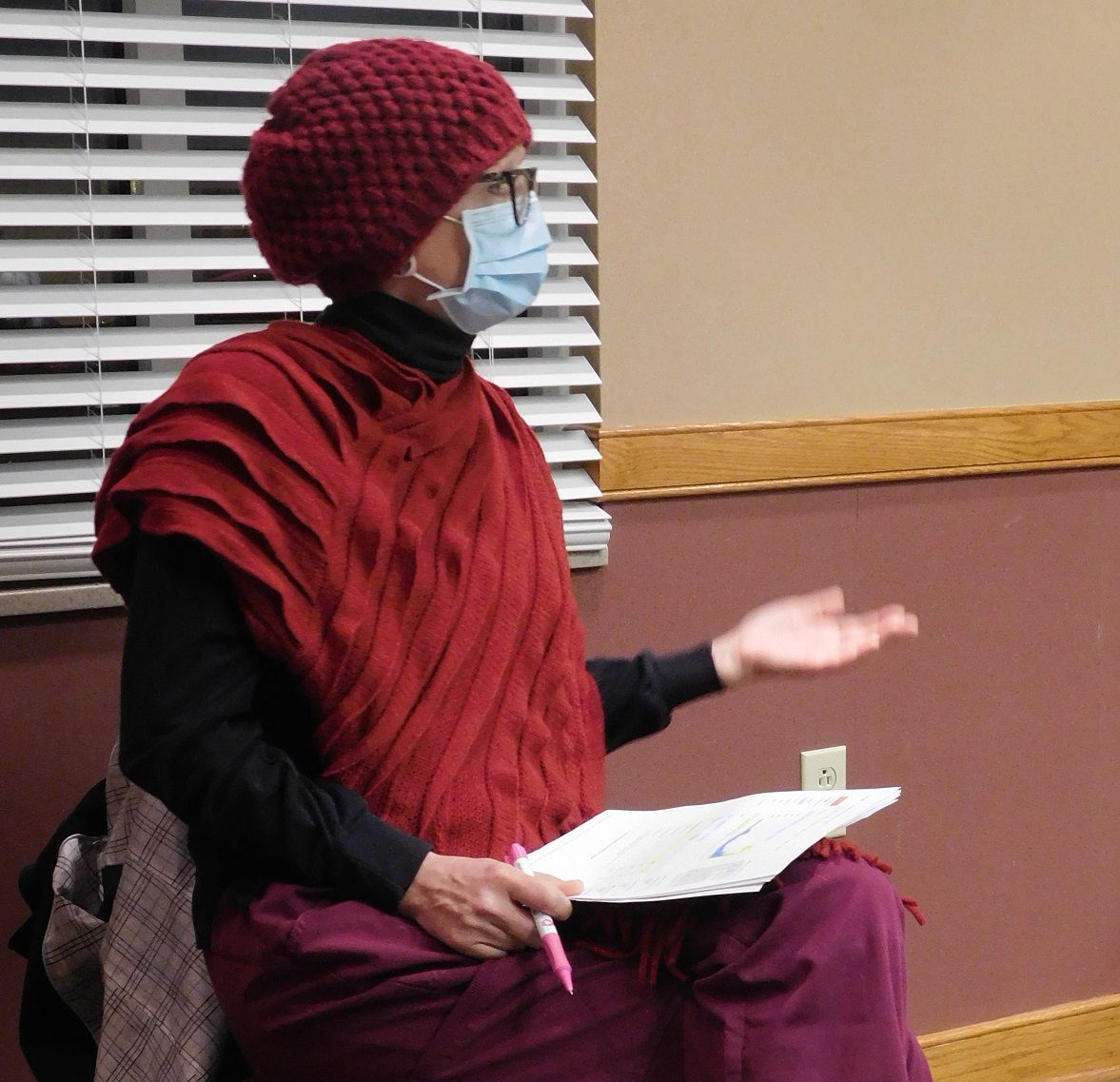 NEESES – Rebecca Corbett, a registered nurse who commutes to a burn center job in Augusta, Georgia, from her home in the Neeses area, expressed many concerns about the lack of compliance to and enforcement of the Orangeburg County COVID-19 mask ordinance in Neeses during the public comments section of the town council meeting Tuesday evening, Jan. 5.
The Town of Neeses has been having live meetings during the COVID-19 pandemic but requires masks, social distancing, and that one's temperature be taken before entering the town hall. Attendees at January's meeting were placed at least six feet from each other, temperatures were taken as people entered, and masks were worn by all in attendance.
Mayor Kenneth Gleaton has stated that all sports activities, most town activities in general, and activities of the Seniors Recreation and Leisure Center have been placed on a long-term hold for 2021 because of the pandemic.
Corbett's concerns, however, involved citizens not complying with the COVID-19 mask ordinance in the retail establishments of Neeses. She stated the establishments have posted notices about the ordinance, but some citizens are ignoring them and that some store managers and employees do not want to confront citizens about the policy.
"The mask ordinance came out months ago … On Nov. 8, 2020, it was renewed for another 60 days," Corbett said.
"The ordinance does apply to retail establishments," she said. "Not all individuals are wearing masks there."
"I lost my father to COVID-19 at an assisted living facility in Orangeburg. I lost a friend who was a nurse," she further explained, giving another reason why she is advocating for more usage of masks and better mask enforcement.
Corbett stated, "As a nurse, I have been wearing a mask 8 or 12 hours a day at times."
"I am heartbroken when I do not see an individual wearing a mask in Piggly Wiggly or Dollar General," she continued.
Corbett said she has spoken with area managers about this and even invited one to come to the council meeting. No manager attended the meeting. She also stated she invited Rep. Lonnie Hosey to attend the meeting, but she said he could not attend. Captain Randy Culler of the Orangeburg County Sheriff's Office was invited by Corbett, and he did attend, speaking after her comments.
Corbett continued with her comments, "The ordinance states there is a $25 fine for not wearing a mask."
"I want you to know that managers and employees of local stores are not always wearing masks either," Corbett added.
Culler said, "We can enforce where we can … Generally, what I think would help would be education of all of the managers and employees."
He mentioned that stores might try to have masks available for free at their front doors.
Culler added, "We generally try to work with folks. When we ask folks to put them on, they usually do it for us."
Mayor Gleaton stated, "I have spoken to various people in town (about the concerns). There are places other than Fogle's Piggly Wiggly (and other stores) where citizens are not wearing masks, including the post office. I am thinking it is getting better, though."
Councilwoman Renee Olenick stated, mentioning her own family's struggles with COVID-19, "I think once your family is touched with it, you are more likely to wear the mask. Until everybody gets a taste of it in their family, they will not do it."
She basically stated that she hopes it does not get to that point.
The Town of Neeses has in previous meetings advertised the Orangeburg County mask ordinance and enforcement, trying to get citizens to follow the policy.
Corbett suggested that locally owned businesses could raise prices by just a penny and then use those funds and earmark them in their budget for sanitation stations with masks as well as sanitizer (several local business already have observable, complimentary sanitizer stations available for the general public, but not all have free masks available).
According to Jan. 4 data from the S.C. Department of Health and Environmental Control passed out at the meeting, S.C. has had 299,685 confirmed cases of COVID-19 as of that date, 5,056 confirmed deaths, and 3,492 new confirmed cases.
Town Clerk Sonja Gleaton, at the end of the meeting, was recognized with a special gift from Olenick and the rest of council for her years of service to the town. She was presented with a small Samsonite rolling bag, which she can use to take home files to work from home and even for vacation when she needs a break.
Gleaton has been with the town for over 31 years and transitioned Neeses from a smaller town hall to their current facility, acclimated them with the use of new technology as it came out, assisted the town with keeping up with paperwork and accounting for the penny sales tax projects, and has had many trainings from the Municipal of Association of South Carolina through the years.
She thanked the members of council for the nice gift and the recognition.
Town Clerk Gleaton stated they are having a scaled-down version of a litter clean-up in January with the Neeses Adopt a Highway group on Martin Luther King Jr. Day Monday, Jan. 18. A larger event had been planned with several municipalities but was canceled due to concerns about COVID-19. This particular, scaled-down clean-up is, according to Mrs. Gleaton, part of a day of service in honor and memory of the late King. The Neeses Adopt a Highway group will meet at the Seniors Recreation and Leisure Center (220 Park St.) to pick up supplies at 9 a.m. on Jan. 18. Mrs. Gleaton stated, "We will pick up litter on Neeses Highway from Neeses Camp Road to Wire Road. We will then meet at the SR&L Center at 11:30 a.m. to give our individual litter reports and have lunch."
The Neeses Adopt a Highway group had a successful clean-up event in December 2020. 21 participants cleaned up 108 bags of litter, totaling 1,620 pounds, along eight miles of roadsides. Rozye Short, Beth Maxwell, Olenick, Wesley Gleaton, Mayor Kenneth Gleaton, the Rev. Wilton Gleaton, Richard Gleaton, Belinda Gleaton, Councilmember James "Jimmy" Hoffman, Wendy Chavis, Joseph Corbett, Sandra Griffith, Patsy Fogle, Mary Brooks, Skeegie Bonnette, Jane Tindall, Olivia Robinson, Town Clerk Gleaton, Steve Williamson, Travis Gordon, and Councilman Wylie Williams were among those who participated.
Mrs. Gleaton stated, "Travis Gordon (a young employee) represented Fogle's Piggly Wiggly, and he worked very hard!"
She also recognized the food servers for the meal for the volunteers, including Jackie Gleaton, Sandra Gleaton and Natalie Felton.
The meal was catered by Paula Hutchins and Wayne Hutchins of Rusty & Paula's Restaurant of Bamberg. Fried chicken, potato salad, green beans, macaroni and cheese, and rolls were served. The Town of Neeses provided the beverages and dessert.
• Olenick said that an anonymous donor donated 22 bicycles for the children of Neeses in December 2020 and that the municipality itself was charged with the task of distributing them. She added they determined who the neediest children were by calling around and figuring out if a child already had a bike or if the parents had already purchased a bike for the child for Christmas. "We narrowed it down to the 22 neediest children," she added. The bikes were distributed during the Christmas holidays.
"If that donor could have seen the eyes of the children light up…" Olenick stated, getting noticeably moved. Mayor Gleaton stated he was glad the town could be involved in the distribution efforts.
• Olenick said to beware of scammers who are allegedly offering construction or remodeling help in the area but are not making good on their promises. Several individuals have been duped with the false promises of the scammers from out of town, and law enforcement has been informed about these alleged contractor con artists. Officials from the Town of Neeses ask that you inquire about a business license from these individuals and steer them toward the town hall if they do not have credentials.