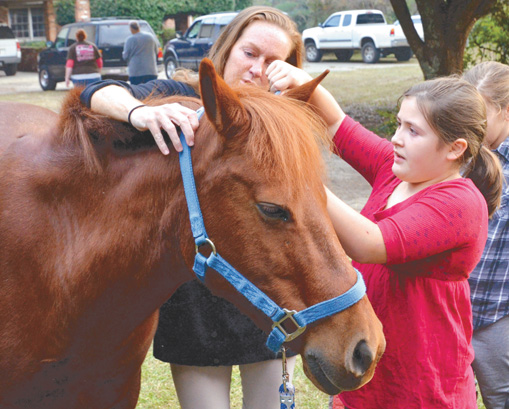 A nonprofit Christian ministry is working to improve the lives of young people and adults through a mission that involves a mix of horses and skills training.
Cope couple Dan and Jan White started God It Made Ranch a year ago as the 41st mission station of Columbia-based Christ Central Ministries Inc., which was founded in 1992 by Pastor Jimmy Jones and had a food ministry as its first mission. Women and children's shelters, men's shelters, veterans' transitional housing and clothing distribution are among CCM's other missions.
"But we're the first horse ranch. They had been praying for one of these for a very long time. I moved to Lexington where my dad lives a year ago, and that's how I found Christ Central," Jan White said. "I started volunteering for the children's shelter, the women's shelter and the homeless shelter. They also have a GED program and a rehab center."
She and her husband are also students at Christ Central Institute, a center of Christian higher education in Wagener, which offers missions training, career arts training and internships among its programs. Jones and Jason Conrad, a former CCM intern, founded the institute in 2002.
"Pastor Jimmy speaks to us about missions and how they work and what we need to do with them," said Mrs. White, who has been an equestrian since age 12.
God It Made Ranch is 26 acres located at 292 Kilgus Street in Cope. The Whites have built up the property with the help of friends, volunteers and neighbors.
It serves as a site where children and adults of all ages can experience equine therapy, which usually includes instruction in horse care, grooming procedures, saddlery and basic equitation.
While the couple have spent the past year building their herd and paddock and have just begun using equine therapy, Mrs. White said there are benefits to it.
"Emotionally, the riders learn to bond with their horse, and it builds trust. It also works on social behaviors, and physically, there's a rhythmic natural motion that works with your core muscle balance and posture. Mentally, the riders develop a very high level of concentration and thought processing skills," she said, noting that ranch safety is a priority.
"It's little things like watching a horse's ears. When they're forward. he's happy, but if they're pinned back, he's going to bite or kick something real soon," she noted. "Socially, equine therapy also builds self-confidence and a sense of independence."
Athena, a pony kids love to brush and saddle; Spartacus, a quarter horse/thoroughbred cross; a couple of paint horses; and a Percheron foal all make the ranch home, Mrs. White said.
"We're going to watch a little baby grow. This is a safe family place with no drugs and absolutely no alcohol," she said.
The ranch has a tack room where kids can play games, color and watch TV.
"Every child who rides a horse has to wear a helmet, saddle pads and things like that if they're under 18," Mrs. White said, noting that oiling saddles, painting hooves and brushing and tacking a horse are all a part of the ranch experience.
Kerri Whetstone, a 10-year-old Edisto Elementary School student, has visited the ranch for approximately two months.
"I get a break from my mama, but I also like to ride horses. It's really fun. I like dealing with animals," she said. "I also like Ms. Jan. They teach us how to groom the horses and pick the hooves and stuff. You've got to be in control and not the horse."
Kerri's mother, Lauren, noted, "It's just a Christian atmosphere that I like the most. Kerri also has a horse of her own so she kind of learns what to do around her horse."
Brianna Strickland, a 9-year-old student at Edisto Elementary School, said she also loves animals, especially horses. She said she has been around horses nearly all her life.
"And through that experience, I've liked dealing with horses. And Ms. Jan is nice, too," said Strickland, who said horseback riding gives her a feeling "of being free to do what you want to do."
Brandy Smith, 21, of Norway is the ranch's horse trainer.
"I really started messing with other people's horses about maybe six years ago, but I've had horses all my life. I just like seeing the kids go from being quiet to all of a sudden brightening up," she said. "It's something else they can focus on besides video games and stuff like that.
"The ranch provides activities where they can bond with horses and learn responsibility."
Dan White said he also provides older children age 14 and above with not only Microsoft computer certification training, but basic electrical, automotive and construction skills training.
"For every hour of training I give, they have to give an hour back to the community. I would say our biggest success was a 20-year-old man who wanted to work for SCE&G and didn't have his high school diploma. We basically studied with him every day, and now he's got it. He actually made us a copy and wants us to frame it," he said.
The Rev. Neil Flowers, pastor of St. John's United Methodist Church in Norway and Lebanon United Methodist Church in Neeses, visited the ranch for the first time on Wednesday.
"Christ Central is something that I've been involved with for many years, and it's a well-respected program. Having them be a part of that means that Christ Central has checked them out," Flowers said.
He added, "Young people will always find a place to be accepted. The thing about here is they're accepted on a Christian basis with love. It would be nice to reach those kids that are looking for that acceptance but in the wrong place."
"It's a safe place, and we don't charge anything," Mrs. White said. "We have a needs list and accept donations, but we're totally volunteer-based, and nobody gets a salary here."
Get local news delivered to your inbox!
Subscribe to our Daily Headlines newsletter.