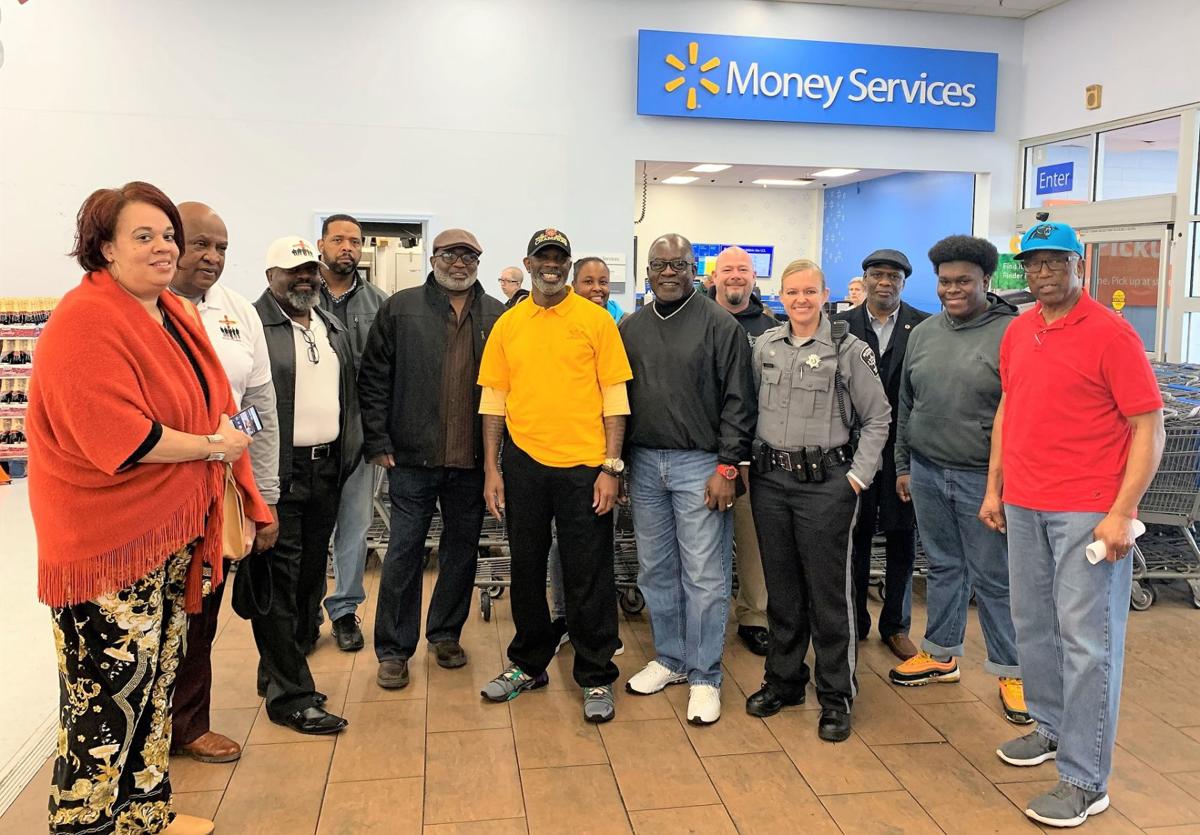 The 5th annual Men of Hope Initiative, led by the Deacon Ministry of Unity Fellowship Community Church, Orangeburg, continued its efforts to bless families and children during the holidays.
The Deacon Ministry works with area guidance counselors and schools to identify children who are facing financial hardships and difficulty. Through the financial contributions of local churches, businesses, and community members, more than 100 children in Orangeburg County were provided $100 gift cards to do their holiday shopping at Walmart.
Latonya Nelson, principal of Edisto Elementary and volunteer, said, "I look for opportunities to serve and assist our families outside of the school, and this is one initiative I support. Seeing the smiles, getting hugs and hearing how this initiative provides the help families need during the holidays gives me joy."
Local churches and businesses continue to support the Men of Hope over the years with financial contributions.
Volunteers Tori and Brian Kiel traveled from Summerville to assist in these efforts.
"You can really see that it takes a whole community to serve our children. It's really cool to see the churches, educators, schools, law enforcement, lawyers and people from every walk of life pitching in to help," said Brian Kiel, an Orangeburg County public defender.
Gulbrandsen Manufacturing Inc and their employees made a substantial financial contribution to the Men of Hope Initiative for 2019. Also, the Men of Hope give special thanks to McDonald's on North Road, Bojangles on Chestnut Street, Hardee's on Five Chop Road and Wal-Mart.
The Rev. Larry D. McCutcheon, retired United Methodist Pastor, said, "The ministry and vision of Men of Hope represent a part of the spirit of Christmas. It has been my joy to share in this ministry for the last five years."
"This initiative is one I stand behind because I see firsthand the impact it has on families and children in our community," said Samantha Farlow-Moyd, a local attorney and volunteer.
Farlow-Moyd Law Firm consistently supports the initiative and successfully solicits additional contributions from other members of the Orangeburg County Bar Association.
The highly anticipated shopping trip to Wal-Mart was held on two days. One day is specifically designated for special needs children. The initiative pairs each child with a community volunteer who assists that child with their shopping. Orangeburg County Sheriff Leroy Ravenell and members of the Orangeburg County Sheriff's Office, along with members of Unity Fellowship Community Church, fraternities and sororities, serve as volunteers.
Wayne Murphy, owner of Chick-fil-A, contributed to the initiative.
"The Chick-fil-A Orangeburg vision is to impact and influence our community," Murphy said. "This is an opportunity to partner with a prodigious organization in helping make a difference in young people's lives -- a great way to give back and make a difference."
The Deacon Ministry of Unity Fellowship Community Church thanks its pastor, Jerome Anderson, and the Unity family for supporting this initiative year after year and being dedicated to the children of Orangeburg County. The Unity Deacon ministry also thanks every volunteer and contributor who helped make this initiative a success.
The Rev. Dr. James B. Vigen, retired pastor of Orangeburg Lutheran Church, remembers how he and his church became involved in the initiative.
"One day, over lunch, Deacon Samuel Farlow told me about the Men of Hope project that helps children in our community who suffer from situations of extreme financial deprivation." Vigen said. "I was inspired by his story and shared this information with my congregation's charitable foundation with the suggestion that Men of Hope would be a good program to support and they agreed.
"As a pastor, I would urge others in our community to also give their support to this program so that even more children could be helped," he said.
"While some of the children purchase toys with their gift card, many purchased necessities like clothes, shoes, and toiletries. Some even purchased gifts for their family members," Farlow said. "The families think we are blessing them, but we, the volunteers, are the ones who are truly blessed because of the opportunity to be selfless and show God's love."
Get local news delivered to your inbox!
Subscribe to our Daily Headlines newsletter.