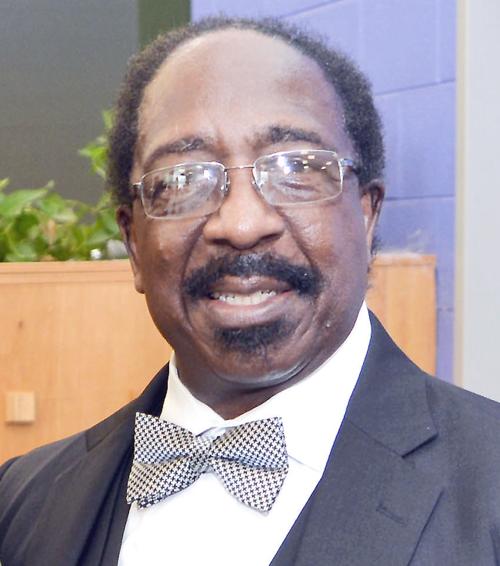 The Rev. Nathaniel McMillan finds joy in helping make the lives of others better, whether it has been through his role as a minister, mentor or school board member.
It is a mission which has been undergirded by an integrity and reliability that has allowed him to serve on various committees and boards throughout the community, including the Community Engagement Committee of the Bootstraps Mentoring Foundation.
McMillan has given his time, talent and financial resources to support foundation activities, including its Fifth Sunday Service, which brought various churches and cultures together for an ecumenical service to support the foundation.
He has served as a member of the former Orangeburg Consolidated School District 5 school board of trustees, and as pastor and founder of Petra Community Ministries, he has worked as an advocate for social justice and racial reconciliation.
It is McMillan's ability to be relied upon as honest and dependable that led the Orangeburg County Community of Character initiative to honor him for his trustworthiness.
It is an honor which surprised the Orangeburg resident.
"I was pleasantly surprised because my expectation is always to honor other people. I've been involved with even the Community of Character almost from its very inception. I was on the Faith Committee as a part of it, and we've actually gone out and actually helped other communities to become Cities of Character because of our investment in that," McMillan said.
"So I've been in and around Community of Character for a long time and been instrumental in helping our school district to adopt all the character traits and to have all the character flags flying at all of our schools throughout our whole community. My whole investment is to help others to be encouraged. I think we have to continue to inspire others," he said.
Where does his energy come from?
"My energy comes from seeing others blessed and encouraged by whatever I'm able to do through the gifts and talents that God has blessed me with to help them to have a better life. If I can effect that in any kind of way, that's what I've always wanted to do," the pastor said.
Trustworthiness is important to him, especially as he seeks to impact the lives of others through his ministry. He said as a person who "loves the Lord," he can't afford to do anything else.
"It's about how can you take what he's given to you and pass it on to others to help their lives to be increased and blessed by it. I've served in different capacities in our community from pastoring, to being on the school board, to being a part of the YMCA as a chaplain and as an associate chaplain with the Regional Medical Center," he said.
McMillan has also served as chaplain for the Oaks PACE Adult Daycare Center.
"We've actually been able to minister to seniors and be involved with increasing their lives and the lives of their families. All these are opportunities of outreach and ministry that it is certainly a privilege to be able to be part of," he said.
The pastor added, "We also have a collegiate ministry at South Carolina State University that I've been helping with. It's been going on since 2008. All those things is an opportunity to make life better for others. And for God to entrust these things to us to share with others is the highlight of my life. It's what I really want to do. I want to bring him pleasure in whatever I do."
McMillan is one of the founding members of the Bootstraps Mentoring Foundation, along with the Rev. Jerome Anderson, the Rev. Judd Jordan and the late Geb Runager. It is a nonprofit foundation of which he is also particularly proud.
"It reaches out and touches the lives of our children in our community, and it gets the community involved," he said.
McMillan, who is also a member of the Orangeburg County Ministerial Alliance, said trustworthiness has also played a part in his personal life.
He and Gloria, his wife of more than 40 years, are the parents of six children: La'Shell, Devin, Gloria Tamara, Dionne and identical twins Shamira and Shalome. The couple also has 10 grandchildren.
"Well, my wife and I have been married 49 years. So trustworthiness has been critical for our life experience, to be able to set that before our children … and be able to model for them on how it is that you can maintain your relationship and still be committed to all your things that you do in terms of ministry," McMillan said.
"All of our children are actually college graduates and they have individual lives of their own and careers. We stay involved with them, and all of them have been involved in their churches at different places. We don't have them all living in the city, they live across the country," he said, noting that family is an important component of his life.
The pastor said trustworthiness has enabled him to build valuable relationships in life.
"You're modeling what you want to see replicated in your family and your community. In everything you do, you want that to be a focus of growth. And when you can trust people, you can grow with them. You expand relationships, and it is about building relationships. You can't have relationships unless there's a sense of trustworthiness," he said.
It is a trait which he says has come from both his parents and spiritual mentors in his life.
"And it's also the things that you develop because of your relationship that you have with the Lord Jesus Christ. That's first and foremost. You gotta get it from him … for it to be perfected in such a way that it becomes a real character trait.
"He instructs us in Proverbs 3:5-6 to trust in him. And that becomes the focus. If you're gonna trust him, he models it for us as to what he wants us to do. … To be able to trust him, he's gotta be trustworthy. So he models it for us what it is to be trustworthy," McMillan said.
"You make your connection with the Lord, and then all the fruits of the Holy Spirit are supposed to be in operation in your life, which is love, joy, peace. ... Your responsibility and job is to be a witness. To be an effective evangelist in sharing your faith, people have to make sure that you're grounded. Then they can have confidence in what you say," he said.
McMillan touted the OCCOC's ability to help spread good character throughout the community.
"I think it's a powerful initiative, and I'm so glad that we initiated it many years ago and that we've actually reached out to try to help other communities to do the same," he said.
Get local news delivered to your inbox!
Subscribe to our Daily Headlines newsletter.