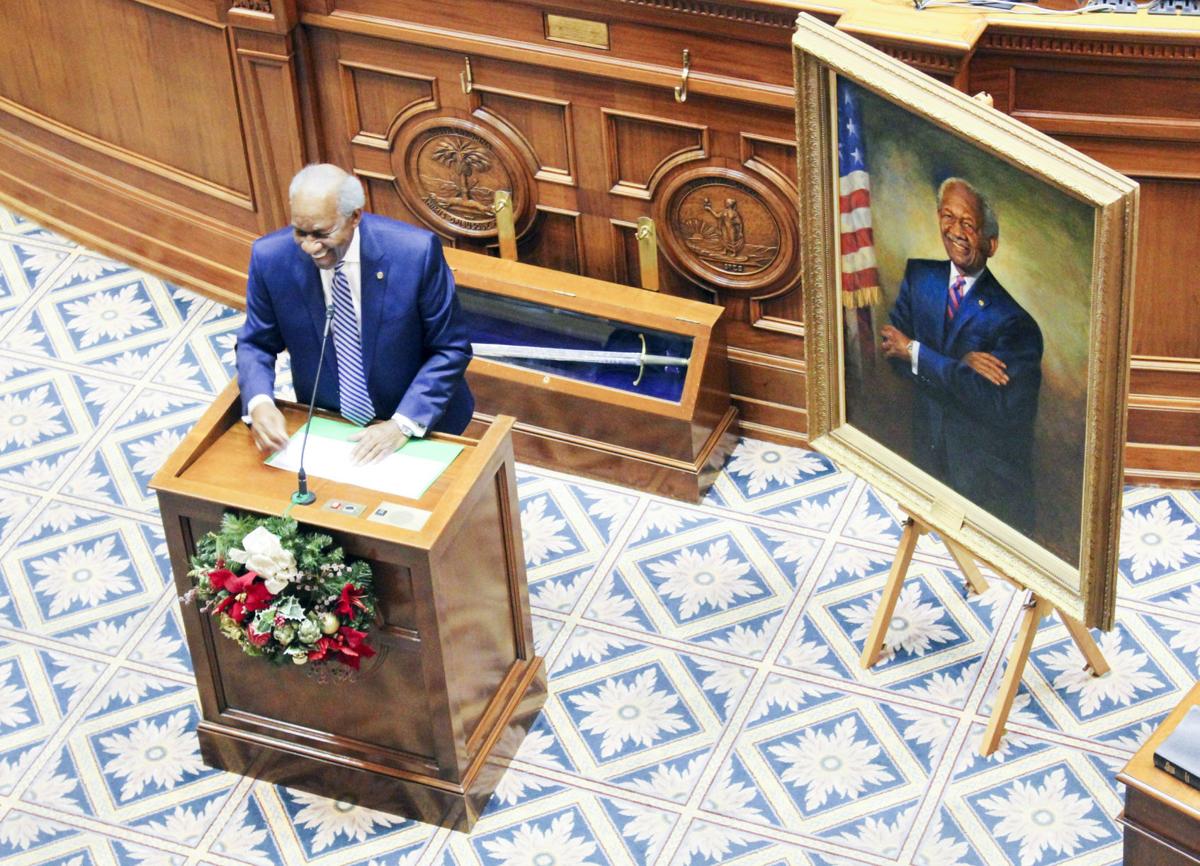 COLUMBIA – The S.C. Senate honored the longest-serving African-American legislator, Sen. John W. Matthews, in a special ceremony where his portrait was unveiled Thursday evening.
The Bowman Democrat's portrait was unveiled by his grandchildren.
"My thought pattern has always been about the multi-generational approach," Matthews said. He said he's been guided by a desire to provide youth with the best environment and education.
He thanked everyone in attendance and who played a role in the ceremony.
Matthews' portrait will be visible along the chambers' walls with historic state figures such as U.S. Sen. Strom Thurmond and S.C. Sen. Clementa Pinckney.
Thursday's ceremony featured remarks from fellow senators Nikki Setzler, D-West Columbia, and Harvey Peeler, R-Gaffney, as well as retired Sen. Kay Patterson and artist Michael Del Priore, who painted the portrait.
Setzler described Matthews as "a man who loves his family deeply, and his departed wife."
"John Matthews is a man who loves God," he said. "John Matthews is a man who loves his constituents."
"As long as you've known John Matthews and dealt with John Matthews, what comes to your mind when you think about John Matthews? The person, the public servant, the husband, the father, the grandfather, the faith, integrity, compassion, loyalty, commitment and absolutely the word dignity," Setzler said.
Matthews served in House from 1975 to 1984. He became a senator in 1985.
The Bowman native was born April 21, 1940, to the late John Wesley Matthews Sr. and the late Victoria Williams Matthews.
Matthews graduated from Bethune Memorial High School, South Carolina State College, Orangeburg-Calhoun Technical College and Lincoln Electrical Institute.
Matthews married the late Geraldine Hillard Matthews, and they are the parents of five children.
Matthews has accumulated a plethora of awards, including the Wilkins Legislative Leadership Award and the South Carolina Primary Health Care Legislator of the Year.
Matthews is also a member of the South Carolina Black Hall of Fame and holds honorary doctorate degrees from his alma mater, the College of Charleston and the Medical University of South Carolina.
Get local news delivered to your inbox!
Subscribe to our Daily Headlines newsletter.