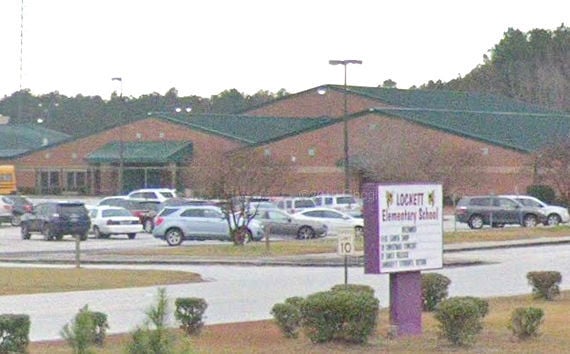 An Orangeburg County elementary school was recognized by the S.C. Department of Education for its academic achievement and student progress during the last school year.
Lockett Elementary School in Branchville received the Palmetto Gold award.
"Our school prides itself on trying to achieve excellence," Lockett Principal Dr. Glenda Westbury said.
"We work very hard within the school academically and we work hard in the community trying to pull in our parents for support," she said. Westbury said the school has a family atmosphere that is beneficial for the whole child.
Lockett was one of 249 schools across the state to receive either a Palmetto Gold or Palmetto Silver award. It was the only school in The T&D Region to receive one of the honors.
"Our math scores were awesome," Westbury said. "Our reading scores are great, but we know we can push them up a little higher. Compared to other students who started the race where ours did, ours just kept running."
The school had 72.8 percent of its students meet or exceed grade-level expectations on the math assessment, compared the state average at 45.1 percent. In English language arts, about 58.4 percent of its students met or exceeded the state average of 45.4 percent.
"We have a little more work to do with the reading and we are definitely looking at that," Westbury said. "We are looking at that and ways we can push all our readers ahead."
The Palmetto Gold and Silver awards program was established by the Education Accountability Act of 1998 "to recognize and reward schools for academic achievement and for closing the achievement gap."
Orangeburg County School District Interim Superintendent Dr. Darrell Johnson said the recognition is fantastic.
"I am very proud of the students, teachers and staff at Lockett Elementary School," he said.
"The teachers are passionate about education and have rallied around their students," Johnson continued. "They have high expectations for all learners and make sure each student reaches his or her highest potential."
Johnson said the honor shows the school's teachers are dedicated to their profession.
"They focus on teaching and learning and have made the classroom and students the focal point of their school," he said. "It's pride and passion around our most valuable commodity, our children!"
Johnson said the district supports all schools and each one's effort to become the best school possible.
"We are committed to providing a classroom environment that puts students first," he said. "We will continue to seek the best educators and do our best to prepare all students to be productive members of our society as we prepare them for four-year college, two-year college, the military or the workplace."
Get local news delivered to your inbox!
Subscribe to our Daily Headlines newsletter.