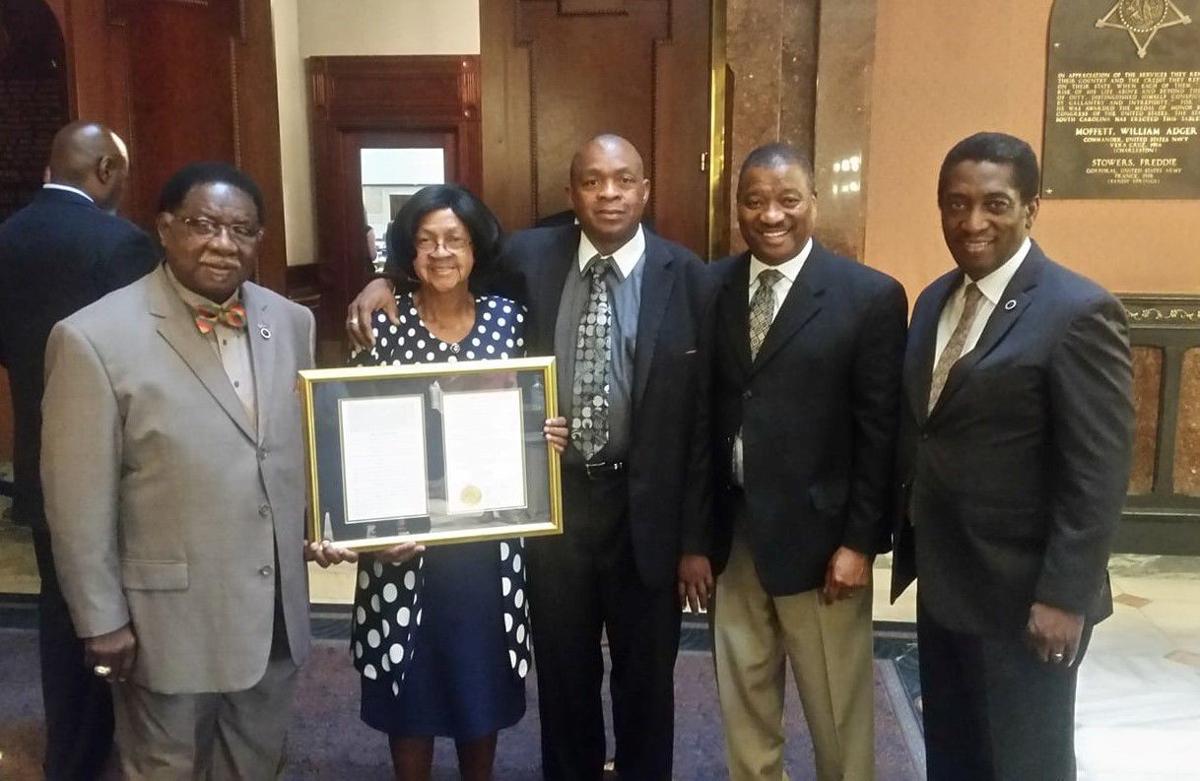 DENMARK – Author Pauline Brown, a decade-long resident of Denmark and longtime South Carolinian, was recognized formally by the State of South Carolina in Columbia last year and is still active as a senior citizen author.
State Reps. Lonnie Hosey and Jerry Govan Jr., and former Rep. Wilbur Cave, were among those recognizing her.
Recently, she noted that nothing compares to the current state of the world with the pandemic: "I have lived for many years, but I never thought I would see the world like this."
"We need to get closer together and pray and be there for each other in times like these," she said, adding that she has figured out a way to minister to others through this crisis.
"I am sending letters and poems out to many people upon request for encouragement during the COVID-19 pandemic," she said.
A nationally and internationally awarded poet, Brown was recognized by Congressman Joe Wilson on the U.S. House floor in Washington in 2018 and received a copy of where she was noted in the Congressional Record, as well as a letter from Wilson congratulating her.
Brown said, "I was recognized for my book, 'A Touch of Heaven If Only You Believe.' Rep. Wilson stood before the floor and recognized me as a poet from S.C. I was the only one he recognized. He also discussed love letters I wrote to my late husband during the Vietnam War."
"I wrote eight-page love letters seven days a week and drew two pages of cartoons to my husband each day during the Vietnam War," she said.
Brown said she has also sent letters to prisoners as a form of ministry. She said she received an award from a correctional facility for her volunteer service.
She has lived during several wars, including the Vietnam and the war in Iraq.
"The U.S. military flew the American flag in my honor over Iraq," Brown said. "They recognized me for the work I had done. I wrote many soldiers overseas and sent them poems and books."
According to her Facebook page, Brown has also been recognized by former President Bill Clinton.
She has been writing and publishing books of poetry and other books since she was 19 years old. She also publishes poems from time to time in a weekly newspaper. She received the Shakespeare Trophy of Excellence and 2003 Poet of the Year Medallion and has also been named a Poet of Merit by the International Society of Poets. Numerous national and international awards have been received by her as shown on her Facebook page. She has received many awards from military organizations because of her support of them as well.
Brown was born in Aiken County and raised in Barnwell County. She eventually moved to Denmark, where she lived at least a decade, and recently moved to Williston.
Brown has given permission to print her postal address at a box she maintains in Barnwell so that individuals may write her there and so she may send letters and copies of her poems to those who write her. Her address is: P.O. Box 206; Barnwell, S.C. 29812.
For additional information, see her Facebook page at
Concerned about COVID-19?
Sign up now to get the most recent coronavirus headlines and other important local and national news sent to your email inbox daily.