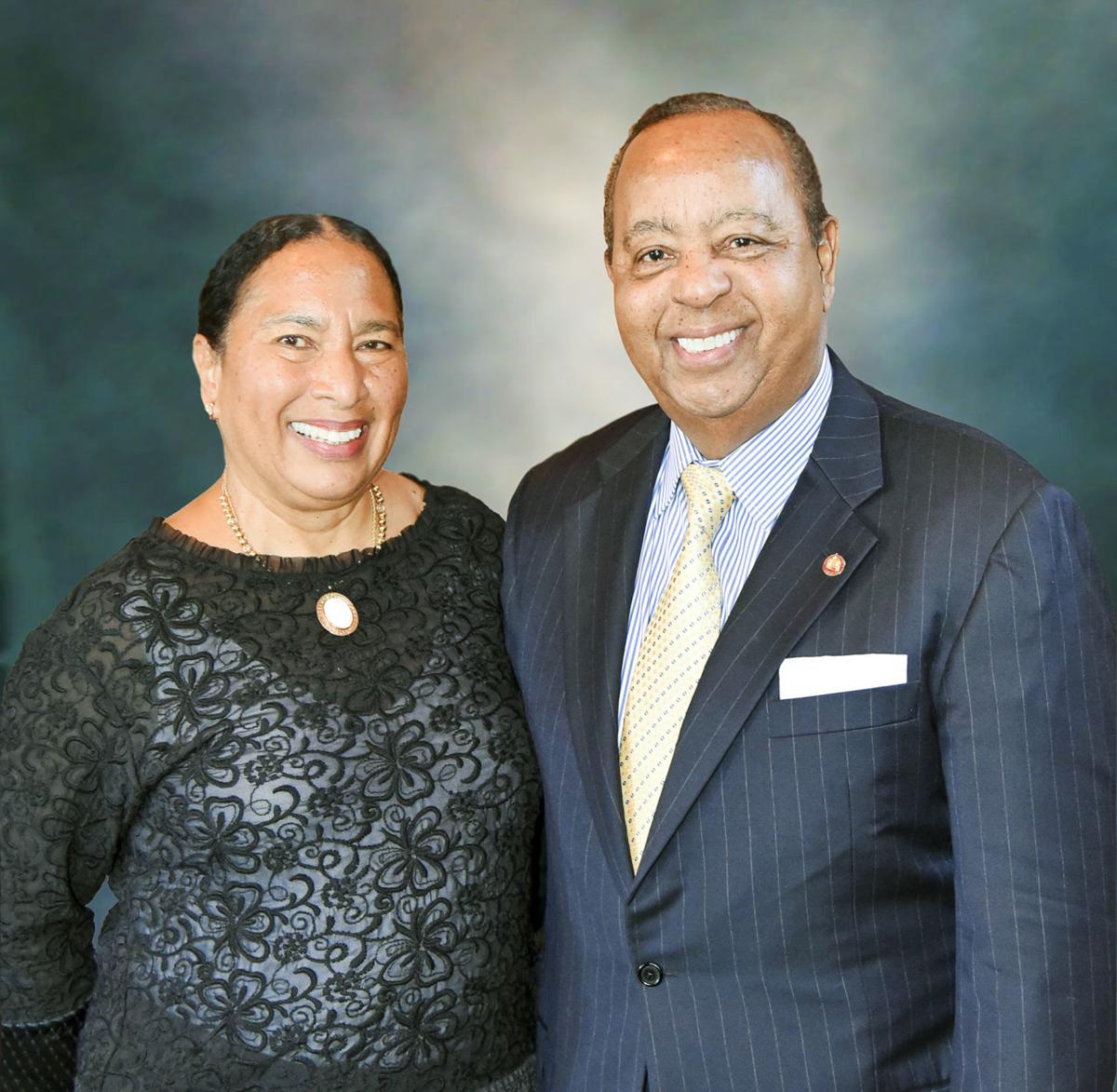 The selection of attorney William H. Sr. and Annette B. Johnson as marshals for Claflin's Sesquicentennial Homecoming Parade is in recognition of the couple's contributions to the university.
The Homecoming Parade will begin at 9:30 a.m. Saturday, Nov. 16, in downtown Orangeburg. The parade will start on Russell Street at Edisto Memorial Gardens and will end on campus at the Jonas T. Kennedy Health and Wellness Complex on Magnolia Street.
The couple's numerous gifts and donations to Claflin include establishing the Attorney William H. and Annette B. Johnson Endowed Annual Faculty Award for Innovative Scientific Research. The recipient is presented a framed certificate and a financial award during the commencement ceremony. The Johnsons also provided substantial financial support for Claflin's Veterans' Memorial Monument, which fulfilled a dream by Mr. Johnson's brother, the late Charles H. Johnson, who was the University's dean of student affairs for nearly 20 years. The monument, which lists the names of those veterans and provides a historical narrative of the university's ROTC program, is located near the James and Dorothy Z. Elmore Chapel. Johnson served in the U.S. Navy and is a proud Vietnam War veteran.
Mr. Johnson is a member of the Claflin University Board of Trustees, and he is chair of the Audit Committee. He previously served on Claflin's Board of Visitors.
You have free articles remaining.
A native of Orangeburg, Mr. Johnson earned a bachelor of arts degree from Claflin University in 1972. He received the juris doctor degree (JD) at Duke University and a master of laws degree (LL.M) in trial advocacy from Temple University. After graduating from Duke University Law School in 1975, Johnson began a 39-year legal career on the regulatory side of the transportation industry as a legal representative with the Interstate Commerce Commission in Washington, D.C.
In 1978, he joined the staff of the United States Senate Commerce Committee, where he was named chief counsel of its Surface Transportation Subcommittee. In this position, he was responsible for managing and drafting all surface transportation legislation originating in the Senate. Included was the Staggers Rail Act of 1980, which deregulated the U.S. rail industry, transforming it from a highly constricted economic model of operation to the competitive rail industry of today.
In 1981, Mr. Johnson accepted the associate general counsel position with the Consolidated Rail Corporation (CONRAIL) in Philadelphia. He represented CONRAIL as lead trial counsel in complex commercial cases litigated in the Pennsylvania state and federal courts.
In 1997, Mr. Johnson joined the Norfolk Southern Corporation and served as its senior general attorney and intellectual property counsel until his retirement in 2014.
For his community leadership and distinguished legal service, Johnson has received various recognitions and commendations. He is listed in "Who's Who in American Law," a recipient of the Urban League of Philadelphia Leadership Institute's Cecil B. Moore Award and the Boy Scouts of America Whitney M. Young Jr. Service Award. Johnson is also the recipient of official letters of commendation from President Jimmy Carter in recognition of his significant leadership role as counsel to the U.S. Senate Commerce Committee Surface Transportation Subcommittee. He was recently inducted into the National Black College Alumni Hall of Fame.
Annette B. Johnson is a native of Brooklyn, New York. She moved to Orangeburg after they married in 1970 when Mr. Johnson enrolled at Claflin. Previously, Mrs. Johnson attended Manhattan Medical School and began a career in health care. She worked at several hospitals in New York before landing a position as medical technician at Regional Medical Center. She also worked as a researcher in endocrinology at Duke University Hospital while her husband attended law school there. Throughout their marriage, Mrs. Johnson has been a devoted, supportive wife and mother of three sons.
Get local news delivered to your inbox!
Subscribe to our Daily Headlines newsletter.