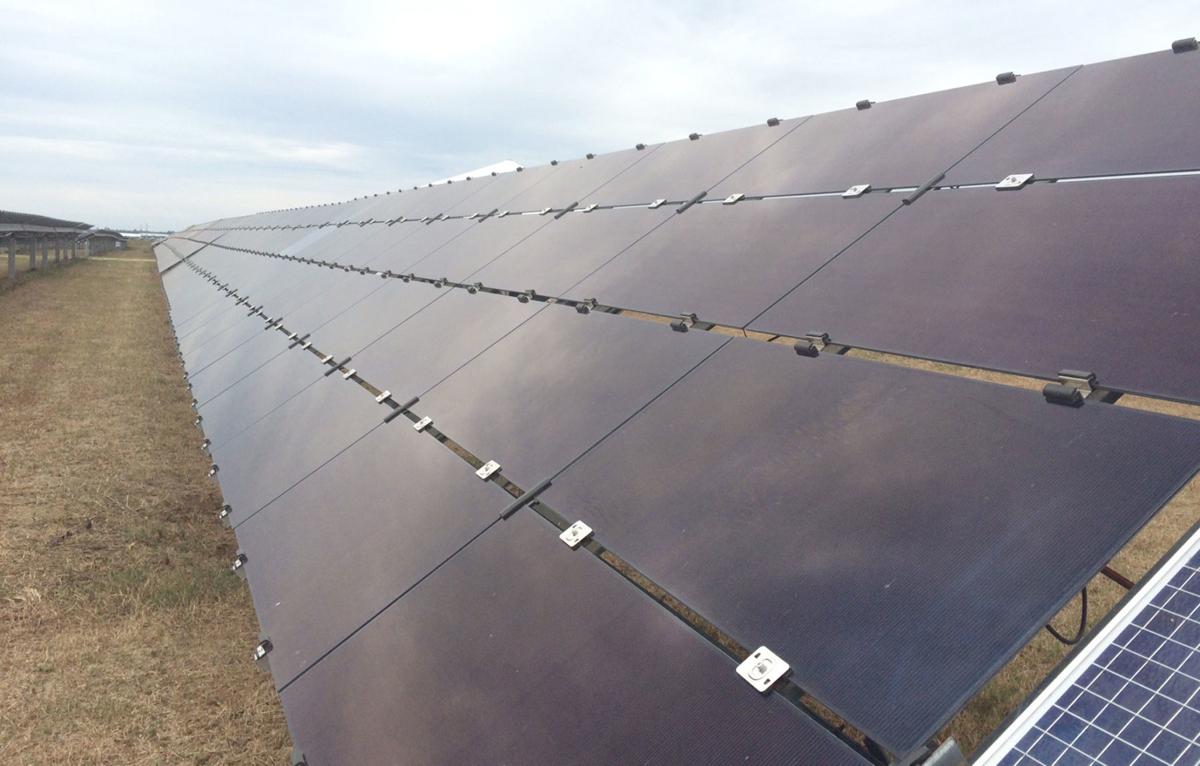 BOWMAN -- Palmetto Plains in September 2019 flipped the switch at its Bowman solar farm, which can produce enough power for 15,000 homes.
Officials say it's a win not only for the company but for Orangeburg County.
"We see solar energy as a win-win for our residents -- the projects provide long-term revenue to the county as well as clean energy and substantial investments to our community," Orangeburg County Council Chair Johnnie Wright Sr. said.
"We're grateful that Orangeburg County is becoming the solar capital of South Carolina," he said.
Cubico Sustainable Investments, a global investor in renewable energy, and Cypress Creek Renewables, a national solar and storage company, announced in late August that the solar farm began commercial operations.
The companies say the 500-acre farm is the largest in the state. It will produce 106 megawatts of power.
The Palmetto Plains solar project provides power to Dominion Energy.
"Palmetto Plains represented an exciting new chapter for us when it became the first asset in our USA solar portfolio to start operations," said Ricardo Díaz, Cubico's head of Americas. "We are proud to see the project producing power and contributing to the sustainability goals of South Carolina."
The solar farm is located on Bowman-Branch Highway on a site known to many locals as Weathers Farm.
The project will provide the county with about $5 million in tax payments over the 40-year term of the agreement.
The property, like all the county's solar projects, is on leased land. No permanent jobs have been promised.
Officials celebrated the farm during an October ceremony.
"This project will produce clean energy and new tax dollars for the community for decades to come," Cypress Creek Renewables CEO Sarah Slusser told those gathered at the farm for the symbolic power-up ceremony.
"Cypress Creek is a national solar company, and it is creating jobs that will benefit communities for decades with affordable, emissions-free power, a long-term source of stable revenue, construction and operation jobs and economic investment."
"I am just as proud as I can be to be standing here in the largest solar farm in the state of South Carolina," said Rep. Gilda Cobb-Hunter, D-Orangeburg said during the ceremony. "When we talk about innovation, Orangeburg County is not shy about leading the way in innovation and innovative research."
"This solar farm is an example of that," Cobb-Hunter said. "We intend to become the largest solar capital not just in South Carolina ... we are growing and we intend to keep growing."
Cobb-Hunter praised the leadership of the Weathers family, which leased the property to Cypress Creek for the solar farm.
"Orangeburg County is open for business," Cobb-Hunter said.
Landy Weathers, who owns the land along with his brother, Hugh, said the discussions about leasing the farmland have been going on for about the past five years.
"Our job as farmers and the owners of properties is to do what we think is best for the property, not for right now but for the future," Weathers said.
S.C. Lt. Gov. Pamela Evette said during the ceremony, "In South Carolina, we talk about our natural resources and as we keep growing, we want to make sure we can do everything to protect that.
"Team South Carolina is not just a hashtag. Team South Carolina is something that makes businesses look at South Carolina not only all over the country but all over the world. It is our ability to work at all levels."
"I want to thank Palmetto Plains for now being a part of Team South Carolina," Evette continued. "We appreciate what you are doing here and we are excited for what you will continue to do for our state."
Cypress Creek has started construction on the 550-acre Huntley Solar, a 100-megawatt solar project also located in Bowman.
Together, the Huntley and Palmetto Plains projects will provide $11 million in local tax revenue for Orangeburg County over the expected 40-year operational life of the projects.
Cypress Creek will perform the long-term operation and maintenance services for both projects.
"These are long-term infrastructure assets that will benefit the community," said Sarah Slusser, CEO of Cypress Creek Renewables. "We look forward to continuing to work with the Orangeburg County community through our management of Palmetto Plains and the construction of Huntley."
Orangeburg County Administrator Harold Young said, "Orangeburg County is proud of the success of our agribusiness history which lends itself to the next generation of technology.
"Solar farms offer an alternative energy source which makes us competitive in the 21st century, lowers utility bills for our citizens as well as allows us to be less dependent on coal and nuclear energy."
Orangeburg County Development Commission Chairman Ken Middleton said the project's completion is about diversification.
"This project further diversifies our county's energy portfolio and gives us a greater percentage of clean, renewable energy for our residents and neighbors," Middleton said. "Recognizing this site as the largest solar project in the state of South Carolina puts Orangeburg County on the map as a leader in sustainable energy."
"The Energy Freedom Act creates the opportunity for economic development in rural communities," said Sen. John Matthews, D-Bowman. "I'm proud of my hometown of Bowman for attracting these opportunities. It is important to involve local communities in innovative industries like solar energy."
South Carolina's solar farms produce more than 880 megawatts of power – enough to serve about 94,000 homes.
Cypress Creek alone has developed 375 megawatts across 22 projects in South Carolina, making the company a leading developer of utility-scale solar in the state.
"We are excited to have companies like Cypress Creek and Cubico invest in our state and remain proud of all the steps we have taken to welcome the solar industry to South Carolina," Gov. Henry McMaster said. "With the recent passing of the Energy Freedom Act, we expect to continue to see the ratepayers benefit from low-cost, environmentally friendly power."
The T&D Region has been a destination for solar farms in recent years.
Ten other projects have been announced in Orangeburg County over the past three years. The developers of the eight Orangeburg County solar farms have promised to invest a total of $503.5 million and provide 460 megawatts of power.
About half a dozen farms have also been announced in Calhoun County and one has been announced in Bamberg County over the last three years.