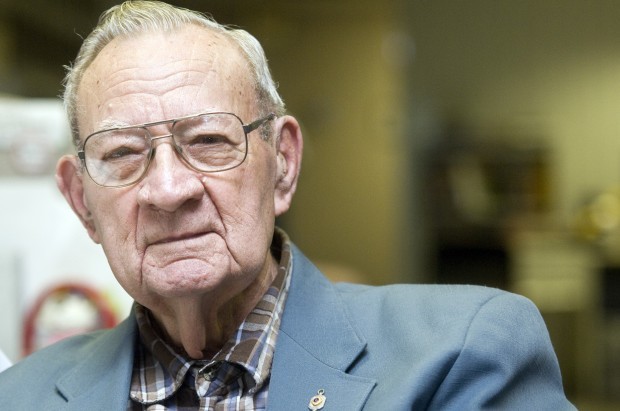 The work of one Orangeburg man to replace anger and resentment with a spirit of reconciliation and community service has not gone unnoticed.
Thomas S. Harrison Jr. doesn't talk much about himself, but his love for his community and for people is exuded through a calm, cheerful spirit despite a life marked with personal grief and challenges.
His only son, Sgt. Tommy Harrison, was murdered in the line of duty on Jan. 15, 1993, by 18-year-old Alabama native Thomas Ivey.
Harrison has not let his son's death consume him with anger, but has rather refocused his efforts to make his community a better place and himself a better person.
It his efforts to create a more peaceful, loving community that have earned him designation as the exemplar of forgiveness for January as part of the Orangeburg County Community of Character Initiative.
Harrison said he was overwhelmed by the honor. He admitted that forgiveness wasn't always an easy thing to give.
"When Tommy was killed, it took me a while, but I forgave Thomas Ivey in my mind. That was the most difficult thing I think I ever had to do.
"I thought it was necessary - not necessarily for him but for me - to not carry the burden of disliking someone," Harrison said.
"I don't know anybody I truly dislike, and it hurts you worse than it does the person that you might oppose," he said.
Harrison, who turned 86 on Jan. 1, said good character brings a community together.
He said he told Jean, his wife of nearly 64 years, that he refuses to accept stress.
"Good character brings within the community an evenness and a friendliness and an opportunity to be a part of what goes on. I'm not allowing myself to become hard and callous to the point that I have to carry that," he said. "I feel that along the way, Thomas Ivey must have regretted very much what he had done."
Harrison continues to work six hours a day, five days a week at Ace Hardware in Orangeburg, and is a trustee at Orangeburg's First Baptist Church, where he has also served as a deacon. The list of community service activities runs long for Harrison, who is a past recipient of the Order of the Palmetto, the state's highest civilian honor.
"I have served as president of the Orangeburg County Chamber of Commerce and as a director of the Junior Chamber of Commerce years ago. I served in World War II in the South Pacific and have served as director and ultimately president of the South Carolina Victim Assistance Network in Columbia," Harrison said.
He has also served on the advisory committee of the Division of Victim Assistance in the Governor's Office and as an advisory member and past chairman of the Salvation Army.
In addition, Harrison has served in the Lions Club for 63 years, including as president of the service organization.
"Orangeburg has been good to me. It has allowed me to grow as an individual. I don't know anywhere else in the world that I would have had the experience that I've had here. I was a shy young man who came to town, but I was allowed to participate," he said.
"I love Orangeburg and have been here more than I've been anywhere else."
A native of Concord Point, Va., Harrison moved to Orangeburg from Greenwood in 1947. He is the son of the late Thomas S. Harrison Sr. and James Marian Drinkard Harrison.
"My mother's parents were expecting a boy so they just didn't change the name. That's at least what they told me. She was called Marian," he said, laughing.
Harrison said his parents were influential in making sure he became involved in his community.
"They say they let me roll. I worked since I was 12. We did not have a whole lot of money. Dad was an automotive mechanic and was struggling with five children. My parents always said, 'You need to work. You need to get involved.' My wife and I both have felt that you need to put back into your community," he said.
"You get back what you put into it, and that's just the way it's been."
He said he tried to instill the principles of honesty, integrity and the importance of education into the lives of his son and his daughters, Linda, Beth and Mary Anne.
"I told them to be themselves and get an education. Tommy did not subscribe to that. All the rest of them went to college. He graduated high school and said, 'That's it.'
"Bless his heart, he was doing what he loved to do," Harrison said.
He said his son grew weary of his work managing the insurance agency his father had bought in St. Matthews and wanted to become a policeman.
"He said, 'I think I can help.' I didn't have an answer for that. I think he did help. He was respected, and he gave those people that he had to do something with as much of an opportunity to save face as he could while still doing his job," Harrison said.
"That's the kind of person he was. He surprised me in that he had friends on both sides of the law."
He said his faith has personally sustained him through a life marked by the loss of a child who didn't get to see his own son, T.J., grow up as a married man with three small children.
"I came to terms with it. It was difficult. Like I said, I don't accept stress anymore," Harrison said. "I have faith it'll get better, or it'll be all right. If not, I can deal with it," he said.
Get local news delivered to your inbox!
Subscribe to our Daily Headlines newsletter.