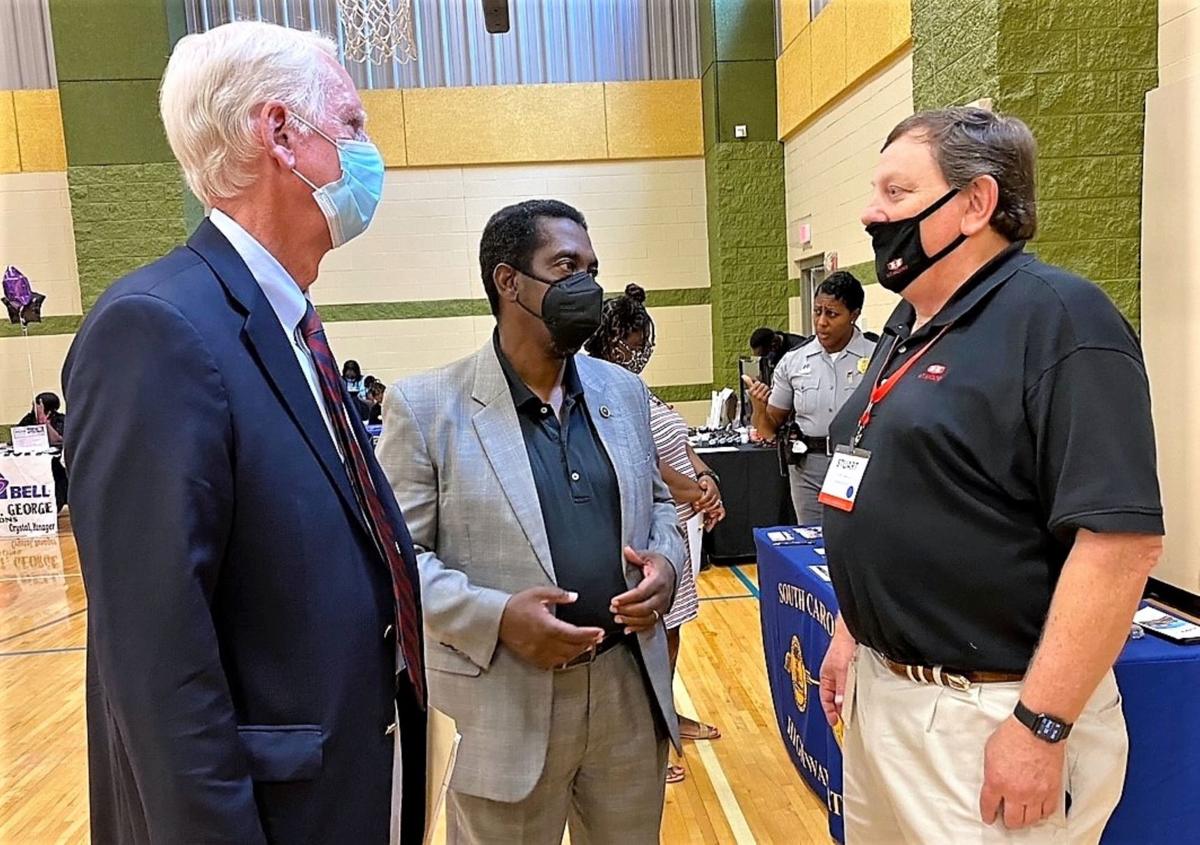 Hundreds of would-be employees converged on Orangeburg's City Gym for one of the largest and most well-attended job fairs in recent memory.
"It is the largest one I have ever walked into," S.C. Department of Employment and Workforce Director Daniel Ellzey said.
Food service, health care, manufacturing, law enforcement and other sectors were represented at Wednesday's event. The fair had 54 vendors present in the gym and 16 other vendors in attendance virtually.
"There are good employers here. There are good, high-paying jobs here. You have a ton of people in this area that want to go back to work," Ellzey said.
An estimated 400 people attended the four-hour, free job fair. Officials say individuals were lined up outside for over a half hour before the doors were opened.
Masks and social distancing were enforced throughout the fair.
Stuart Marcus, general manager of H.T. Hackney in Orangeburg, said finding employees has been a challenge during COVID. The company supplies convenience stores.
"As the economy picked up – being honest – the unemployment benefits kept people from coming to work," Marcus said.
In May, S.C. Gov. Henry McMaster announced that he would be ending the extra COVID unemployment benefits by the end of June, citing concerns about workforce shortages induced by the benefits. He said the federal benefits served as a disincentive for people to work.
"I was so proud of our governor ending it when he did," Marcus said. "We cannot continue to live off the government. Businesses have to operate ... under the free enterprise system."
After the governor announced the extra benefits were ending, the number of job seekers picked up "immediately," Marcus said.
"We saw them come in the first of May and they trickled in and it finally got to where we had a bit of traffic flow," he said.
Marcus says the ongoing challenge is finding delivery drivers.
He said delivery drivers are paid well but "there is such a demand."
Marcus said the job fair was a success.
"It has been nonstop since the doors opened. We had applications, but we had to get some brought into us because we ran out," he said.
Palmetto Sitework Services Human Resources Administrator Robyn Saunders said she had a stack of business cards but they were all gone within a couple of hours.
The company specializes in site preparation and works with the S.C. Department of Transportation in highway, paving, drainage work and land clearing.
Saunders said it's been hard to attract employees.
"A lot of people will say they are coming in for an interview, but then don't show up for the interview. That has been our biggest problem," she said.
She also believes a lot of it has to do emergency relief benefits.
"They get accustomed to that and they don't want to go back to work," Saunders said. "We are trying to figure out ways we can help the community to come back to work."
She promoted the company's benefits, saying it is currently hiring for traffic control operators, backhoe operators and laborers, or entry-level construction jobs.
Wayne Murphy, owner of Orangeburg's Chick-fil-A, said "COVID has definitely had an impact on finding employees. … A lot of people may have problems finding childcare and those other things that prevent them from seeking employment."
"It has been very challenging, but we take it from the approach that we need to recruit every day in order to attract the best people and make those connections in the community in order to do that," Murphy said.
He currently has 85 employees, which is down from the time before the pandemic. He said the restaurant needs at least 110 or 120 employees.
"We emphasize training," Murphy said. "We emphasize more on making sure leaders are holding team members accountable and that we are holding each other accountable."
"We feel that we don't want to allow our level of service to degrade or decline because of COVID or because of the recruiting issues that we may be facing," he said. "We want to make sure we maintain that high level of standards that we are looking for."
Job seeker Vanessa Tyler was at the fair looking for more hours of work in the health care field. She has experience in phlebotomy and CNA and is currently gathering experience in EKG services.
Kayla Mayes had one goal for attending the job fair: "To actually get a job."
"I am hoping that I am able to work," Mayes said, noting with COVID it has been difficult to find a job. She has been looking for a job for three weeks.
"I am pretty impressed," Mayes said about the job fair, noting she has put in three applications. "I am looking for CNA work or either fast food because I am ServSafe certified."
The COVID-19 pandemic cost many people their jobs. About 918,000 unemployment claims have been processed between March 2020 and August 2021, according to SCDEW.
About $6.5 billion in state and federal benefits have been given out. To put that in perspective, South Carolina's general fund budget is about $9.6 billion and its total budget is about $29 billion.
Things are improving, Ellzey said.
He noted there are about 237,000 people who have returned to work across the state and there are 167 more people working today than were working in February 2020, pre-COVID.
"We have made a real good recovery," Ellzey said, crediting job match programs and prison pre-release programs for helping get people back to work.
Rep. Jerry Govan, D-Orangeburg, also attended the job fair.
"The crowd shows people are interested in going to work and earning a paycheck," he said. "It is also important to note that people have been concerned about health and general welfare."
"I think this dispels the notion that people just are not seeking employment," he said. "I think people are very much interested in working and taking care of their families. They just want to do it in a safe and secure way as we have to all deal with this pandemic."
The job fair was hosted by SCDEW, the Lower Savannah Council of Governments, Orangeburg-Calhoun Adult Education, Job Corps, the City of Orangeburg Parks and Recreational Department, Vocational Rehabilitation, SC Works Orangeburg, the Orangeburg County Chamber of Commerce and the S.C. Department of Social Services.