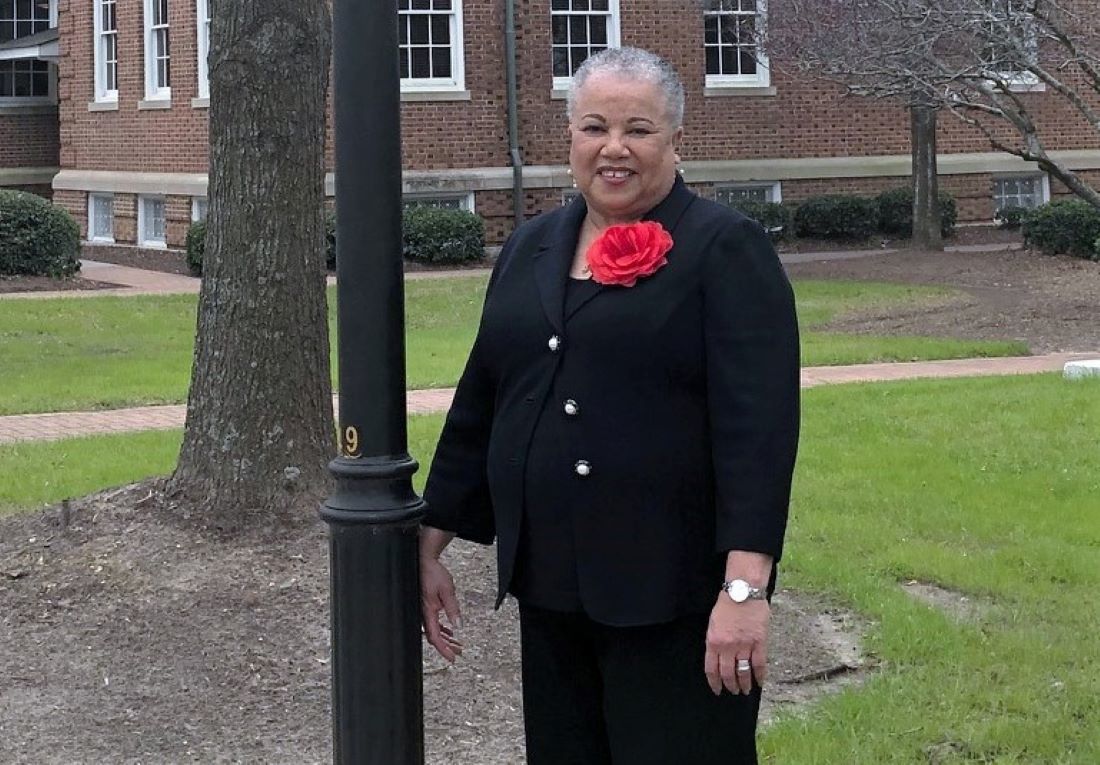 Carolyn Sherman was brought up surrounded by a loving family whose members didn't mind helping and giving back to others. She witnessed their kindheartedness and later embodied it in her own life.
Sherman spent 32 years working as an employee with the South Carolina Department of Social Services, including as director of the DSS offices in Orangeburg and Calhoun counties.
She learned a lot about strengthening adults and families with her DSS service, but her work didn't stop there.
Whether she's baking a cake for a family, taking someone to a doctor's appointment or helping mold young minds for futures in academic research, her giving spirit flows not just from her home, but her church and Claflin University, where the retiree now works part-time as program manager for a federal Research Initiative for Scientific Enhancement grant.
It is Sherman's kind, well-meaning nature and desire to spread good will throughout her community that led the Orangeburg County Community of Character initiative to honor her for her benevolence.
It was a recognition which Sherman said she accepted with surprise and "a loss for words."
"I was like, 'Huh? Me?' I was honored and humbled to get such an award," she said.
She benevolence means helping others with anything they may need.
"I worked for the Department of Social Services for over 30 years. I certainly thought that my agency represented that, in that we helped the community help people who were less fortunate and in need as far as paying rent sometimes, buying groceries, helping with deposits, finding housing, all kinds of things. So that agency certainly represented helping people out in all sorts of ways," Sherman said.
Sherman worked in various counties throughout her career at DSS, beginning with the Orangeburg County DSS, where she worked with the Aid to Families with Dependent Children, or AFDC, program, as well as in adult protective services. She would later retire from the Orangeburg County DSS office as its director.
"I started my career in Orangeburg, and I ended my career in Orangeburg. I did it full circle," she said.
She said it is important to couple benevolence with humility.
"I think it's very important, especially as the director of DSS. I used to tell the workers all the time that when you go into somebody's house, you don't interrogate them. You try to establish a relationship and let them know that you really care about them," Sherman said. 
She fondly reflects back on the time growing up with her mother, Frances, and grandmother, Elmar. She said it was a time during which she witnessed how others helped them and how she always "migrated toward elderly people."
"My mother and my grandmother never drove. So they needed a lot of help, I guess, with people in the community helping them out, doing favors, taking them places and that kind of thing. And in that, I always felt the need to help people, to help anybody that I ran into. I think that's just a part of who I am," Sherman said.
She attends Trinity United Methodist Church in Orangeburg, where she serves as treasurer and doesn't mind using her baking and driving skills to help others out.
"I help out a lot of my church members sometimes with getting to doctor's appointments, sometimes just spending time and talking with them. With some of our folks who don't like to drive at night and that kind of thing, I go and pick them up and try to give them a ride.
"I think that's just a part of my spirit, I just love helping people where the needs are, whether it's taking somebody to a doctor's appointment, picking up medication, or picking up groceries," Sherman said.
She also loves to cook and doesn't mind sharing the bounty of her own kitchen.
"And I love to cook and bake, and I take dinner sometimes to some of our members. I bake a lot. I bake a lot of cakes and that kind of thing for our members and not just our church members, but anybody. I just like to surprise folks sometimes with a cake or something like that," Sherman said, smiling.
She said her mother was the same way.
"She was a very helpful person and loved to feed people, feed the community, feed family. So I think that kind of started with my her and my grandmother. I just kind of observed and watched how they interacted with people. A lot of people would congregate at my grandmother's house, or at my mother's house because she was always in there cooking when she wasn't working," Sherman said.
She is also a member of the Orangeburg chapter of The Links, where she continues to help.
"We do an after-school program at Mellichamp (Elementary School). We go every Tuesday from 3 to 5 p.m. We offer tutoring, we work on soft skills such as oral presentations. We work with the students with talking to crowds of people and on their writing skills. We have five facets in our organization ... I happen to be over the arts facet. So we do try to slip an art project in there when we're talking about the different subjects," Sherman said.
While she works part-time at Claflin University, she is often seen staying all day.
"I enjoy it. I really enjoy working with the students, and I enjoy what I do. We get to travel a good bit, too. The students present at national scientific conferences and regional conferences. So that's a good plus," Sherman said.
She added, "Claflin is almost one of the best kept secrets because these students here do phenomenal work in their research. There's so much to be very proud of. When they go to these national conferences to represent this school, they leave their mark and people ask about Claflin."
Sherman and her husband, Bernard Sherman Sr., have lived in Orangeburg for nearly 40 years and are the parents of two children, Bernard Jr. 35, and Gabrielle, 30. Sherman said she tries to instill in her own children the same values that her mother and grandmother instilled in her.
"My daughter used to work at Jamison's Pharmacy, and I was surprised at how I'd hear from some of the patrons that went to Jamison's Pharmacy how helpful and nice and friendly Gabrielle was. I'm like, 'OK. She got it. I didn't always see it, but she got it," Sherman said.
She added, "It's the same thing with my son. He works for DSS in Columbia at the state office, and those are the kinds of things I hear about him, how helpful, friendly and nice he is."
She praised the OCCOC for its efforts to spread good character throughout the community.
"I think it's a wonderful program. I think the character traits that they emphasize and promote are good traits for basic living," Sherman said.
Get local news delivered to your inbox!
Subscribe to our Daily Headlines newsletter.