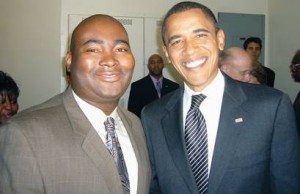 Although he becomes the first African-American to head up a major political party in South Carolina, Jaime Harrison somewhat downplayed the distinction.
"It has been way too long for this to happen," Harrison said. "I am honored to the be the first but I would rather be known as the Democratic chair that wins back the governorship and a few seats in Congress.
"That's really what I want to be known for."
Harrison, 37, was elected as the new South Carolina Democratic Party chairman during the party's state convention in Columbia Saturday. He replaces Dick Harpootlian, who did not run.
A graduate of Orangeburg-Wilkinson High School, Harrison previously held the position of first vice chairman. He told convention delegates that they can challenge Republicans in South Carolina but not before other issues are addressed.
"We need to look internally at how we operate and make sure of the infrastructure that is needed to win elections," Harrison said. "I talked about how we must implement a 46-county strategy to make sure that each one has the resources to be successful.
"It's also important that all Democrats have the same message and that particular message is coordinated."
What is most important, Harrison says, is even if party members think they are doing a good job, he needs them to do a better job. He intends to start creating a game plan for the 2014 elections and begin recruiting candidates immediately.
"My first goal is to win the 1st Congressional District election on Tuesday," Harrison said. "I think that would be a terrific way to start a chairmanship.
"I encourage (Democratic candidate Elizabeth) Colbert Busch, and I know she will do us proud regardless of the result. She has helped pull this party together."
The Yale University and Georgetown University Law Center graduate worked for S.C. Sixth District Rep. James Clyburn for six years. Harrison said he was the first African-American to serve in the capacity of counsel and floor director for Clyburn when he was the majority whip in the U.S. House of Representatives.
Positive response and support was "overwhelming," Harrison said. It came from all across the state and nationally as news of his election as state Democratic Party chairman spread.
"As I mentioned in my speech, they see this as a new beginning, to rebuild this party," Harrison said. "What I got from so many people is this provides new momentum to move the state forward. They have renewed hope about where we can go.
"Orangeburg is going to be core to what I do as chairman," Harrison said. "I have great working relationships with the legislative delegation and (Orangeburg County Democratic Party chairman) Betty Henderson is one of the top county chairs in the state.