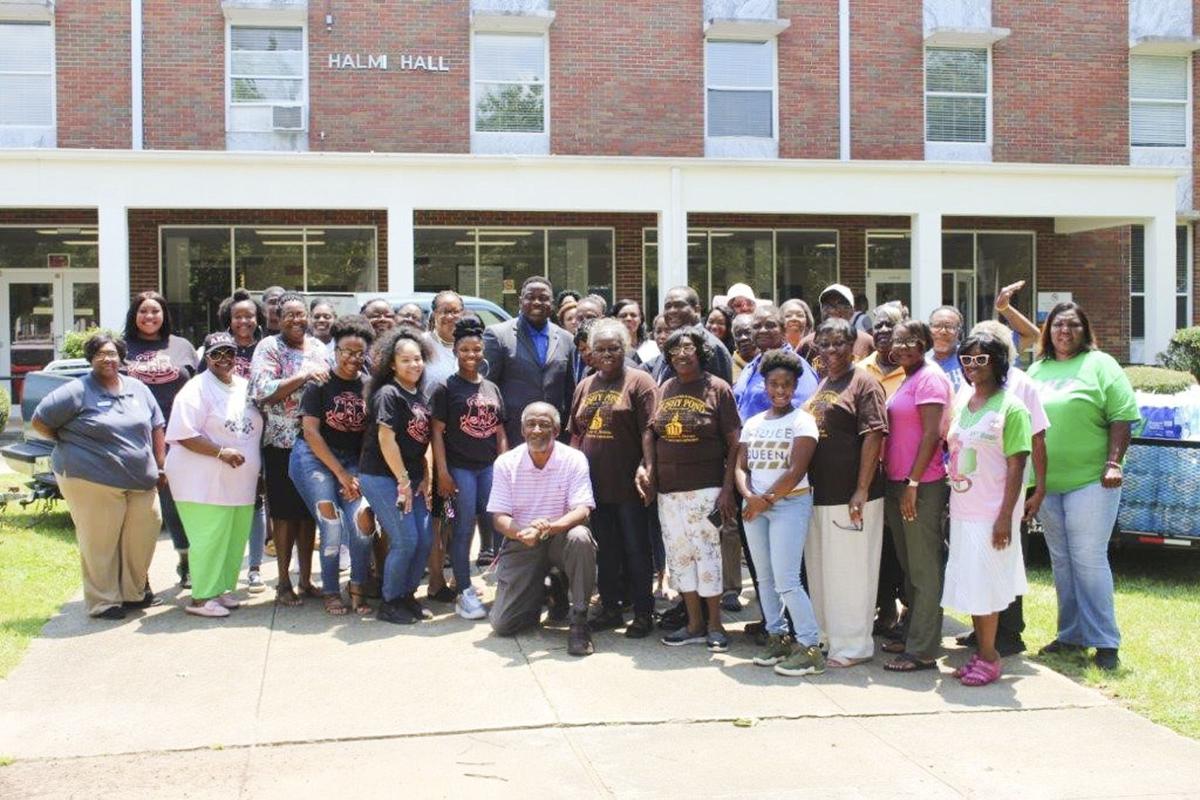 The Beaver Creek Women's Auxiliary Youth Mentoring Program recently partnered with the Health and Wellness and HBCU Targeted Programs of Alpha Kappa Alpha Sorority, Nu Tau Omega Chapter, to distribute 400 cases of water to residents of Denmark.
The distributions were held for the students of Voorhees College and Denmark Technical College on their campuses on Aug. 1.
Additionally, sorority members of Eta Nu, Gamma Nu and Nu Tau Omega chapters of AKA delivered water to senior citizens in the town of Denmark.
The Beaver Creek group's summer community service project was to sponsor a water drive for the citizens of Denmark.
Elesia Poterfield, who is a participant in the mentoring program and is the current Miss Chapel Hill Baptist Church, said, "I had fun today. It was a hot day, but it feels good to give to others. I love participating in community service projects."
Tonya James, who is a member of the auxiliary and Nu Tau Omega, said, "We contacted President Green about the project."
Dr. Donald E. Green Jr., is the president of the Baptist Educational and Missionary Convention of South Carolina.
"He was contacted about the plans for the project and graciously matched the 200 cases of water that had been donated by the churches in the association," James said.
Sybrenda Holiday, first vice president of the Beaver Creek Woman's Auxiliary said, "What an awesome opportunity for God's people to be of service to mankind! We never know what situation we may find ourselves in. But how comforting it is to know that there are those around you that can lend a helping hand when needed. It made me feel very good inside to know that the water that was donated is going to help those in our community and that we are fulfilling God's word that emphasizes helping our neighbor."
Holiday's husband, the Rev. James E. Holiday, pastors Bushy Pond Baptist Church in Norway and serves as vice moderator of the Beaver Creek Association.
Dr. W. Franklin Evans, president of Voorhees College, and Dr. Christopher J. Hall, interim president of Denmark Technical College, along with some of their staff and students, were on hand to assist the organizations with brief comments and blessing the project.
Marilyn Scott is the president of Beaver Creek Woman's Auxiliary. She was moved to act after hearing the installation address of Green.
"We as women of the Beaver Creek Association began a mission of helping those that are around us, a mission of sharing and caring. We offer a helping hand to single mothers, abused women and senior women," Scott said.
The following churches make up the Beaver Creek Association: Bushy Pond Baptist Church, Chapel Hill Baptist Church, Gospel Temple Baptist Church, Hickory Hill Baptist Church, Piney Grove Baptist Church, Samaria Baptist Church, Smyrna Baptist Church and Turkey Branch Baptist Church. Wendell C. Sims serves as moderator of the association.
Lisa B. Stokes serves as the vice president and chairperson of international programs of Nu Tau Omega Chapter of AKA. In addition to HBCU and Women's Health and Wellness, AKA programs target areas of economic legacy, the arts and global impact. The signature project for AKA is #CAP (College Admissions Process).
Tijuana Hudson chairs the HBCU Target, Shannon S. Williams chairs Women's Health and Wellness and Antigone Solomon is the president of Nu Tau Omega.
Get local news delivered to your inbox!
Subscribe to our Daily Headlines newsletter.