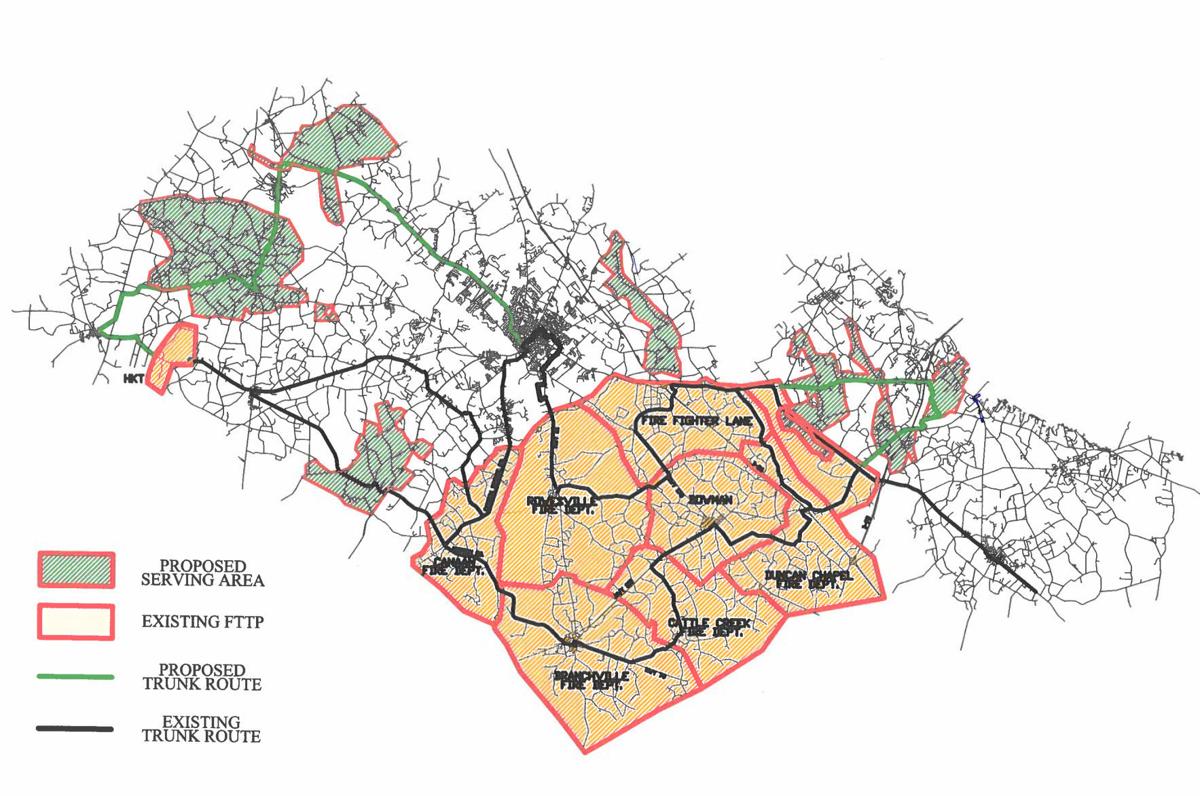 More than a thousand residents in Orangeburg County will be able to receive broadband internet access thanks to a federal grant and the capital projects sales tax.
"We applied for a grant, and it is a $13 million project that we have to match, but the federal grant portion is $9,750,000. We've got to put a $3.5 million match," Orangeburg County Administrator Harold Young said.
The county will fund its match with money from the capital project sales tax, Young noted. Funding for the match will also come from another source.
"We have leftover funds from the first project that was isolated, and some of the revenues from this broadband project itself. Because it's an enterprise fund, so it does make money, so part of that has been isolated to go towards the match fund," Young stated.
Orangeburg County Council accepted the USDA Rural Development Telecommunications Program grant during its Monday night meeting.
Young stated that more than 1,000 residents will be receiving broadband across the county, but it won't be free of charge. A monthly charge will be associated with broadband access, and Young stated that there will be different tiers of charges.
Young stated that the project will be completed by 2021.
"We should be able to get most of them finished by the end of next year. A little bit of them may spill into 2021," Young stated.
A map shows the county plans to take high-speed internet to pockets of residents throughout the county. View the map at TheTandD.com.
Congressman Jim Clyburn held a meeting in Holly Hill in April on broadband internet with county officials, school officials and others.
You have free articles remaining.
This will be the county's second broadband project. The first project, in which the county spent $16 million, involved taking broadband into facilities like medical facilities, fire stations and county buildings, making them "hot spots" where citizens can access the internet.
Also during Monday's meeting:
• Orangeburg County Voter Registration Director Aurora Smalls gave a presentation about the county's new voting machines. Smalls noted that citizens can come to the county voter registration office located on Amelia Street for a demonstration of how the new machines will operate.
• Employees of SC Works gave a presentation regarding the Workforce Innovation and Opportunity Act Program. They said the program is designed to give citizens ages 16-24 occupational skills training, on-the-job training and help toward obtaining a GED. Those interested in the program can receive more information at the SC Works Orangeburg office located at 1804 Joe S Jeffords Hwy.
• The Rev. Arnold Ray accused Councilwoman Deloris Frazier of trying to remove John Stroman's name from the John Stroman Center and restricting citizens' use of the center. Frazier offered "no comment" to Ray's accusations.
• Council approved third reading of an ordinance that amends the text of the Orangeburg County Zoning Ordinance. The change adds an option for county residents to live in an accessory dwelling.
• Council approved third reading after public hearing of two ordinances offering fee-in-lieu of taxes economic development incentives to two solar farms that will be located in the Bowman area. The ordinances allow for Orangeburg County Solar LLC to receive a 40-year fee-in-lieu of taxes agreement for the farms. The two, 750-acre solar farms will each generate 75 megawatts of power and have a minimum investment of $82 million.
Council also approved a resolution to enter into a memorandum of understanding agreement between the county and Orangeburg County Solar LLC.
• Council approved third reading of an ordinance enlarging the boundaries of the Orangeburg and Dorchester counties joint industrial park to add Quality Models South Carolina. There is no physical park, but the vote allows the company to receive additional economic development incentives.
Council also approved third reading of an ordinance authorizing the execution and delivery of a 30-year fee-in-lieu of taxes agreement between the county and Quality Models South Carolina. The project will include a minimum capital investment of $9.3 million, and the creation of a minimum of 37 new jobs.
• Council approved second reading of an ordinance and approved a resolution authorizing the purchase, acquisition, installation and service of certain equipment. The county will be leasing the equipment. The lease agreement is for the county's purchase of Stryker EMS gurneys for the Orangeburg County EMS Department.
• Council approved an official action item setting the millage for the 2019 tax year at 174 mills, which is an increase of 1 mill from last year, Young said. Council approved a budget in July that anticipated the tax increase.
• Council approved the fiscal year 2019 "carry forwards." The approval allows the county to continue projects that have not been completed. The amount being carried forward is $566,535.
• Council approved the courthouse asbestos remediation. The county will enter a $150,000 contract with Compliance Centre of Orangeburg.
• Council approved a resolution declaring October 2019 Breast Cancer Awareness Month in Orangeburg County.