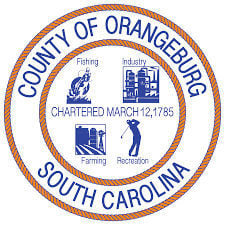 Orangeburg County Administrator Harold Young praised the work of county council and county employees during the coronavirus pandemic.
"We have a hardworking, excellent team in Orangeburg County who has been doing all they can to try to make sure we serve the citizens as much as we can as a part of this COVID-19 situation," Young said.
"We're doing all we can to make sure we give the citizens what they need wherever we can get it," he said.
During Monday's Orangeburg County Council meeting, Young detailed the many programs and efforts that are aiding citizens, including coronavirus testing and food assistance programs.
"We're excited about the testing that we started last week in Santee and Holly Hill. We're also excited about the mask giveaway that we did. We'd like to thank Southern Health Partners who donated the masks and to help us, and it was a collaboration with multiple people, multiple vendors giving us that," Young said.
He said the county was also excited to start a drive-up testing partnership with Family Health Centers.
"They did a location as we posted on the county Facebook page earlier today, and a full listing of all the schedules will be in the newspaper," Young said.
Testing sites will be located in Orangeburg, Cope and Eutawville.
Young also discussed the county's continued efforts to help the citizens impacted by last month's tornadoes.
A Federal Emergency Management Agency site was established in County Council District 4, which is where the storms caused the most damage.
Young thanked the council members for their efforts in helping with FEMA assistance, as well as their efforts to provide meals for citizens and deliver masks.
Young also thanked the county library staff for their assistance, noting their work with food delivery.
"This really shows the community that Orangeburg County Council, all seven of you, really have done a lot to help us get to where we need to be," Young said.
• Council approved a resolution recognizing National Emergency Medical Services Week.
• Council approved a resolution expanding the park boundaries of the joint Orangeburg and Dorchester County industrial park for Project Birthday. The project will be located in Dorchester County.
• Council approved an emergency ordinance by first reading only extending the emergency ordinance, on a temporary basis, allowing electronic meetings of the Orangeburg County Council.
Get Government & Politics updates in your inbox!
Stay up-to-date on the latest in local and national government and political topics with our newsletter.