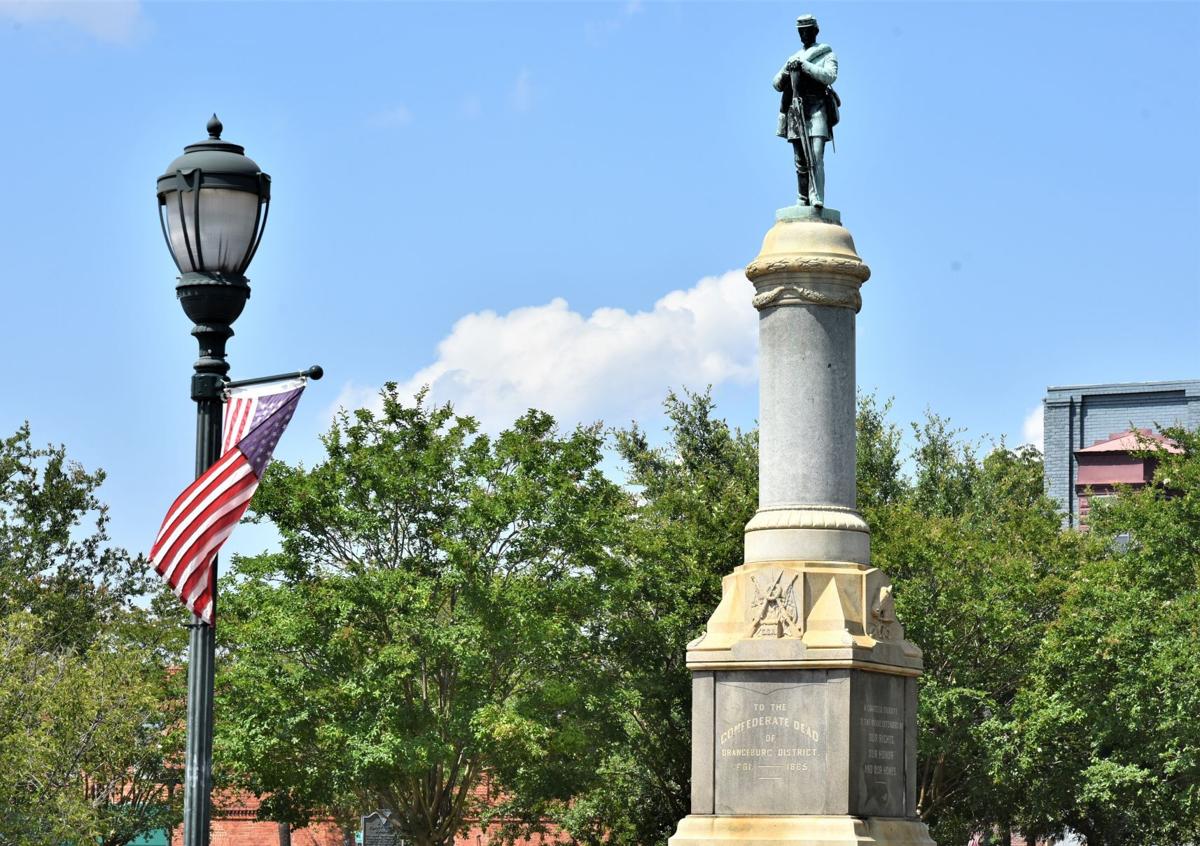 Orangeburg will be seeking a legal means to remove the Confederate statue from downtown's Memorial Plaza if City Council gives its OK on June 30.
Mayor Michael Butler issued a statement via the city's Facebook page on Monday addressing the possible removal of monuments and symbols.
The statement says Butler and the Orangeburg City Council are "aware of the many concerns that have been expressed by constituents and organizations and are feverishly working on sending a resolution to the S.C. General Assembly to allow local governments to work with their citizens to remove monuments and other symbols of racism that may be within the City of Orangeburg. As the Mayor of Orangeburg, I support the Black Lives Matter movement, and all voices to help us start this conversation."
Butler said he has been receiving considerable public contact about the removal of the Memorial Plaza statue. He did not cite any other memorials being targeted for removal.
The 33-foot Confederate granite statue of the Unknown Soldier was erected in 1893 via the efforts of 21 women of the county who formed the Orangeburg Confederate Monument Association.
The monument, designed by Theo Markwalter of Augusta, Georgia, is topped with a bronze likeness of Capt. John D. Palmer of the Hampton Legion. Palmer's image was molded and cast in a town in Massachusetts.
Palmer was a fraternal great uncle of the late Ellen Chaplin, who served as superintendent of education for Orangeburg County in the 1960s and '70s.
Similar monuments are located in cities and towns throughout the South.
The mayor said council will consider a resolution seeking state lawmakers' support for changes to the Heritage Act that would allow Orangeburg to remove the monument.
Under the Heritage Act of 2000, the changing or removal of any local or state monument, marker, school or street erected or named in honor of the Confederacy or the Civil Rights Movement must receive a two-thirds vote by the General Assembly.
Orangeburg City Council will consider the resolution on June 30. Butler said council members have played a role in formulating the resolution and he expects it to be approved.
Other cities are asking their legislative delegations to support Heritage Act changes that will give local government a say on monuments and statues, he said.
"I am the mayor for all," Butler said of his hope that the community will support council's call for the monument to be removed.
"I would like to see Orangeburg come together," Butler said. Removing Confederate symbols is a step in that direction.
"I would like to see us eliminate any kind of symbols that honor slave owners."
Butler said the city will be seeking support from local lawmakers in the form of proposing changes to the Heritage Act. Until then, he urges that the monument not be disturbed.
"Please don't vandalize that statue," Butler said. It needs to be removed legally.
Sen. John Matthews said he is in support of the mayor and council.
"I think they're following the procedures," Matthews said.
"The symbols that we honor and cherish do say something about who we are, and if those symbols don't reflect the best interest of the total population of the community, yes, I would agree with the removal," Matthews said.
Sen. Brad Hutto offered similar support.
"I appreciate the mayor and City Council being proactive about this. I think they're right to do that, so I support them in their efforts," Hutto said.
"My thoughts are it should be up to the city, and the Heritage Act passed in 2000 is unconstitutional, but that'll be decided in the courts," Hutto said.
Matthews said there has been discussion among state legislators about repealing the Heritage Act, which would allow decisions on the changing or removal of structures to be made on the local level.
"I think there's a consensus building that we need to go ahead and authorize the removal of those statues which reflect a time when people were abused. Those who tried to keep people in slavery and abuse them need not be the symbols we honor and cherish," Matthews said.
Both senators said they are in support of repealing the Heritage Act.
Hutto said the courts could rule that the act is unconstitutional.
"Well, if the courts rule that it's unconstitutional, we may not need to repeal. But as of now, we'll have to take it up and vote on it," Hutto said.
Matthews and Hutto expressed doubt that the issue will be addressed in this year's legislative session.
"Procedurally, and I know people don't like to hear this, but procedurally we can't get to that right now because it's not before us, and tomorrow is set for a session on the virus. And when we can get to it, which will probably be in January, I'm sure we'll take it up and debate it," Hutto said.
Get Government & Politics updates in your inbox!
Stay up-to-date on the latest in local and national government and political topics with our newsletter.