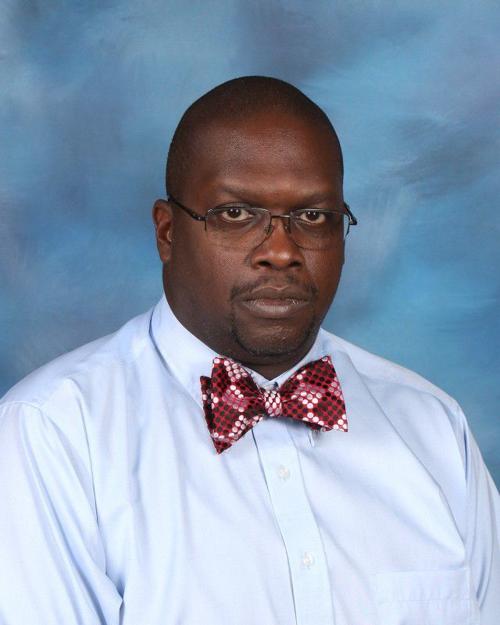 Democratic candidates Rickey Dansby and Dr. Jonathan Goodman II have filed for the Bamberg County Council District Five seat.
The two will meet in the June 9 Democratic primary. No Republican filed for the seat.
Incumbent Democrat Isaiah Odom is not seeking re-election.
Jonathan Goodman II
Goodman works as an assistant principal at Richard Carroll Elementary School in Bamberg. He has an undergraduate degree in electrical engineering and a master's degree and a doctorate in business.
Goodman said he is seeking election because he wants to bring change.
"I want to be a catalyst for change in the county and the constituents in my area. I just think that the community needs change," Goodman said.
Goodman detailed his experience relevant to the council position.
"I grew up here in Bamberg, Denmark, and throughout the travels and experiences, decided to come back about 12 years ago and all I see is a downward spiral of the community. Businesses are closing, taxes are high, people are leaving, no influx of new business to kind of offset the individuals who are living here's taxes, and it seems that we are stuck in a cataclysm that will not allow us out," Goodman said.
Goodman believes he is the best candidate for several reasons.
"As far as being a bridge, I grew up and I have roots in Denmark and ties in Bamberg. So, the community, unfortunately, has been divided for a long time. The inroads to bridging that gap would be somebody who has ties to both communities, and that is something that I possess," Goodman said.
If elected, Goodman said he has several goals he would like to accomplish.
Goodman said he would "try and evaluate ways to reduce countywide taxes. And bridging the divide between Bamberg and Denmark. We are too small of a county for there to be a disparity between the two towns as such, and I would like to see where we're working together to improve the county, as opposed to working in sovereign and the county becomes an afterthought."
"One of the things I would like to establish is an educational alliance. We have two HBCU (historically black colleges and universities) colleges here in the county that need to be utilized. ...
"I think industry is key, and we have to be meticulous about the industry because I want Bamberg County to continue to have the mystique of a small county, but I want it to be a successful small county. I don't want it to grow leaps and bounds where we have one of the largest counties in South Carolina because I think it would lose the lure of a small county," Goodman said.
Goodman said he wants industry in place that will support the county, the citizens of the county, and make it sustainable.
Goodman said he would also like to address the county's unnecessary spending and be accountable to his constituents and the people who call the county home.
Goodman detailed the county's tax burden, which he says is affecting the citizens.
"The burden is Bamberg is one of the highest-taxed-per-capita counties in the state, which makes it difficult to own property, to own resources here. A part of that is to look at it from different angles. One, get spending under wraps, and two, try and create attractive packages where industries who come in to offset the tax burden of the county," Goodman said. "Those are things that are not going to happen overnight, but it's going to be a process."
Goodman also assessed the current county council and Bamberg County Administrator Joey Preston.
"And they've done some things that they can look back and say we did pretty good with that one. I'm not going to judge or say they could have done this better, but some of the things they've done, it's impacted the county in a positive way. It would be my goal as a council to try and have more wins so that the county would be impacted more frequently in a positive way," Goodman said
Goodman stated that he does not know Preston personally, and he hopes to develop a relationship with the administrator that will propel the county to the forefront of success.
Goodman noted that he is involved in the community, most recently participating in food giveaway efforts with Foodshare SC in Bamberg.
Rickey Dansby
Bamberg County Council District 5 candidate Rickey Dansby was not available for an interview when this preview of the election ran initially. His 100-year-old mother was ill in Atlanta and later transitioned. He later responded to questions from The T&D.
Dansby is owner of Dansby Townhouse Apartments in Denmark.
He retired from the U.S. Postal Service in 2015 after 37 years. He served the post offices in Atlanta and Denmark, and served as the acting postmaster for Neeses and Rowesville.
Dansby earned an undergraduate degree in biology, minoring in health and safety education from the University of Georgia and an associate's degree in building construction from Denmark Technical College.
Dansby stated that he is running for office to make a difference in the community.
"With the background that I have, I've prepared for this moment. Being a mailman, I retired as a city letter carrier, and interacting with the community on a daily basis, I was able to do my own needs assessment, or see some of the things that would make the community a better community," Dansby said.
"I have a vested interest because I'm a business owner as well. I have an eight-unit townhouse apartment," Dansby said.
Dansby detailed his experience relevant to the position.
"I'm currently on the Bamberg County Tax Appeal Board, I'm the president of the Denmark Lion's Club and I received a proclamation from the South Carolina House of Representatives for the achievements I've done in the community," Dansby stated.
Dansby feels he is the best candidate for several reasons.
"I feel that I'm the best candidate because of my experience interacting on a daily basis with the community to assess their needs. With me being the age I am, I've been seasoned as far as experience. I was blessed to have a mother who lived to 100 years of age, and she was able to pass a lot of that wisdom about life to me, about life experiences that I use on a daily basis," Dansby said.
His top goal, if elected, is improving education.
"Education is the basis for everything. That would create quality students and interacting with our resources that we already have. We have two colleges in Bamberg County. We have Denmark Technical College and Voorhees College. Collaborating with them, it would be like a two-fold thing. With education in the high schools, you would hopefully be able to retain those same students in the Bamberg community, keeping the money there, therefore helping lower the millage in the area. That's one of the biggest problems and one of the things we need to work on, is education, economic development," Dansby said.
He said he would not move for changes until he's assessed the situation.
"I go by what I see, and evaluate it myself and move from there," Dansby said.
The county needs lower taxes, he said.
"I would say we have some of the highest taxes probably in the state, so we need to lower that," Dansby said. That would help encourage businesses to come to Bamberg County.
"One of the selling points would be lower taxes, and the other selling point would be we have two colleges here that can educate and help the business. Most people can't offer that," Dansby said.
Dansby didn't comment on County Administrator Joey Preston. He said he will assess the situation and move forward.
"The past is a growing tool. That past is the past, we need to concentrate on moving forward and seeing what's better," Dansby said.
He feels the current council has been effective, but there is always room for improvement.
"That's where I hope to play a significant role, is assessing, doing my own assessment of what has been done and what needs to be done. And I always believe in the team concept," Dansby said.
Dansby noted that he is involved in many community activities, including serving as the president of the Bamberg County Lion's Club, working as a sports coach and serving as a mentor.
Get Election 2020 & Politics updates in your inbox!
Keep up on the latest in national and local politics as Election 2020 comes into focus.