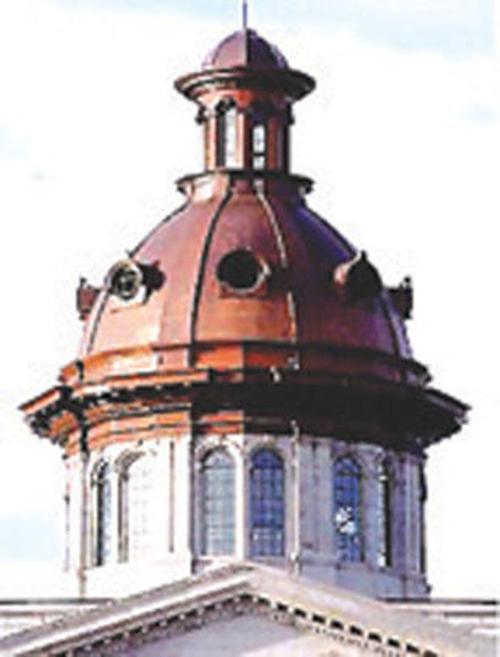 Orangeburg and Calhoun state representatives are looking back on what was and was not done in the 2021 session of the General Assembly impacted by COVID-19.
The elected officials, all Democrats, gave their thoughts on how the session played out, assessing the state's $10 billion budget and offering insight on redistricting and the upcoming fall session.
Rep. Jerry Govan
Govan said the session was impacted by the pandemic in many ways.
"The past legislative session, of course, was basically beset with all of the state's effort's dealing with and the country's efforts dealing with the coronavirus, or COVID-19," Govan said.
"Which really had a dampening effect on the session. We made it through financially, I think, based on very prudent decisions from a budgetary standpoint," Govan said.
Govan believes the General Assembly handled the pandemic and made better decisions than other states.
"Because of some of the measures we took, the state fared better than a lot of states in the country when it came to being able to handle the physical impact of COVID-19. So the state's response, though not perfect, I thought was in some cases robust enough to get us through the crisis in pretty decent shape, even though there's still a lot that needs to be done," Govan said.
Govan said some things could have been done better in terms of communication with communities that were greatly impacted by the pandemic.
Govan highlighted some positives from the session.
"We did a lot in terms of when it came to legislation that dealt with children and education. There were several bills that were enacted into law dealing with things such as the expansion of vaccination capacity, rental assistance to eligible households, step increases for teachers, installment plans for property taxes, and requirements for student identification cards to identify suicide crisis," Govan said.
"Financially, protections for financially exploited or vulnerable adults, just to name a few," Govan said.
Govan said he wished the state would have passed a few bills he viewed as important.
"I guess the biggest would be the failure of this state to pass a hate crimes bill, which is still held up in the Senate. We got it through the House, but we were not able to get it passed. Even a much less robust version of the bill that passed out of the House was unable to make clearance in the Senate," Govan said.
"That is something that I hoped we had gotten done," Govan said.
"Just the time and effort put into that, and the state still is now amongst the last three states in the country to have passed hate crime legislation," Govan said. "Just kind of befuddles me."
A bill regarding student loans was also needed, Govan said.
"I had hoped that we would have passed the student loan bill of rights because of not only the statewide but national impact of student loan debt that is saddling down not only students but parents and grandparents as well, those who co-signed for these loans," Govan said.
"It's a major crisis, it's not going to go away and it's trillions of dollars. Congress hasn't been able to tackle it, and I had hoped that we would be more transparent and try to do something on a state level. Unfortunately, that hasn't been done," Govan said.
Govan provided his thoughts on the $10 billion budget the state passed.
"It's interesting that because of the actions of this administration and Congress, we're going to have some additional money that we're going to have to go back in September, probably late September, to spend," Govan said.
Govan noted the state will receive approximately $2.1 billion from the federal American Rescue Plan.
Govan noted some of the local projects that received funding.
"I was able to secure $50,000 for the Samaritan House, and some additional funding for a future project dealing with a community center in the heart of the district. And doing some community revitalization efforts to fund some of that, or to provide some seed money for that," Govan said.
"That's going to take more than those dollars, particularly for the community revitalization effort and community projects. My hope is that we will be able to collaborate with the city and the county in terms of trying to leverage those funds for others that we can really do something significant to improve housing and other worthwhile economic projects that can stimulate the local economy, and provide better hope and opportunity for this citizens in the district," Govan said.
"There are some things that we didn't get through that are still alive on the legislative calendar," Govan said.
He listed the hate crimes bill, student loan bill of rights, financial literacy, compulsory school attendance and limiting the use of ketamine as legislation he would like to see passed.
He also spoke on a need to address education issues in the state.
"We still were struggling with providing ... each child in this state with a high-quality education," Govan said. "I don't see why we're reluctant to put that in writing, put in our constitution to make that promise to people of South Carolina, to the parents of South Carolina," Govan said.
Govan proposes putting education up for a vote as an amendment to the constitution.
"Let's put that on the ballot and let the citizens decide whether they want South Carolina to be fully committed to providing children with a high-quality education. I think that's a no-brainer," Govan said.
Govan said there should also be laws in place to prevent persons who are an immediate danger to themselves and others from being able to obtain lethal weapons.
Govan said there should not be a decrease in the focus on the coronavirus, and how it is still impacting citizens.
"One of the things that I hope we do moving forward, and I don't think we can afford to be regressive in terms of how we address what is not going away anytime soon, and that's the dreadful impact of the coronavirus on our population. ... I'll be working very diligently to try to convince the governor and others who are opposed to allowing our health care officials to be aggressive about getting the word out," Govan said.
Govan said the pandemic should still be at the forefront of concerns for all government officials, making sure that citizens continue to get vaccinated, and that the proper measures are put in place to ensure that children and teachers are safe upon their return to school in the fall.
Govan said combating the virus and establishing the safety and well-being of citizens should not be a partisan issue.
Rep. Gilda Cobb-Hunter
Cobb-Hunter described the session as unusual.
"This session was unusual because of the pandemic, and the impact the pandemic had with us working remotely and taking time off and all of that. It was a unique session," Cobb-Hunter said.
"As far as legislation that was passed, I was not happy to see the changes that the House passed in election laws, changing the makeup of the election commission. Of course, very, very disappointed to see us pass laws on open carry and constitutional carry, which is just, in my view, adding to the potential violence in our communities. I just don't think it's a good idea to allow people to walk around with open firearms given the level of intolerance in our communities across this state, and our country," Cobb-Hunter said.
"And of course, I was very opposed to the heartbeat bill," Cobb-Hunter said.
Cobb-Hunter highlighted a few positives from the session.
"On a positive note, I was very pleased with what our subcommittee did about funding higher education across the state, and in particular, what we were able to do for O-C Tech and Denmark Tech and South Carolina State. Those three, our subcommittee funded those three institutions. We were generous," Cobb-Hunter said.
"Although I wanted more, I was pleased to see that state employees finally got a 2.5% raise. I am hopeful that when we go back in the fall, and we talk about the money that is coming down from the federal government, that we will be able to at least look at hazard pay and giving state employees some kind of bonus if we are able to use the money for that," Cobb-Hunter said.
She said she was pleased with the state budget.
"Although it was a unique year, from a budgetary standpoint, I thought it was a pretty successful year. And of course, we were able to use CARES funding to mitigate some of the losses in our state, and it's important for people to know that South Carolina was able to access those CARES dollars because of Democrats in Congress. Not one Republican in the South Carolina delegation voted for that rescue package, and that CARES funding," Cobb-Hunter said.
Cobb-Hunter said she will pick up where she left off in the upcoming session.
"One of the things, I ran out of time. I introduced a resolution called the Justice 40 oversight committee," Cobb-Hunter said.
"All this does is create a committee made up of all of the various stakeholders in state government, to make sure that the money that comes down to the state, that at least 40% of those dollars be spent on these vulnerable communities which have been impacted by environmental justice," Cobb-Hunter said.
She said state agencies, such as the South Carolina Department of Health and Environmental Control and state Housing Finance and Development Authority, would be members of the committee.
Cobb-Hunter said Delaware lawmakers used her bill as a model and a bill was passed there.
"So the goal is to get at the systemic issues," Cobb-Hunter said.
"The other priority for me is trying to get traction on H.3822. That's my priority for next year," she said.
The bill will restructure some same-day voting laws.
"My colleague, Brandon Newton, a Republican who also sponsored a bill, he and I have agreed to work together in the interim to see if we are able to join forces with pieces of both bills and have something in January that the House can consider," Cobb-Hunter said.
Cobb-Hunter said she will also be focusing on redistricting, which will take place this year.
"I am going to be focusing on my redistricting legislation. I have legislation which takes it out of the hands of the General Assembly and creates an independent commission because I think voters ought to choose the politicians, as opposed to having politicians choose what voters they want in their district," Cobb-Hunter said.
"I am realistic. I do not think the legislation will go anywhere because there is opposition from both Democrats as well as Republicans, which is not surprising," Cobb-Hunter said.
Rep. Russell Ott
Ott also said the session was not normal compared to past sessions.
"It was an interesting session for sure. Dealing with COVID-19, it was certainly a unique session. There were high points and low points," Ott said.
"I think that it was clear that there was a lot of legislation this year that seemed more partisan than in the past. There were just a lot of bills introduced that ultimately made it to the floor that, typically over the course of my eight years, I haven't seen legislation ultimately make the floor and continue to eat up so much time," Ott said.
Ott said legislation on guns, abortion, transgender and other issues dominated headlines and time.
Ott cited high points in the session.
"For me, Santee Cooper. Ultimately getting some resolution on Santee Cooper was a huge deal. That was something I worked extremely hard on to try to determine what was the best course of action for Santee Cooper, which ultimately led to major reforms with the utility, but also the determination that we weren't going to move forward with a sale," Ott said.
"I think that's very important as far as giving stability to the utility, and knowing that we've got some new measures in place, as far as transparency and trying to have a better working relationship with the General Assembly and Santee Cooper. The intent, obviously, is it provide that reliable electricity at an affordable rate," Ott said.
Ott said he was proud of the budget process.
"I think it was definitely an education budget. We were able to appropriate and allocate additional monies for teachers this year, and public education in general. And I think that's going to continue.
"There was $100 million that was appropriated to Title 1 rural districts that I think is going to go a long way in trying to upgrade facilities in those areas, which I think is long overdue," Ott said.
Ott also noted the 2.5% raise to all state employees, saying it was long overdue. "It's not enough, but at the end of the day it's certainly a step in the right direction."
"I feel like it was a productive budget, and hopefully we'll be able to build off that in the coming year," Ott said.
Ott said he was able to secure funding for local projects in his district.
"We made some major strides on that transparency side of things, as far as making sure that people that were trying to have earmarks within their district, they do it the proper way, they do it on the record, they put their name beside, and so it's out there for everyone to see," Ott said.
He said that was a major step in budgeting the right way and appropriating state dollars the right way.
Looking ahead to the next session, Ott said he will be focusing on a few issues.
"I'm working on some special committees right now. I've got an equine study committee that I'm really interested in trying to bolster the equine industry in the state. Obviously, in Orangeburg County, Calhoun County, equine, and horse training, and horse racing is a big issue. So, I'm very excited to see what the final product of this special committee that I'm chairing right now ultimately comes out with recommendations. And then I would like to see that put into legislation and introduced," Ott said.
Ott is also a member of a Regional Transmission Organization.
"We're taking a look at the way we generate electricity in the state of South Carolina through the investor-owned utilities and Santee Cooper. Is that the most efficient way for us to provide electricity to South Carolinians and our constituents? There are other models out there that other states are using where there is more electricity that is ultimately purchased off of the grid," Ott said.
"So we're going to be taking a hard look at what is the best system for South Carolina to kind of try to tackle as we move into the next couple of decades. What's the best model for us to try to adopt? That's going to be a big deal. Obviously there will be some legislation that'll come from that, and hopefully, it will be good," Ott said.
Ott said reliability is just as important as the price. Ott said he does not want to see a scenario similar to one that took place in Texas earlier this year when rolling blackouts caused very high electric bills.
"I think that we've got to be able to produce for ourselves to a certain extent, but I also want to make sure we get the best price for our customers," Ott said.
Ott expects redistricting to be a leading topic during the session.
"It'll be interesting to see how redistricting plays out this year. I think that's what's on everybody's mind right now as we head into the fall. Ultimately what these district lines are going to look like for House, Senate, congressional districts, as well as local government. You've got county council and school board that's going to have their lines redrawn as well, and I think that' going to be important for everyone," Ott said.