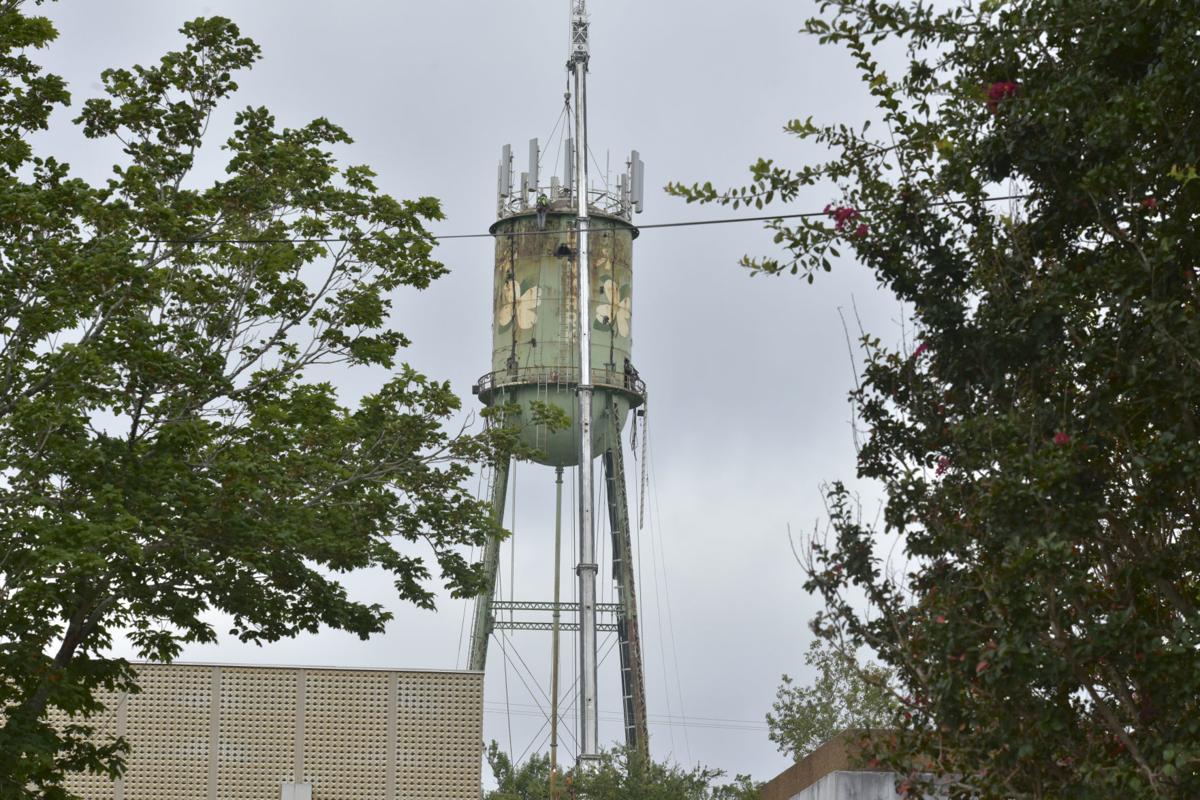 Rep. Justin Bamberg says a special committee should investigate the S.C. Department of Health and Environmental Control's role in the use of a non-EPA approved chemical in one of four wells in the city of Denmark.
CNN reported last week that Denmark had been using HaloSan in one of its wells for a decade.
Bamberg, D-Bamberg, said he and Sen. Brad Hutto, D-Orangeburg, met with DHEC officials on Wednesday to determine how the decision was made to use the non-EPA approved product in drinking water.
In the meantime, a group of Denmark citizens filed a class-action lawsuit on Thursday against the city over the use of HaloSan.
The complaint describes the chemical as "a disinfectant used to treat pools and spas" that is not approved by the EPA to disinfect drinking water. The lawsuit alleges Denmark had not "regulated the dosage of HaloSan in the administration process or filtered such water before distribution."
Denmark native Bakari Sellers, an attorney with the Columbia-based Strom Law Firm, said the lawsuit was filed by his firm, along with Wilson & Luginbell of Bamberg and the Law Offices of Ronnie H. Sabb of Kingstree.
"There's an issue with whether HaloSan should be used. And if it was used, how was it used? Was it monitored properly? All of those things. We're not bankrupting the city. We've asked the city to bring in DHEC. A lot of the blame falls on the state and the city should be indemnified for that," Sellers said.
"That's background, but for me, I just think for far too long the citizens have asked for help from the state, help from government, and it hasn't come. And we've learned now what we know, and our job is to give a voice to the voiceless. It's not just three plaintiffs. These three plaintiffs represent the city, represent 3,300 citizens in a class action. We look forward to our day in court," the attorney added.
Sellers said an informational meeting will be held at 6 p.m. Monday, Nov. 19, in the St. James Building on the Voorhees College campus.
"I'm inviting everyone to come out to learn about the suit, to learn about what's going on and just have a conversation," he said.
Bamberg said, "Where the issue comes in is the manner in which the HaloSan was being used. It was being used essentially as a biocide because it was aimed at addressing a bacteria issue. So technically speaking, for the product to be used it also had to have an additional certification. And that product did not have that."
"The manufacturer of the product never went and got it registered through the EPA. Because it did not have that registration, technically speaking it should not have been used," he added.
Berry Systems, the manufacturer of HaloSan, has not returned calls to its office for comment.
DHEC spokesman Tommy Crosby said, "From a water regulation standpoint, it (HaloSan) is approved for drinking water use under the ANSI/NSF Standard 60 drinking water treatment chemicals list. However, it also needs to be registered under the Federal Insecticide, Fungicide and Rodenticide Act list, and that's under a separate arm of the EPA."
He said, "That's a pesticide listing, and that is actually done by the Department of Pesticide Regulation at Clemson University. So they were the organization under the EPA that sent the cease and desist order to Berry Systems and to Denmark to stop using HaloSan because it wasn't registered from that perspective. But that's not a section that falls under DHEC."
Following a test of the Denmark well sites by a team from DHEC, the University of South Carolina and the nonprofit Edisto Riverkeeper organization, it was determined HaloSan was being used in Denmark's Cox Mill well to treat the buildup of iron bacteria.
At that point, the Department of Pesticide Regulation at Clemson University issued a cease-use order to the City of Denmark on July 24, 2018, after which DHEC issued a letter to the city asking it to notify the agency of the alternative chemical it planned to use.
Denmark Mayor Dr. Gerald Wright said he learned about the lawsuit on Thursday and the city will respond.
The Cox Mill well is now offline, he said.
"What we were doing was consistent with what we were advised to do by DHEC. And so when the folk came in, there was not a determination that what we were doing was not working, it was that HaloSan was not on the EPA-approved list of chemicals for that purpose. And so that well is shut down. We're not using it now," Wright said.
He added, "There is absolutely nothing that we have done that we need to try to cover up or hide or anything like that. We have been responsible and we have been responsive. And at no point have (we) done something that was ill-advised knowingly."
"I have no problem reviewing what has happened. There is nothing wrong with the quality of our water. That particular well, however, is now no longer used, and we no longer need it. It was brought back on at a time when we had to close some wells down for other reasons," he said, noting that HaloSan "has nothing to do" with any of the well closures.
Bamberg said the long-term effects of HaloSan usage in Denmark's water need to be determined.
"The question that we are still awaiting the answer to is what are the long-term effects, if any, to the prolonged drinking of or washing in this product. I don't know the answer to that," he said.
The lawmaker wants a special committee to be formed to focus not just on how the decision was made to use HaloSan, but what solutions are available to correct the issues, what other communities are impacted and if any laws or regulations were broken.
Bamberg said he sent a letter to DHEC seeking answers to questions, including the "potential health consequences" of HaloSan.
Crosby said, "We have received the letter from Rep. Bamberg, and we are working internally to make sure we can answer all the questions that the representative has. We will provide those responses to the legislator accordingly."
DHEC Environmental Director Myra Reese said, "We would always be supportive of anything that's going to provide even better safety for consumers across South Carolina when it comes to drinking water."
As to whether the Cox Mill well was monitored daily, Dr. Mike Marcus, chief of DHEC's Bureau of Water, said, "We can't say that the operator was doing that every day because the well wasn't used every day. Again, it was used periodically. I don't know if it was on a standard period, or just when they needed it."
Bamberg noted, "I know people are afraid when you talk about their drinking water and a chemical that shouldn't have been put in there. DHEC is going to be creating a task force to analyze this. My understanding is they are going out to do some additional testing, and DHEC is going to deal with this thing head on."
Doug Kinard, director of DHEC's Division of Drinking Water Protection, said Berry Systems told the agency it is working on the proper registration of HaloSan.
"Government often relies on the private sector," Bamberg said. "But we cannot run from the fact that at the end of the day, we owe it to the public to make sure that even when we rely on third parties, we make sure that they have their ducks in a row before we lock in and utilize their services."
Marcus said, "I think there probably will be some discussions at certain levels about better coordination, better integration of this situation."
"You can't just pass the buck," Bamberg said. "So I think that I would just tell the citizens that I know it's a scary time. But people are working to address it. You sound crazy if you tell somebody, 'Hey, don't worry. I know there was a chemical in your water that shouldn't have been there, but don't worry about. Everything is going to be fine.'
"But we're working feverishly to get all the answers. This is an issue that started a long time ago."
The legislator said the issue of Denmark's aging water system must also be addressed.
"Because of the nature of this issue, we're going to be pushing for additional dollars to go toward, at a minimum, replacing that entire well system," Bamberg said. "This stuff is not cheap, but at the end of the day what I would like to see is us be able to rally the troops at this point. Because if there was ever a time to have supporting evidence that things definitely should probably be replaced, it's now."
"We've already told DHEC that as we get these questions answered, we would like DHEC to start looking at their budget to see how much they have to contribute to putting in new infrastructure, given the information that came to light," he added.
"So this is going to be an ongoing process, but I can guarantee you that no one's going to be left off the hook."
Be the first to know
Get local news delivered to your inbox!