DENMARK – City Council will hold a public hearing Thursday on a recent shooting in downtown Denmark, Mayor Dr. Gerald Wright announced.
The event will be held at 6 p.m. at the Brooker Center.
"The City Council and I agreed that the shooting was a tragic situation," Wright said at a Monday council meeting.
Denmark Technical College freshman basketball player Jordan Parson, 20, was shot to death April 6 at an off-campus event.
S.C. Law Enforcement Division agents are investigating the incident that led to his death. Two others were injured, one of them also a Denmark Tech basketball player.
Council previously discussed taking steps to prevent shootings but no decisions have been made regarding ordinances or measures.
Letitia Dowling of Denmark Cares, during public comments, said abandoned buildings in downtown Denmark are being leased to outsiders for social events and several shootings have occurred.
"Denmark Cares asks the council to require special permits for events," Dowling said.
She and her organization drafted a proposed ordinance regarding the special permits, and she distributed copies to council members during the meeting.
Wright said council would take the proposal under consideration.
Council member Calvin Odom said leaders recently discussed some of the same issues during a workshop meeting.
Meanwhile, Wright said construction on the new city hall has been slow. The hope had been for it to be complete around the time Bamberg County's new emergency medical center was done at the start of the month.
"The pace has been slower than what we anticipated. I won't attempt to give a definitive date of completion. (The progress) looks good, though," Wright said.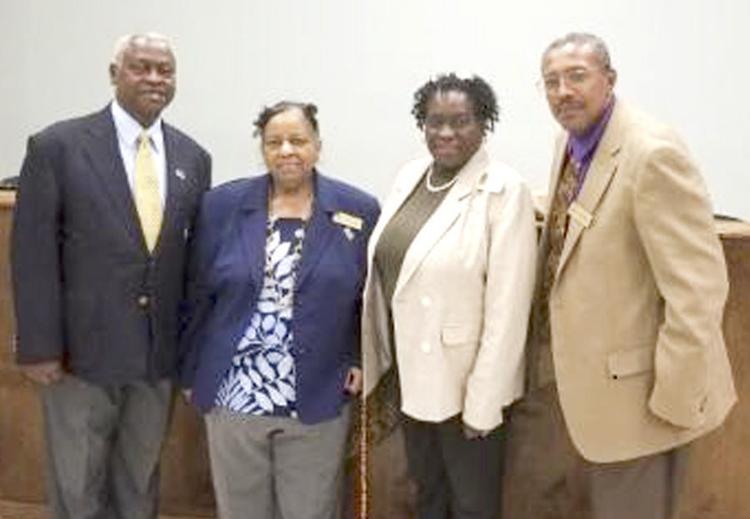 Council members Bervay Lee Carter, Hope Long Weldon and Calvin Odom, earlier in the meeting, were sworn in for their terms, which will run until April 2023.
Odom later mentioned in the meeting that a utility pole was recently knocked down near the emergency medical center. He said power went out at the EMC but the facility's generator did not kick in. Patients were transported to Orangeburg.
"Were utilities and entities concerned contacted?" Odom asked.
Wright said all concerned utilities and entities were contacted.
City Administrator Heyward Robinson stated in his report, "The City of Denmark is going to be getting new sidewalks and paving among other things."
He said the Denmark Streetscape Extension Project is scheduled to begin May 13 and will be completed Nov. 9. The project is essentially an extension of the current streetscape.
The contractor is Palmetto Site Work Services. The project is funded by a Community Development Block grant for $443,109.
Robinson also said the Westover Water Improvements Project is now permitted for construction and bid documents are being prepared by the engineers.
"This project includes the replacement of 5,700 feet of existing water lines. The streets involved in this project are West Coker, South Laurel, Mullberry Lane and Peach Street," he said.
Robinson said, "10 fire hydrants are included in this project. Construction is scheduled for early summer. "
Gail Ellis of Bamberg, who attended the meeting last month, attended again to speak during public comments about getting conflicting information from Bamberg County regarding why Denmark did not get a recycling center and what designated money was used for. She said she still had not been contacted by Wright for a meeting.
Wright assured her he would contact her for a meeting.
Mary Tilton, public information officer for Bamberg County, told the T&D last month in a previous story, "… the funds were never received (or spent) by the county. The county did purchase some new roll-off containers with monies from that grant, with approval from DHEC. Those containers were added as improvements to the nearby Denmark Pitt Rd LAD/Recycling and Convenience site."
• Chief Leroy Grimes aid the Denmark Police Department had 43 new cases the past month, including manslaughter, simple assault, aggravated assault, domestic violence, burglary, theft from a building, vandalism of property, theft of a motor vehicle, a drug violation, a weapon law violation, fraud, shoplifting, disorderly conduct, driving under suspension and a traffic collision. Grimes said the town has three new officers: Kenneth Harney, Brian Gray and Kaderrick Robinson.
• Grimes stated the Hon. James Spellman's next court is scheduled to convene Monday, May 13, at 10 a.m. at the Brooker Center. He stated Domestic Violence Court is scheduled to convene on June 20 at 2 p.m. in the Bamberg County Courthouse.
• Mayor Wright also asked during the meeting for a motion to approve the resolutions for the Fiscal Years 2019-2021 to continue in the Lower Savannah Regional Home Consortium, and a motion was made, seconded, and approved unanimously by council.
• Chief Breeland of the Denmark Fire Department stated they had a total of 17 fire calls and that the department has a program to obtain smoke detectors for the schools and citizens but will emphasize getting the detectors for the local schools first and distribute the remaining ones to the citizens.
• Council member Carter stated that the Dogwood Festival was a success and that she would like council to recognize the committee during a future meeting. Odom complimented the Public Works Department for  work in helping prepare for the Dogwood Festival.