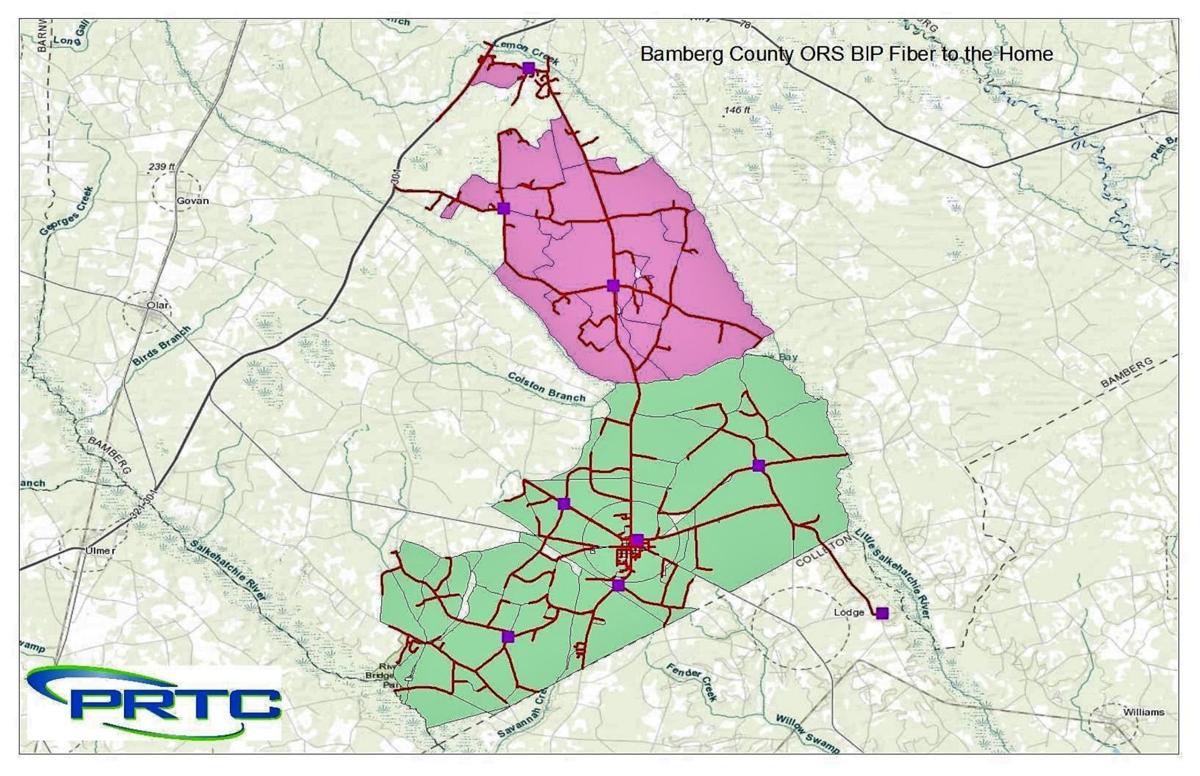 BAMBERG - A Walterboro-based telecommunications cooperative that has served the South Carolina Lowcountry for seven decades is expanding broadband service in Bamberg County with the help of a grant from the state's Broadband Infrastructure Program.
Officials from Palmetto Rural Telephone Co-Op addressed Bamberg County Council members during a Monday night meeting about their two-phase plan.
First phase construction has begun and is slated to be complete by year's end, with service installations to be completed Feb. 1 through April 1 of 2022. Second phase construction is slated to run from Feb. 1 through Aug. 31 of 2022, with service installations set to take place from Nov. 1 to March 1 of 2023.
PRTC is constructing a buried all-fiber network in southern Bamberg County through a grant from the South Carolina Office of Regulatory Staff Broadband Infrastructure Program.
"It'll provide much needed high-speed broadband connectivity to the underserved rural residents in portions of Bamberg County," said PRTC Managed Services Engineer Allen Cook, who was joined by PRTC engineer Brian Holcomb.
Holcomb said Phase 1 will consist of Hadwin Road, Orange Grove Road and the Clear Pond area.
"Construction crews have started in the Hadwin Road area last week. They're basically doing what we call the road bores and going underneath the roads, underneath driveways so that when the crews come in and start inserting cable, they can just pull the cable underneath the roads and keep right on going. They don't have to slow down to make the bores," he said.
Holcomb continued, "Once they finish the Hadwin Road area, they're going to come back down and tie it into what we're going to call Clear Pond area, where we're looking to install a cabinet, or a hub there to be the centralized location. Once the Phase 1 area is complete, they will drop down and start in the Ehrhardt area, in the southeastern portion of the county."
PRTC has expanded its operations area via capital investments and currently serves more than 14,000 subscribers across nine counties in the state.
"We're more than just a telephone company now. We're doing a lot of managed company stuff. We've partnered with Denmark Technical College, and we support them in any of their IT endeavors. ... We've put in a complete wireless network for them," Cook said.
"We've partnered here with the county of Bamberg and have several projects in the works with them. Soon we'll have fiber optic services for the airport. That project will be starting this week," Cook said.
He said the expanded service area was determined from census blocks "identified as being some of the more underserved areas of the county."
"So we hope that as time goes on, more parts of Bamberg County are identified and we can also target those as well," Cook said.
Councilman Evert Comer Jr. inquired about the affordability of the service for some people and whether assistance programs were available for that.
Cook said, "Anytime the state or federal program has any program that offers assistance, we participate in that. We've identified a lot of homes during the pandemic where folks were working from home, that we were able to help provide them with services."
Individuals can contact the PRTC website at prtc.us to learn more about services and pricing, or call directly at 843-538-2020.
County Administrator Joey Preston said the telephone co-op's broadband expansion efforts are just one of many being made, but are different from the broadband expansion work that the county is conducting in partnership with Orangeburg County.
"We've got like three different projects we're working on right now to make sure that all of Bamberg County gets broadband. That's just a part. ... There's money available to build a county like Bamberg County out. We're just trying to make sure that we get the right pot to do it. Our goal is to have 100 percent broadband," Preston said.