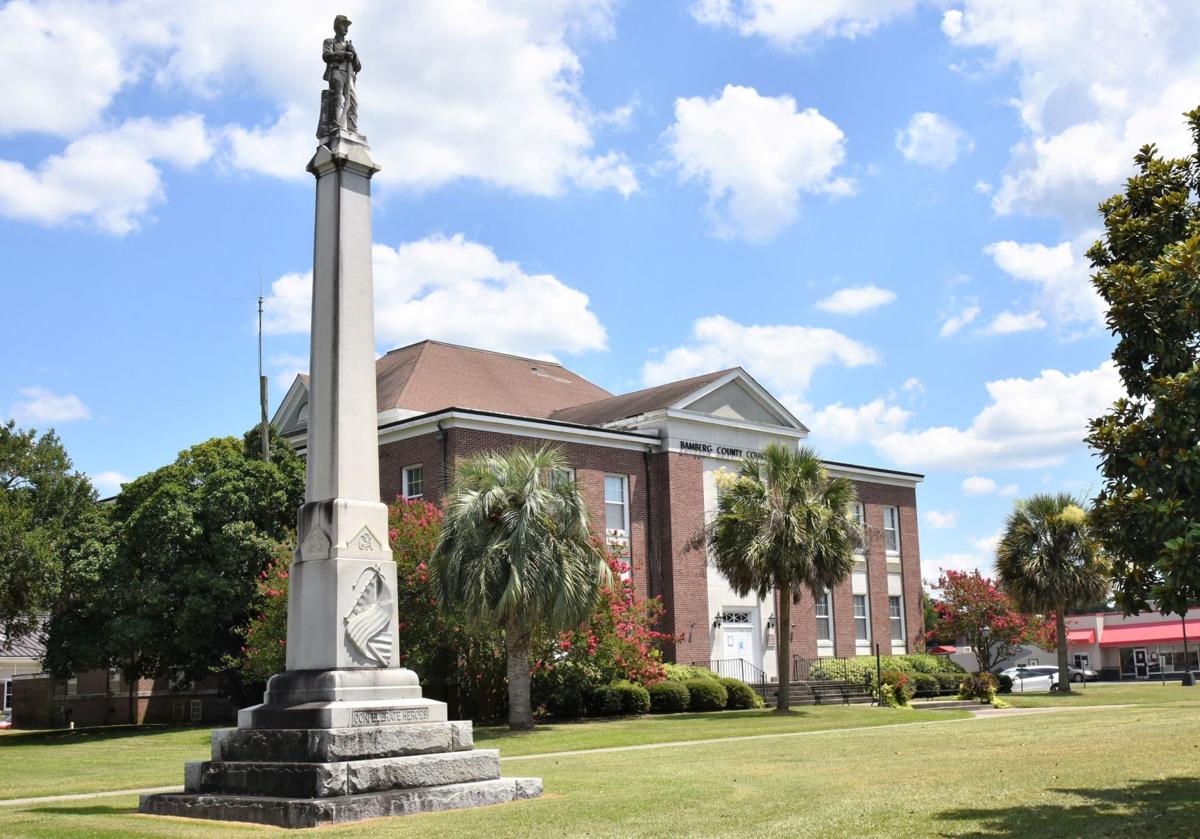 BAMBERG – Bamberg County Council voted to remove the Confederate monument located in downtown Bamberg.
Council on Monday approved a resolution requesting that South Carolina General Assembly authorize the moving and safe preservation of the Bamberg County Confederate monument.
The state Heritage Act of 2000 requires a two-thirds vote by the General Assembly to change or remove any local or state monument, marker, school or street erected or named in honor of the Confederacy or the Civil Rights Movement. Attorney General Alan Wilson has issued an opinion backing the constitutionality of the law but not its two-thirds-vote requirement.
The Italian-made statue is located on property adjacent to the Bamberg County Courthouse. The carved marble statue features a granite base and pedestal. It was originally erected in 1911 by the Francis Marion Bamberg Chapter of the United Daughters of the Confederacy.
The UDC raised $3,000 to pay for the statue. The monument was relocated to its present location in 1952.
Council approved the resolution with a 6-1 vote following discussion in a meeting held via Zoom.
Councilman Trent Kinard opposed the resolution, saying the monument pays homage to Confederate soldiers.
"Confederate soldiers are also United States veterans," Kinard said, stating that several congressional acts recognized them as such.
"I look at that statue different than some. Number one, I had four aunts that were in Daughters of the Confederacy. It wasn't racist to them. It was that their granddaddy had fought in that war and they loved him," Kinard said.
Kinard said his "great-great-great-grandfather" was a Confederate soldier.
"Was the war correct? I don't think so, probably, but he believed in what he believed in. When the United States said Confederate soldiers became United States veterans and started ... a pension, that's the day that is no longer a Confederate monument, that is a national monument. That's a monument to veterans, just like what we've put in down the road," Kinard said.
Councilman Larry Haynes said, "I agree that we need to take it down now. Why does it need to come down? Because of what it represents."
Councilman Joe Guess said he is in favor of removing the statue.
"The simple fact that the Confederate flag is carved on the granite makes no difference, it's just as if it were flying from a staff. And it's on county property. I'm in favor of giving it back to the UDC, and letting them put it wherever they want it," Guess said.
Councilman Clint Carter expressed concern about the costs associated with removing the monument.
"I'm in support of it being moved, long as the county doesn't have to pay for it to be moved. I really don't understand all this. I think there's more behind the scenes than is let on, and there's some people that can't' see what's going on," Carter said in reference to efforts nationwide to remove or destroy monuments.
"Probably the Christian thing to do is to move it so it don't hurt anybody else's feelings," Carter said.
"I'm not poking and prodding, but everybody wants to holler they're Christian. Well, until you can fully forgive and forget what went on, I think we have a problem. And I'm not sure because I'm no great historian, but I think that the Democrats were the main owner or the main people behind all of that. I'm not 100% sure, but I think I'm correct when I state that," Carter said.
Council Chairwoman Sharon Hammond said the statue has caused hurt.
"I'm in support of it being moved. I think that a lot of our citizens feel that it's an intimidating monument, and it has caused a lot of hurt. And the Confederate cause that has been sympathized by folks has caused them a lot of hurt and harm, separation of their families, a reminder of slavery, so it's time for us to move out of this and provide a better sight on our county property," Hammond said.
Be the first to know
Get local news delivered to your inbox!