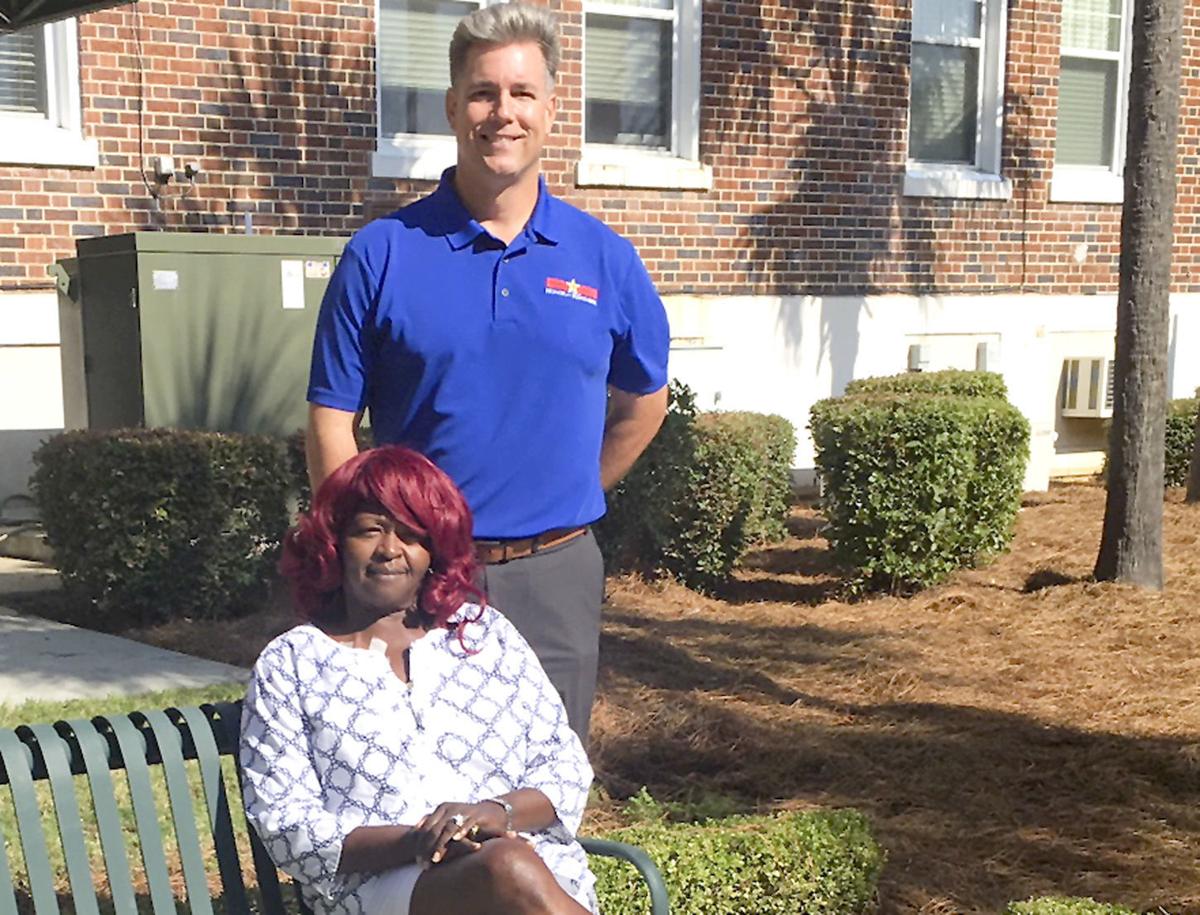 A Gold Star mother will hold her eighth and final appreciation luncheon for area veterans on Nov. 2, the same day a nonprofit organization will be in Orangeburg as part of its three-day, 122-mile remembrance run in honor of fallen military service members.
Gold Star mother Elaine Johnson is inviting all area veterans and their families to a free meal in appreciation for their service and in commemoration of her own son's ultimate sacrifice in 2003.
The Veterans Appreciation Luncheon will be held at 11 a.m. Saturday, Nov. 2, at the South Carolina National Guard Armory on Stonewall Jackson Boulevard in Orangeburg.
Johnson's son, Army Spc. Darius T. Jennings, was aboard a CH-47 Chinook helicopter that was struck by enemy fire and crashed in Al Fallujah, near Baghdad, Iraq, in November 2003. He was 22 when he died.
Johnson said there is a reason for this year's luncheon being her last.
"When I started the luncheon, I asked God to let me do the luncheon until it falls on the date that Darius died and that that would be final luncheon. So 2019 is the date. This year is bittersweet. It'll be 16 years," Johnson said.
Baked and fried chicken, yellow and white rice, string beans, macaroni and cheese, potato salad, rolls, peach cobbler and strawberry shortcake are featured on the menu, along with tea and lemonade.
Entertainment will include performances from the Christian comedy duo Ms. Sue and Ms. Mamie and the South Carolina National Guard's 246th Army Band.
Johnson said retired Lt. Col. James Dayhoff, who had served as her son's captain while he was serving in Iraq, will be the luncheon speaker.
Honor and Remember of South Carolina is a nonprofit which honors military service members and their families. The organization will hold its South Carolina Run for the Fallen from Nov. 1-3, a more than 100-mile run from Charleston to the State House in Columbia.
A team of runners will honor every military service member from the state who died while serving, or as a result of serving during the Global War on Terrorism. Each mile marker, or Hero Marker, is dedicated to individual military heroes and their families. The run team stops at each marker to pay tribute to the fallen military heroes.
You have free articles remaining.
Harold Murray, director of Honor and Remember of South Carolina, said Johnson will be presented with an Honor and Remember flag during the luncheon in honor of her son's service.
Murray said Jenning's name will also be among five names called out at 3:42 p.m. at Hero Marker 109 on Saturday, Nov. 2, at the corner of Park and Bridge streets in St. Matthews. The other names are: Pvt. 1st Class Vorn James Mack, Sgt. Anthony O. Thompson, Sgt. Demetrius L. Void and Spec. Katrina L. Bell-Johnson.
"This will be the fourth year that it's happened in South Carolina," Murray said.
"Run for the Fallen actually started in 2008, the same time the national organization of Honor and Remember was established. In 2014, the gentleman who had established Run for the Fallen was going to dissolve the organization.
"So our founder, George Lutz, said, 'Our organizations do the same thing, honor our fallen service members. So why don't we combine?' So in 2014, Run for the Fallen came under the umbrella of Honor and Remember," he said.
He said the group's mission to honor the selfless sacrifice of military service members is necessary.
"But also we honor the families and thank them. It's a huge sacrifice for the families. We can come alongside them and let them know that they're never forgotten and that their loved ones are never forgotten. That is a mission that I think everybody in this country needs to be carrying out," Murray said.
He said public support for the run is welcome.
"They can do that by standing on the side of the road and waving flags, cheering on the runners as they come through. They can go to southcarolina.runforthefallen.org to find maps for the route so they can know where to go. The maps have the marker locations for each Hero Marker where we'll be stopping," Murray said.
Johnson said while this year will be her last luncheon, she is not stopping her work through the Darius T. Jennings Charitable Organization, which has included back-to-school bashes for special needs children.
"Darius wanted to get a community center for children for veterans and children with special needs. So this year marks the year that I'm going to be focusing on that, still reaching to the community and children with intellectual disabilities and the veterans so they can have a place where they can come and communicate," Johnson said.
"A lot of people don't reach out to the children with special needs. So that's what I want to do. I want to have a safe haven for them to come and enjoy themselves," she said.
For more information about the luncheon or how to donate to her foundation, Johnson can be contacted by mail at 126 Simon Siding Road, Cope, 29115, by phone at 803-707-9677 or by email at dariusmom55@gmail.com. She can also be reached through the Cash App at $cabbagepatch55.
Get local news delivered to your inbox!
Subscribe to our Daily Headlines newsletter.