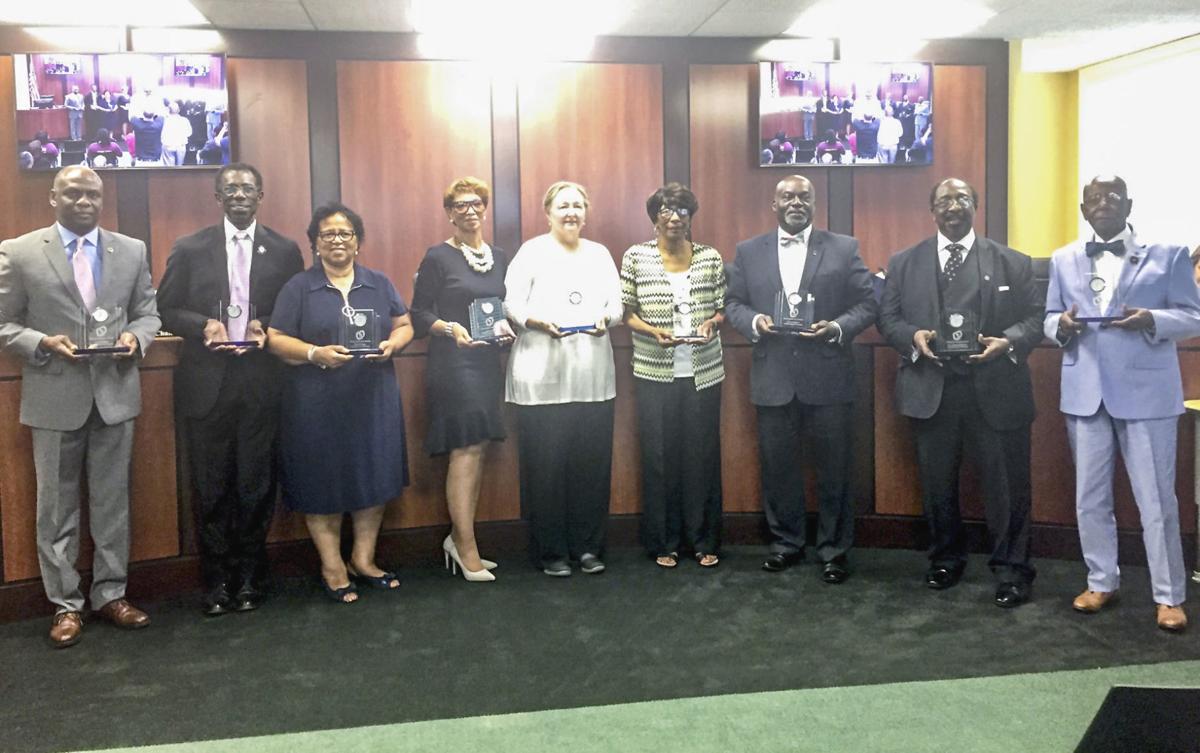 Some board members served Orangeburg Consolidated School District 5 for decades, while others served for a short while.
At a special called meeting Thursday night, board members met to take up a few matters and to express their appreciation for the chance to serve the community.
"God put this team together," Vice Chairman Henry Jenkins said.
The trustees met for the last time as a board last week. Orangeburg County's three school districts were combined into one on Monday.
Jenkins said he first began work at the school district in 1977 in the finance department.
"As the years went on and on, it was about the kids," he said.
He said he's looking forward to watching, "the new school board learn to work together and learn to dream together for our children."
The Rev. Nathaniel McMillan said of his board service, "This has been an awesome experience."
"This board has been absolutely spot on. We understand how to disagree without being disagreeable," he said.
Ethel Mosley, who began serving on the OCSD5 board in February, described herself as "the new kid on the block" and expressed her appreciation for the opportunity to serve.
Samuel Farlow thanked his wife for being obedient to God's voice.
He said his wife encouraged him to run as a candidate for the school board in 2003 after she heard God speak to her.
"God has really blessed us as a board and a district," he added.
Board Chairman Vernon Stephens thanked board members for their commitment to the district and its students.
He hailed trustee Julius Page as the "godfather," noting that he'd served about 40 years on the board.
"I've truly enjoyed the ride," Stephens said.
Page said he's grateful for the decades of service.
"The school board didn't run the schools. They see that the schools run well," Page said.
Superintendent Dr. Jesse Washington and Rep. Jerry Govan, D-Orangeburg, both presented the school board members with gifts for their service.
• The board approved increasing the general fund balance by $137,478 for a technology and audio project at Brookdale Elementary School.
• Dr. Mary Williams and Robin Wright presented information about the gifted and talented E360 In Summer Institute. Some of the 12 courses offered included marine biology, survival Spanish, financial literacy, writer's cafe and more.
• Bethune-Bowman Elementary School Principal Lakekia Lewis and Jacqueline Hogges talked about the success of Mohawk Mania, an extended summer camp program which helps remediate students in areas of math and English-language arts.
During the most recent session of Mohawk Mania, there were 32 teachers, 60 helpers and 12 buses to accommodate 500 students. Some students came from other school districts in other counties.
Lewis and Hogges noted that students attending Mohawk Mania from other school districts and counties used private vehicle transportation and carpooled the BBES.
The program will continue next summer.
Mohawk Mania has been in operation for five years.
Get local news delivered to your inbox!
Subscribe to our Daily Headlines newsletter.