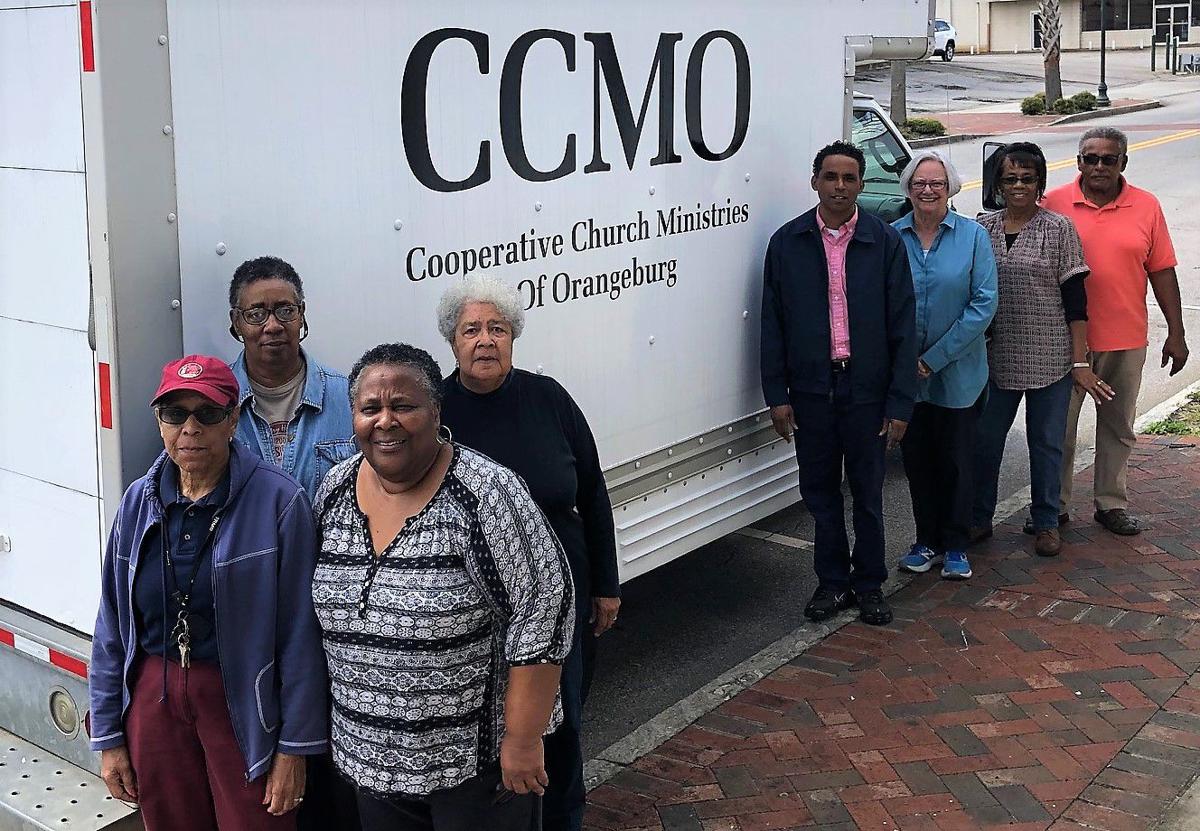 An outreach ministry has been letting its light shine by serving the needy with food, clothing and other necessities for nearly 32 years.
The volunteers who run the Cooperative Church Ministries of Orangeburg have not stopped their mission to assist those needing help the most. What began as a small effort in 1986 became CCMO in 1988.
Its dedicated volunteers have helped keep the organization going with a service that expanded well beyond food donations to include the provision of electricity, fuel, furniture and, occasionally, bus tickets and motel rooms.
The nonprofit agency is now awaiting its temporary relocation to a building at 2570 St. Matthews Road after part of its roof was blown off during a storm on Feb. 13.
"We don't know when we're going to be in there. We're not sure right now because Harvest Hope has to come and approve the site before we can put any food in there," CCMO Executive Director Barbara Troy said.
Harvest Hope Food Bank provides food to several ministries across the state, including CCMO.
CCMO has been operating out of its present, rent-free location at 899 Russell St. for more than three decades. The 5,000-square-foot building formerly housed the Holman Grocery Store.
"April 4 would have been 32 years in that building," Troy said.
CCMO volunteer Ray Sabalis, who also served on the nonprofit's board, said, "The roof was blown off the building in a storm on Feb. 13. We were fortunate that this happened on a day that we were not serving the community."
"The City of Orangeburg was quick to respond and assist with blocking the street and clearing the debris. Orangeburg County Administrator Harold Young has provided CCMO with a temporary space on St. Matthews Road where we can resume our service to the community," she said.
Sabalis said the generosity of the Holman family in donating the use of the old grocery story site was appreciated.
"Before CCMO opened in 1988, Woodrow Holman offered two adjoining buildings on lower Russell Street to house the organization. After Mr. Holman died in 2010, ongoing support of CCMO was given by his sister, Bari Holman Smith," Sabalis said.
Volunteers are in the process of clearing out the building, but will be distributing food from the site from 11 a.m. to noon every Wednesday until the food runs out.
Once CCMO moves into its new site, Troy said, "We're not going to be doing clothes anymore, and we're not going to do furniture because all our furniture is not worth anything anyway."
She said making sure she and her staff are protected from the spread of the coronavirus is a top priority, and the Wednesday food distributions will be handled with care.
"We're going to have to open the door and just distribute the bags while the clients are on the street. They can't come inside the building," Troy said.
She added, "God has taken care of us. It's just been hard. We wash our hands. Some people wear masks. I don't wear masks. We use the sanitizer."
Troy said sanitation will also be top priority once CCMO moves into the new building site.
"We're going to have a desk at the entrance to the building we're going to go to. We're going to have the hand sanitizer and paper towels and hopefully space people apart," she said.
Dr. Mark Jamison of Jamison's Pharmacy in Orangeburg donated a $9,000 truck to CCMO after learning of the need from volunteer Freddie Antley.
"He was just saying that they were having an issue because they were actually having to spend money to rent a truck to go back and forth to Columbia. I just started investigating to see what could be done to assist with that," Jamison said.
He said he was happy to support the ministry.
"I've supported CCMO for a while. I mean, we work well together. Some of the clientele have actually used our pharmacy. Some of our customers have come through here, and we've donated over the years to CCMO with just monetary donations. … I've been familiar with the work that they've done here," Jamison said.
Sabalis said, "I have volunteered at CCMO for four years. My service to my neighbors is informed by my faith. I am called to love my neighbor as myself, and to strive for justice and peace among all people, and to respect the dignity of every human being."
Sandra Hudson, who has volunteered for 10 years, said, "I think we've all had that period of time somewhere in our life where we've had a need. So I think that's what really keeps us here. But sometimes, especially at our age, or at any age, we do feel a little overwhelmed."
"We're very short of staff, and we could do even more things if we had a little bit more help, especially with heavier types of things," she said.
The financial base for CCMO is its member churches, which contribute to the ministry. While the organization does not depend on miscellaneous donations, they are welcome.
A partnership with the Department of Public Utilities and its Project Good Neighbor program has provided CCMO with the opportunity to provide utility assistance.
For more information on CCMO, or how you can volunteer, please call 803-531-4913.
Concerned about COVID-19?
Sign up now to get the most recent coronavirus headlines and other important local and national news sent to your email inbox daily.