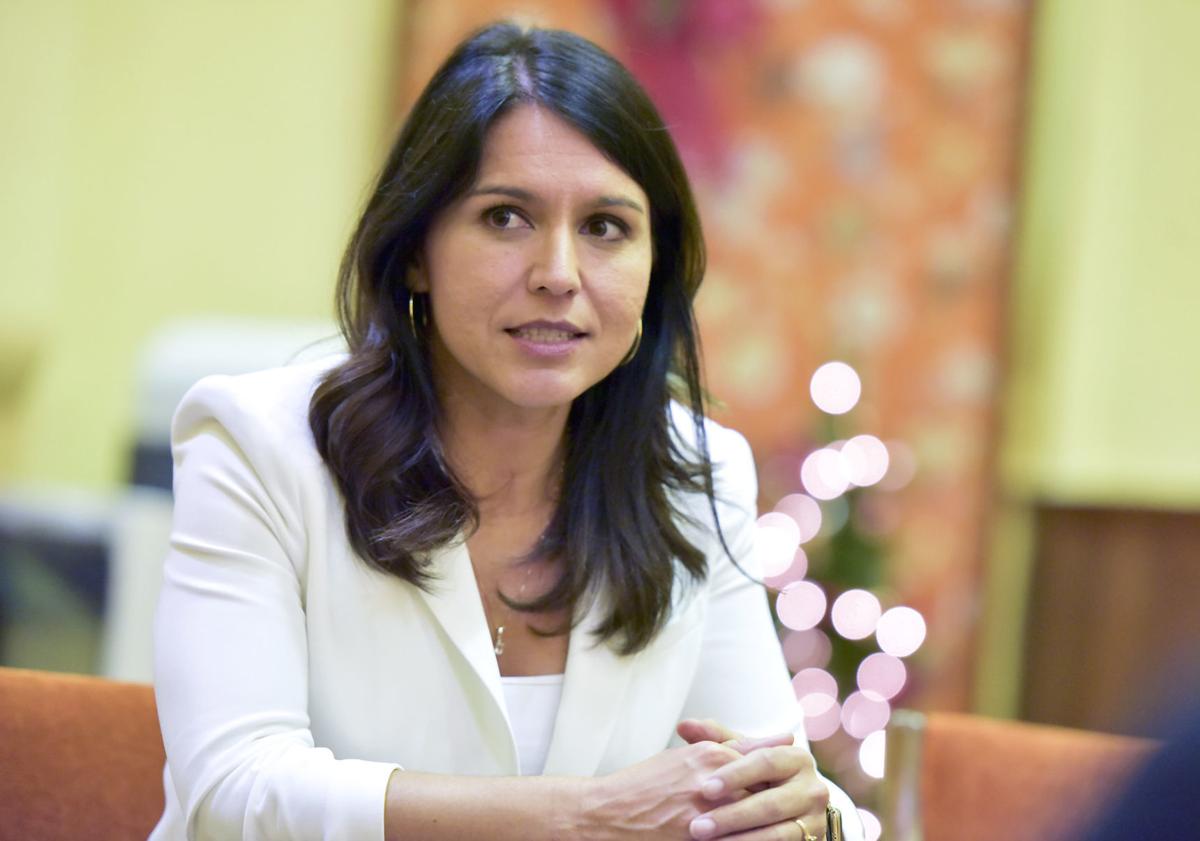 Rep. Tulsi Gabbard says foreign policy is domestic policy.
For instance, the Democratic presidential candidate says pulling troops out of Afghanistan would free up funds for domestic needs.
"We are continuing to spend $4 billion a month when we have so many needs in our community right here at home that are not being addressed because we're told time and time again there's just not enough money," Gabbard said.
The Hawaii Democrat held a roundtable discussion with several local citizens about various topics of concern on Friday afternoon in downtown Orangeburg.
Gabbard stated that health care, affordable housing and education would be the top priorities to receive the redirected funding from military operations in Afghanistan.
She said federal education policies can often be heavy-handed and cause teachers to teach toward standards that may not be beneficial to students. Gabbard says she wants to bring in teachers from different parts of the country to help formulate policy.
"What are the federal education policies that you need to provide as much local control to those funded resources coming from the federal government as possible?" Gabbard said.
She says incentives can be designed to attract more teachers.
You have free articles remaining.
The nation's health care system "is not really a health care system," she said.
"It's a system that has allowed for big insurance and big pharma to profit off of the back of sick people in this country, and it's not a system that's promoting health," Gabbard said.
Gabbard is proposing what she calls a "single-payer plus plan."
She said it will provide, "Every single American guaranteed quality health care through a single-payer plan that we all chip in and help pay for."
Gabbard stated Americans will still have the option of having private insurance and purchasing supplemental insurance.
A local small business owner in the audience said the current tax code has a negative impact on small businesses, as opposed to the incentives the large corporations often receive.
"We need to overhaul the tax code so that it is just a fair, level field. We're all going to pay our taxes. Let's make sure that we all are paying our taxes so that the weight is not so disproportionately being carried by those who are struggling the most and have the least," she said.
Gabbard was also asked about her plans for her first 100 days in office.
She said she'll focus on withdrawing troops from Afghanistan.
Gabbard also stated that she would call for a summit to deescalate tensions with nuclear-armed countries.
She said she'd, "start to put the pieces back together for these nuclear non-proliferation treaties that were worked on by JFK and Reagan and others."
She also said she'll work with lawmakers.
"I would invite leaders of the House and Senate to the White House to begin the conversation, Democrat and Republican leaders, to start establishing the relationship necessary to be able to start to tap into many issues that we face," Gabbard said.