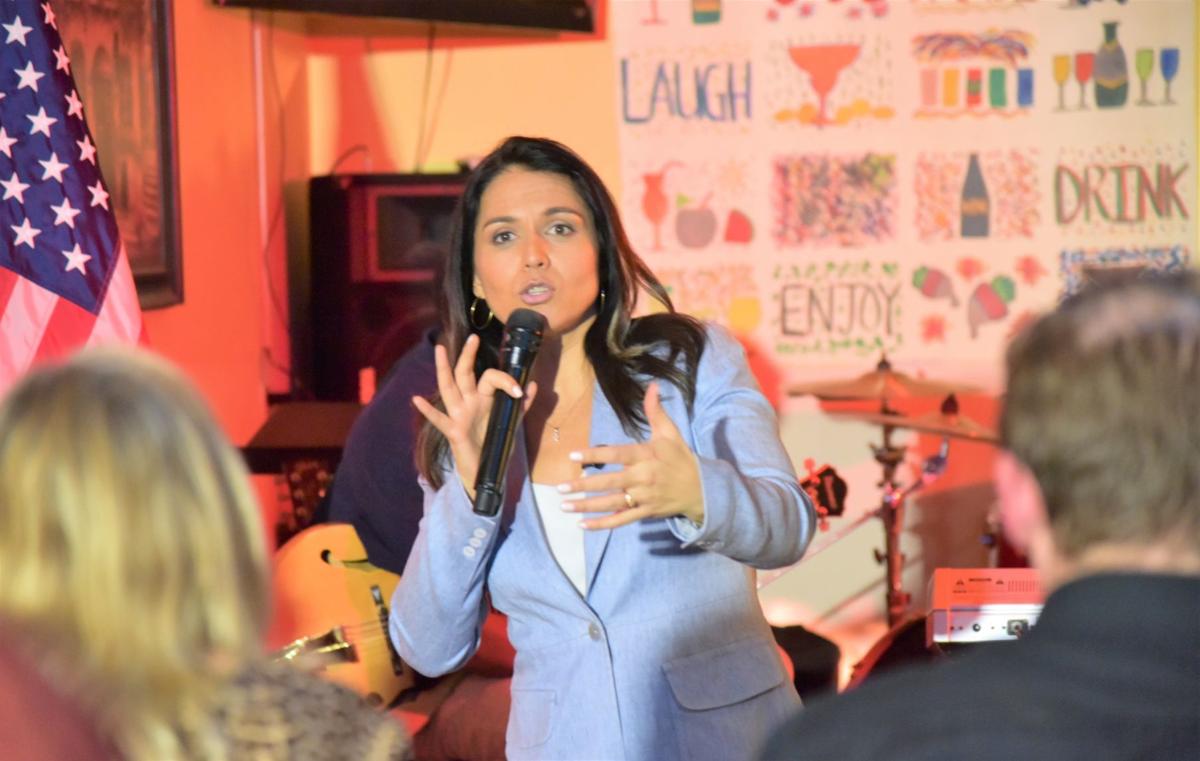 Hawaii Congresswoman Tulsi Gabbard stopped in Orangeburg on Thursday to discuss Fox News, foreign policy and the need to buck the "good old boy" system in Washington D.C.
The Democratic presidential candidate says she appears on Tucker Carlson's Fox news program to reach the people who watch it.
"You can disagree, and I disagree with a lot what Tucker Carlson says. There are some things about foreign policy where I think he shares some good points, but the real thing is I don't go on his show to talk to him," Gabbard said.
Instead, "I go on his show to talk to the millions of people who watch it every single night. I'm running for president to be the president of all Americans, not just those who watch MSNBC, not just those who watch CNN and not just those who watch Fox News," Gabbard said.
Gabbard spent over 30 minutes talking and answering questions at Parzell's Café on Russell Street.
She said, "We will ensure our country's national security, and be responsible with our taxpayer dollars, end these wasteful regime change wars, deescalate tensions with other countries, exercise diplomacy, and work to end this new cold war and arms race so that we can actually focus our resources on building our communities right here at home."
Gabbard also said she would be able to work with Congress.
"You're hearing a lot of plans and big ideas from candidates. … They may sound good, but unless you provide the leadership that can work across party lines, that can recognize even as we may agree to disagree on some, or many issues, we've got to check the partisanship at the door and work together to fulfill that mission of putting service to the American people and our country above all else," Gabbard said.
You have free articles remaining.
Gabbard spoke on fiscal responsibility in response to a question from the audience.
"Exercising fiscal responsibility to me means treating the hard-earned taxpayer dollars that we all pay to our government with the same importance that I would treat my own money or the way that we're treating the contributions that we're getting on this campaign," Gabbard said.
Gabbard said she would work to make sure that every dollar is effectively being used to serve the needs of communities.
She also discussed the need to address the "good old boy" system in Washington and create equal opportunities.
"I have the ability to break through those old boy power structures and networks," Gabbard said.
Gabbard said to defeat the existing system, she would bring a, "fresh perspective of brand-new experiences that can both treat with respect those who have worked hard and those who have come before us, while also saying we've got to do things a little differently in order to actually solve the problems that have plagued us all for so long."
She also said she'll bring pressure from the grassroots to say the status quo isn't working.
"That means we need to take a new approach, and expecting more, demanding more from our leaders and holding them accountable," Gabbard said.
Gabbard said she has the qualities that make her the best candidate to defeat President Trump.
"Being able to earn the support from people across party lines who feel that they are included in this mission that we have of ushering in a bright future for America is what's necessary to win in November, and more importantly to get our country back on track."
This story has been changed from its original version.