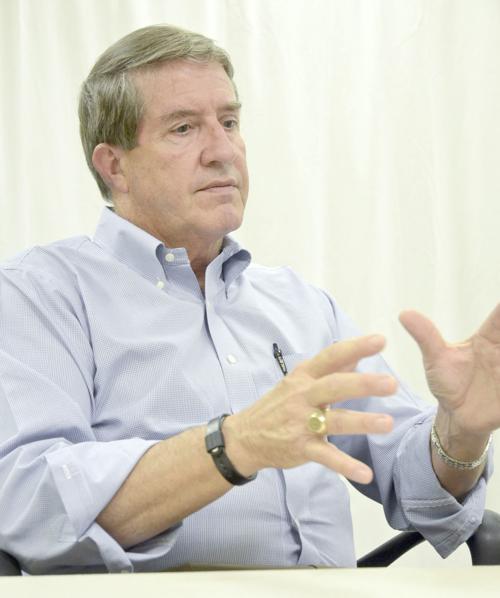 Just recently, the National Association of State Departments of Agriculture, NASDA, hosted its annual Winter Policy Conference in Washington. I was fortunate to attend the meeting and make visits with members of our South Carolina delegation, including Congressman Jim Clyburn.
While listening in on many sessions with various commissioners, secretaries, state staff, USDA staff and other agriculture industry professionals, I began to reflect on various global topics and issues being presented and how they relate to our state. I see the potential for topics like surface water and Waters of the United States (WOTUS), broadband, tariffs, innovation and new trade markets to positively impact our farmers.
WOTUS is what the Environmental Protection Agency has proposed as new definitions of water to replace the pre-2015 rules and regulations proposed by the Obama administration. This revision seeks to better define bodies of water such as tributaries, ephemeral flowing streams, ditches, etc. in hopes of improving communication between farmers and federal agencies. EPA is accepting public comments on the new rule until April 15.
On a local level, the formation of capacity-use areas to report and regulate groundwater and well usage aims to coordinate and manage the withdrawal and control of groundwater resources. The purpose is to minimize potential adverse effects on local aquifers.
The permitting process will allow local agencies and all associated stakeholders to track water usage trends to better plan for the future. The Western Capacity Use Area -- encompassing Aiken, Allendale, Bamberg, Barnwell, Calhoun, Lexington and Orangeburg counties -- aims to work with individuals to register old and new wells to track trends and display how water usage impacts both the farm and the community.
Broadband
In the 2010 Census, we learned that 27 percent of Americans do not have access to high-speed internet connection at home, affecting 23 million Americans. This shortfall is primarily in rural areas across the U.S. and South Carolina.
Since reports like this have surfaced, USDA's Rural Infrastructure Initiative has been established to bring broadband to rural areas across the country. Implementing broadband in rural areas will certainly help our farmers succeed in the modern economy as agriculture continues to modernize through the availability and use of online resources.
Our farms are quickly becoming a part of "the internet of things." Most of the nation's top providers are using fixed wireless technology to reach rural residents.
Fortunately, South Carolina is uniquely positioned with an asset of more than 600 vertical towers that are owned and operated by SCETV. These towers, placed in service in the 1980s and '90s, can move and may be repositioned and repurposed to help solve South Carolina's rural broadband problems.
Food products
You have free articles remaining.
Just as farming is changing, so are the food products coming to our shelves.
At the NASDA meeting, we listened to a panel discussion about development of cell-based meat. If you are unfamiliar with the concept, cells taken from animals are grown in laboratory environments for eventual sale to the public.
At this point in time, I am not sure how this will play out in the market. There is quite a discussion in the industry as to regulation and labeling. It will be very interesting to watch.
International trade
As crop prices and farm incomes are down, international trade is more important than ever to farmers.
Food and agricultural exports boost on-farm income and make up 25 to 30 percent of the market for our crops. Exports also support thousands of jobs along the supply chain in both rural and metropolitan areas.
The United States-Mexico-Canada Agreement, proposed as an update for the 20-year-old NAFTA agreement, can eliminate trade barriers and ensure and maintain our relationship with our North American neighbors. This is crucial for farmers not only in America, but also here in South Carolina.
While listening to the speakers present on trade, one message that stuck with me was the need for diversification of trade and taking advantage of emerging markets. As agribusiness is the number one industry in South Carolina with a nearly $42 billion economic impact, advocacy and representation for South Carolina is important. Finding new international markets will positively impact the goal of increasing the agribusiness industry to $50 billion by the year 2020.
Help from Washington
 I know many of you are interested in the prospects of industrial hemp for our farmers in the area. With so many changes going on right now regarding federal regulations, we will prepare a full article soon on hemp and bring everyone up to speed. There will be some clarification in the next 30 days or so.
While in Washington, Congressman Clyburn and I visited several subjects affecting our farmers, including some financial help for the losses from the two hurricanes in South Carolina in 2018. Farmers lost more than $200 million in crop value, and he and I discussed the prospects of some help to come soon.
As farming and markets continue to change, I am confident South Carolina farmers will continue to adapt and see the benefits of the changes to regulations. With these changes, there are always challenges, but I see plenty of opportunities for our state as well.
Hugh Weathers of Bowman is S.C. commissioner of agriculture
Get local news delivered to your inbox!
Subscribe to our Daily Headlines newsletter.