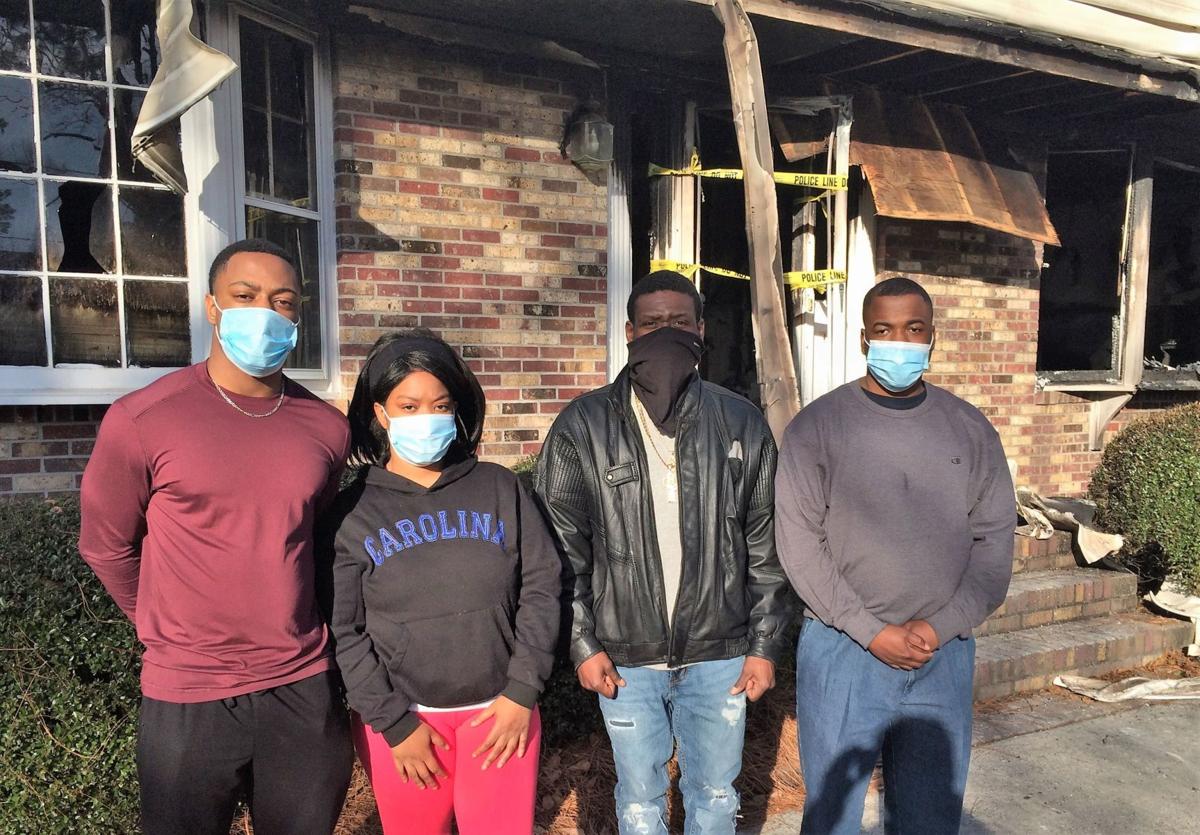 Marquis Kirkland was sleeping early Wednesday morning when he was awakened by the smell of smoke in his Griffith Drive home.
"As I opened my room door, it was engulfed in black smoke," the 22-year-old said. "My first response was instinctual – to punch out my window."
After he punched out the second floor window, Marquis began to assess where his brothers, sisters, nieces and nephews were in the house.
"I checked the rooms where my nieces and nephews were," Marquis said. "Thankfully, they were downstairs."
"I looked for my sister," he said. "She was choking from the smoke."
Marquis said he was able to get his sister, Brianna Kirkland, out of the second-floor window. The jump was between 15 feet to 20 feet.
"She proceeded to jump off the roof," he said. "She was able to break her fall by my cousin."
Brianna remembers hearing her cousin's voice.
"I heard him from downstairs saying, 'Fire! Get out of the house!' " she said.
Brianna recalls calling for her children. She then realized they were already safe and out of the house.
"I heard them screaming," Brianna said. "I jumped down and my cousin caught me."
Marquis knew his brother, Eric Kirkland, was still in the house so he went back inside, through the thickening smoke.
"My brother was coughing, choking," Marquis said. "I had to rescue him and get him out the window as well. We all had to jump from the second-floor roof."
Eric was asleep when the fire started.
"All I heard was that the house was on fire, so I tried to get out there," Eric said. "The smoke was so unbearable that I couldn't see and then I couldn't breathe. I stopped to at least try to catch my composure. I tried to keep going, but then it just took over."
Marquis said his will to live kicked in, helping him save his sister and brother.
"It was my will to live that overshot everything else at that time. Not a whole lot went through my mind. It was just we had to get out of this house," he said.
Marquis knew the family's pet pit bull, Nova, was still in the house but the situation had become too dangerous. Nova died in the fire.
"I knew going back in there was life or death," Marquis said.
According to an Orangeburg Department of Public Safety incident report, the fire occurred around 1:30 a.m. Wednesday.
The estimated property damage is $120,000 and the damage to the contents is valued at $30,000.
The report notes the house's smoke alarm did not provide notification.
"We placed the fire in the kitchen," ODPS Fire Marshal Inspector Jonathan Winningham said. "We are not exactly certain as to the cause of the fire, but the area of origin was on about the surface of the stove."
Winningham said all occupants of the house were able to get out unharmed. Four of the occupants were 5 to 9 years old.
Winningham said the house will require extensive renovations.
"The entire interior will have be replaced," Winningham said.
The Red Cross is providing assistance to the family with food, clothing and shelter, along with referrals to resources.
Marquis downplayed any mentions of being a hero.
"It is not about the accolades for me. Anybody would do the same thing for me. I was happy I was there and able to do that," he said.
Marquis expressed his appreciation for the help of the American Red Cross as well as his neighbors, church family and work family.
When all is said and done, Marquis said the only injury sustained was cuts and perhaps a fracture to his hand from breaking the window.
Those wanting to help individuals affected by disasters can donate by visiting redcross.org, calling 1-800-RED-CROSS or texting the word REDCROSS to 90999.