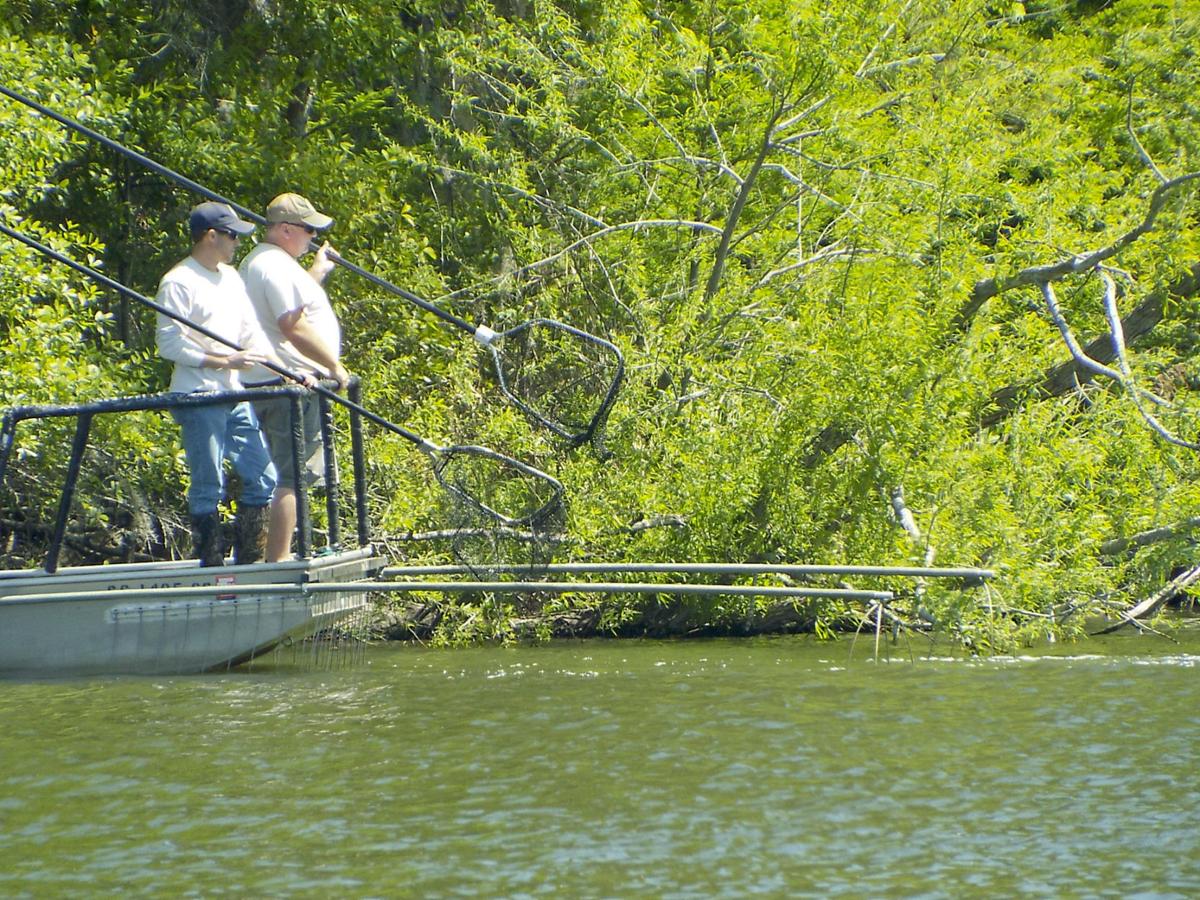 EUTAW SPRINGS - South Carolina Department of Natural Resources personnel launched a special boat from the DNR station in Eutaw Springs one day recently on a mission to survey the largemouth bass populations in Lakes Marion and Moultrie.
The boat was mounted with specialized equipment that discharged electrical current into the water to stun the fish so they could be collected, weighed and measured and then released back into the lakes. 
"'Electrofishing' is one tool that our fisheries' biologists use to survey and manage fish populations," said David Lucas, regional SCDNR media relations coordinator for the Lowcountry and the Pee Dee. "I spoke with SCDNR Regional Fisheries Coordinator Scott Lamprecht (who said) the electrofishing in Bell's Cove ... was part of an annual survey of (largemouth) bass in Marion and Moultrie."
According to the SCDNR website, the current protocol calls for sampling in the spring when the surface water temperature is between 59 and 68 degrees F. That's when bass move into shallow, near-shore areas to spawn. 
Lucas said nine locations in Lake Moultrie and 12 in Lake Marion were sampled this spring. The largest fish taken during the sampling was in Bell's Cove at 8 pounds, he said.
"Scott advised that while the number of fish sampled in Bell's Cove puts that spot slightly below the average of all the ... sites sampled, overall the fishery appears to be in good shape this spring based on an early look at the data from the total sample compared with years past," Lucas said, adding, however, that all of the data had not yet been studied.
"So, 2018 looks to be an above average year (looking at the last 15 for comparison). Overall, the (largemouth) bass population in the lakes looks to be in pretty good abundance," he said, noting that sampling was not done of the striped bass population.
SCDNR's Freshwater Fishery section started the standardized sampling protocol for largemouth bass in South Carolina reservoirs in 1997. Its purpose is to ensure consistency in data collections within and between years so that results can be compared. This work enables staff to evaluate the condition and status of bass populations within reservoirs, track changes that may occur and recommend appropriate actions to enhance fishing prospects for anglers. The standardized sampling plan was adjusted in 2001 to make it more efficient and effective. Those interested in the details of the sampling plan can find more information online at http://www.dnr.sc.gov/fish/fwfi/files/2001_annual_report.doc.
Get local news delivered to your inbox!
Subscribe to our Daily Headlines newsletter.