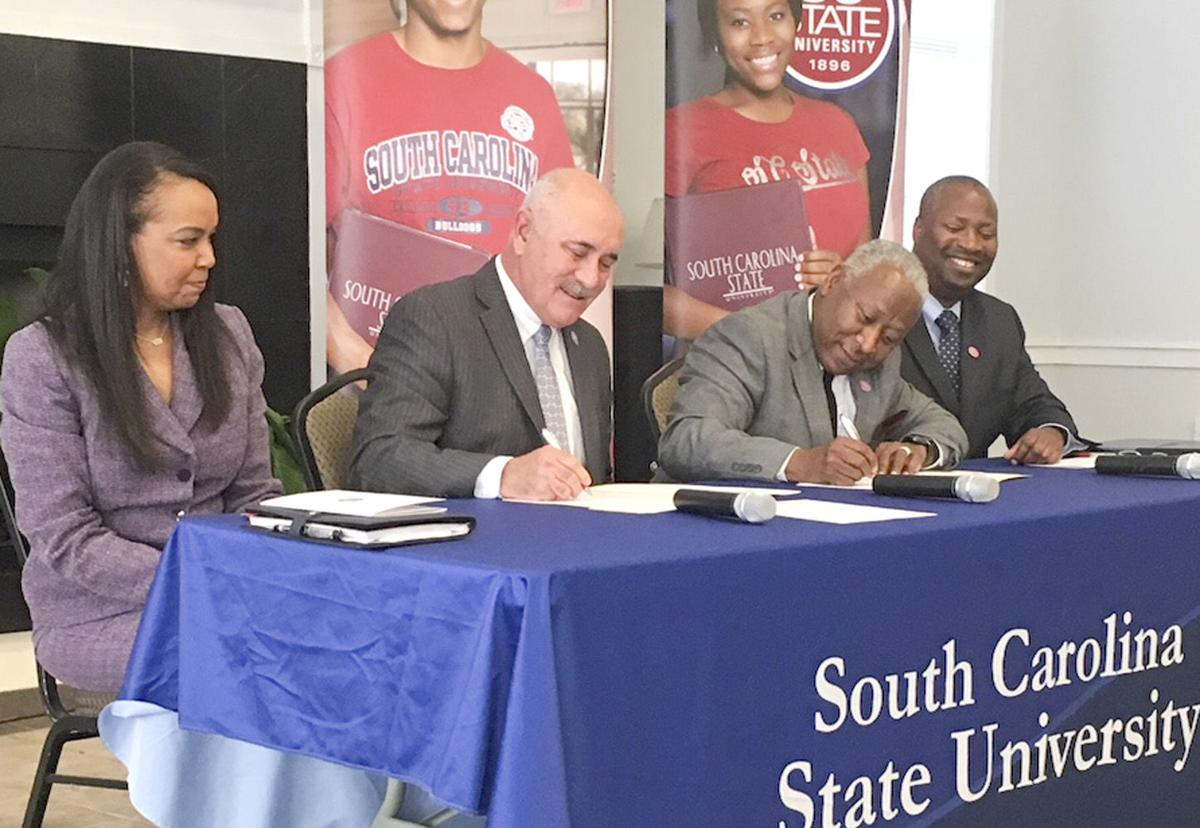 South Carolina State University and the S.C. Technical College System on Tuesday signed a memorandum of understanding that will allow students who take classes at any of the state's 16 technical colleges to transfer to S.C.State to participate in its baccalaureate program.
S.C. currently partners with several of the state's technical colleges, including Piedmont Technical College, Midlands Technical College and Denmark Technical College, but Tuesday's signing sealed its collaboration with the entire technical college system.
The MOU signing was held in the President's State Room on the S.C. State campus and included comments from Dr. Tim Hardee, president of the S.C. Technical College System.
"While we may have a great concept and a great idea, that only happens when you have a good partner. I just want to express my appreciation to the administration here at South Carolina State University. We can be willing to partner, but it takes two to dance," Hardee said.
"We appreciate the fact that you see this as a great partnership for both of us. We look forward to continuing and expanding on this in the future," he added.
Under the agreement, students from the state's technical college system can transfer to S.C. State to complete a bachelor's degree in the following programs: nuclear engineering; speech pathology; biology; music merchandising; psychology; mechanical engineering technology; electrical engineering technology and industrial engineering.
Other degree programs include: business; accounting; marketing; special education; elementary education; social work; history; criminal justice; political science; early childhood education; child development; English and middle-level education.
Hardee said the partnership is about making college access easier and more affordable in a comprehensive way, and he praised S.C. State President James E. Clark's leadership in making the agreement a reality.
"We'll have over 75,000 students across our 16 technical college system that we will be serving when the spring semester starts. President Clark is looking at that as, 'How do I pull some of those best students from 16 technical colleges to come to South Carolina State University?'" he said.
"And that is what I will call a gold mine of opportunity for South Carolina State. What we're doing today is providing access to those students. Not only does it benefit South Carolina State University, but the reality is it provides those individual students access to more opportunities," Hardee said.
Clark said the university has made an ardent push to diversify its population as it seeks to increase enrollment. He said the agreement with the S.C. Technical College System will provide a valuable pool of transfer students to help the university continue its reversal of declining enrollment.
"Today we're concluding an effort that reaches out to the entire technical college system in South Carolina ... . It is important for us to provide this access, the accessibility and the affordability to the students and families in the state of South Carolina. This is a win-win situation, I believe, because all partnerships should be win-win," Clark said, noting that the agreement provides students with a "frictionless path to the next level of degree."
"It provides to us the opportunity to get access to some of the best and brightest. The students that come to us after doing two years at the technical college system, they're focused, they're mature, they tend to know what they want out of life," he added. "They focus on their education; they tend to graduate sooner with higher grade point averages. And we see this as a major win for everyone in the state."
Dr. Hope Rivers, executive vice president of the S.C. Technical College System, said, "It is about access, particularly for students who may not recognize that they can, too, be part of this system, that they can, too, be part of this entire higher education thing. And they don't understand what that means, but that's the role that we play, me and others across the state."
Rivers thanked her staff for their efforts to make the memorandum of understanding come to fruition.
Clark said the agreement ties in with the university's strategic plan to diversify its population, including with transfer students.
"This is one of those critical buckets, or cohorts of students, that we're looking forward to receiving. As we look back over the last couple of years, we had eight years of declining enrollment. But ... each of the three falls that I've been here, we've actually had increasing enrollment for the first time in eight years," the S.C. State president said.
"A good component of that has been the transfer students from the technical colleges. And we anticipate that that will continue to be critical to our existence going forward. It's critical to our existence in terms of increasing enrollment, but it's also critical in terms of the type of student, the focused student that's coming."
Clark added, "I think it will keep us sharp because we'll be bringing in students who have had educational experience from 16 different places. So the high expectations that they will have, that rising tide will help lift our boat as well."
The president said "students are not just going to show up" and that partnerships must be sought.
"We have to go to the technical colleges. We have to be there. We have to share what our offerings are. We have to make them aware of what our unique offerings are and what the opportunity is for (students) to come to S.C. State versus going somewhere else," Clark said.
"So we have to go and win them one at a time, and that's what we plan to do."