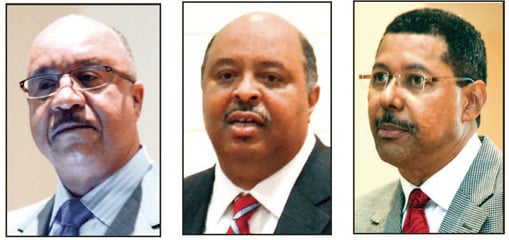 A South Carolina State University alumnus has asked the state Supreme Court to stop trustees from selecting a new president today.
Board Vice Chairman Robert Waldrep, an attorney, doesn't think the court will intervene.
"I think it would be extremely unlikely that the court would interfere with a political process unless they're able to determine that there is some violation of a statute or some unassailable accusation of fraud," he said.
University trustees are expected to gather at 9 a.m. today in the third floor board room of Lowman Hall and select a new president.
The finalists are Thomas J. Elzey, executive vice president for finance, administration and operations at The Citadel; Dr. E. Newton Jackson, associate provost and associate vice president for academic affairs at the University of North Florida and Dr. Leonard McIntyre, interim dean of the College of Education, Humanities and Social Sciences at S.C. State.
On Wednesday, alumnus Christopher W. Johnson filed a $6 million claim against the six members of the S.C. State board who voted to continue the presidential search, saying he is acting on behalf of students, taxpayers and the majority of alumni.
Johnson said the board has not served the students and university stakeholders, but is following its own agenda.
In his filing to the S.C. Supreme Court, Johnson wrote, "If there are Board of Trustee members who reconsider their position and vote to keep (interim President Dr. Cynthia) Warrick on as president of South Carolina State University, those members will be removed from this lawsuit because they are trying to serve the people which is what the Board was elected to do."
He says if he wins the lawsuit, the money should go back to S.C. State.
The university's attorney and several board members say they've heard nothing from the court, and they plan to move ahead with the vote as planned.
Attorney Peters Wilborn said he had no comment on the case. However, he noted that the university has not been served with any papers.
Waldrep said he will follow through with the election.
"I would have to have a restraining order in my hand," he said. "Then, of course, I would submit to the will of the justices."
Board Chair Dr. Walter L. Tobin said, "Right now, the plans are to follow through with the vote."
Tobin said he doesn't have a comment about the lawsuit because "I don't know anything about it."
In March, the board split 6-5 on whether to hold off on the search and let Warrick continue acting as president. Tobin, Maurice Washington, Bob Waldrep, Dennis Nielsen, Jackie Epps and Gail Joyner-Fleming favored continuing the search while Dr. John Corbitt, Linda Edwards-Duncan, Patricia Lott, Anthony Grant and Robert Nance opposed it.
Several people, including members of the state's Joint Legislative Screening Committee, have asked trustees to delay selecting a president at least until the General Assembly elects new board members. Some alumni and students have also expressed support for Warrick, who was not named a finalist in the presidential search.
The election of trustees to the S.C. State board, and other public colleges and universities, has been moved from May 7 to May 1. Legislators will choose six members from a slate of 15 candidates. Tobin, Washington, Epps and Edwards-Duncan are up for re-election.