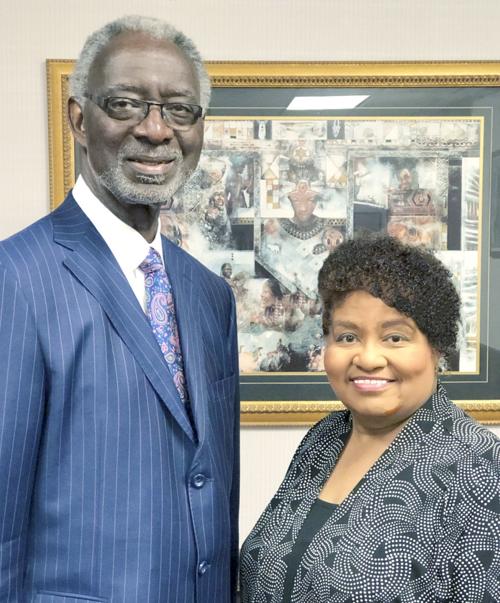 OCAB Community Action Agency personnel were recognized recently at the joint mid-fall state conference of the South Carolina Community Action Partnership and South Carolina State Head Start Association in Myrtle Beach.
OCAB Executive Director Calvin Wright was among several current and former community action board of directors members, executive directors, federal officials and agency program staff to be named "Waypavers." The Waypavers were honored for their years of dedicated service to local community action agencies across the state and for their contributions to the development of the community action movement.
Janice E. McCollom, was honored for earning the national professional credential of "Certified Community Action Professional" (CCAP). McCollom was one of three candidates in the state in 2019 to meet CCAP certification requirements. These include documentation of educational, professional, training and leadership experience; development of an extensive project portfolio reflecting the application of community action's values and standards; and a rigorous knowledge exam that tests candidates' understanding of the historical and contemporary forces that shape the work of community action.
Established by the Economic Opportunity Act of 1964 to fight President Lyndon Johnson's "War on Poverty," Community Action Agencies (CAAs) are nonprofit private and public organizations that help people to help themselves achieve self-sufficiency. Guided by the principle of "maximum feasible participation," Community Action boards are tripartite, with representation by public officials, the private sector, and the poor themselves. All sectors of the community are involved in program planning, evaluation and coordination.
Using his voice as an advocate for disadvantaged and underserved citizens, Wright has been responsible for initiatives in the areas of affordable housing, economic and workforce development, health care access and disease prevention, energy assistance, emergency and natural disaster relief, youth development, homelessness, public-private partnerships, education, and more. One of Wright's proudest accomplishments is the $6.5 million state-of-the-art Orangeburg Head Start Center, which opened its doors to 290 children in 2015. In addition, an advanced Technology Training Center was constructed on the agency's 52-acre Willington Road property in 2007, and the Ujima Village Apartments for the low income elderly opened in 1998.
McCollom, whose roles at the agency include planning and program development, risk assessment, policy development, procurement, compliance, and public relations, was motivated to attain the CCAP credential because of her varied experiences in the world of nonprofits. She views earning the professional designation not only as a validation of professional competence in a broad range of administrative and programmatic functions, but as an opportunity to help ensure that the vision and values of community action are sustained into the future.
For more information about OCAB and its services, call 803-536-1027 or visit the Calvin Wright Center, 1822 Joe S. Jeffords Highway, Orangeburg. Or call or visit a Neighborhood Center in Bowman, Neeses, St. Matthews, Bamberg (when announced) or Allendale, Monday through Friday from 8:30 a.m. to 5 p.m.
Get local news delivered to your inbox!
Subscribe to our Daily Headlines newsletter.