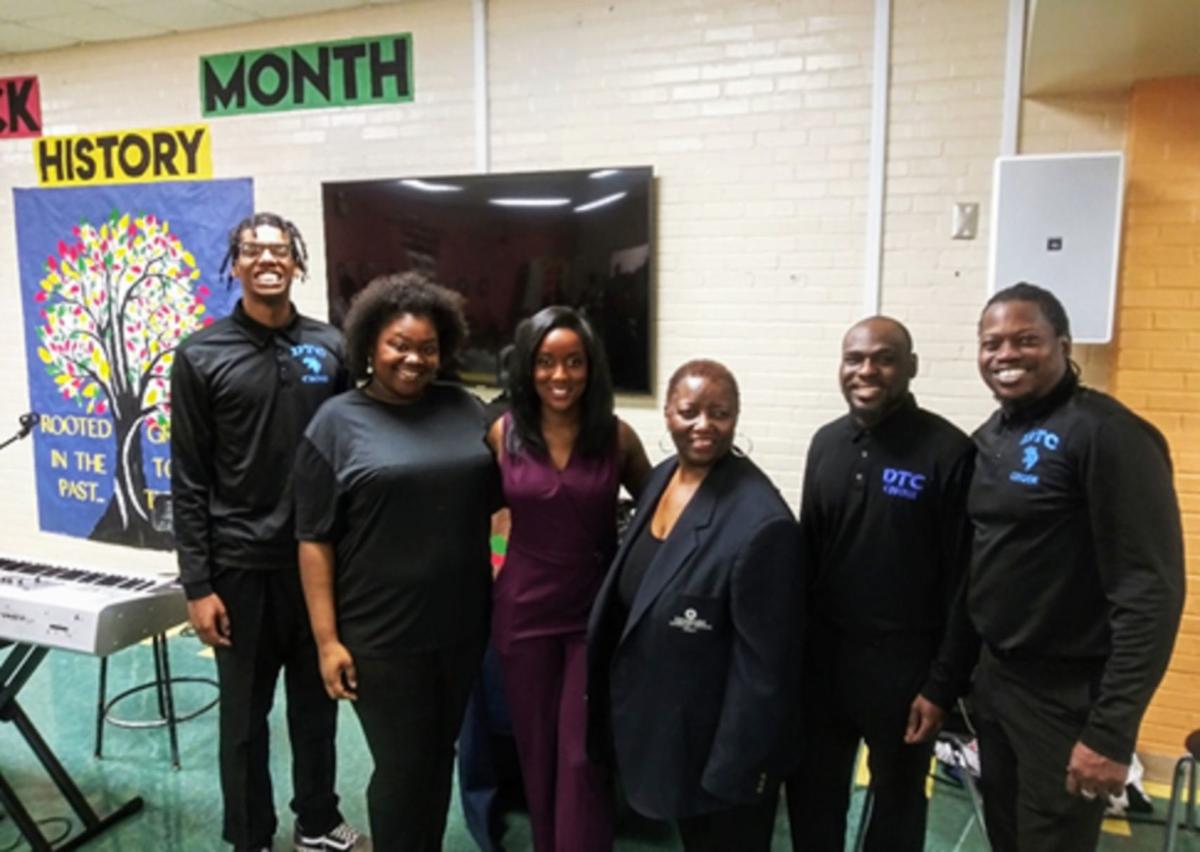 The Denmark Technical College Alumni & Student Ensemble performed African American genres, ranging from Negro spirituals to contemporary gospel to jazz standards to classic R&B, all used to educate, expose, and entertain during Black History Month. The 10 voices, in select groupings, were featured on six Black History Month programs.
Gospel Live was held on Feb. 8 at Midlands Technical College's Harbison Theater. There, the full ensemble joined other choirs from South Carolina historically black colleges and universities to offer an evening of gospel music. Denmark Technical College performed a praise medley of six selections that included "Battle of Jericho," arranged by Moses Hogan; "Anthem of Praise" by Richard Smallwood; and "For Every Mountain" by Kurt Carr. The choristers received high acclaim from the standing-room-only audience. All ensembles ended the rousing evening with mass choir renditions of "Prayer of Jabez (Bless Me)," arranged by Donald Lawrence and "God is Great" by John Lakin.
The Bamberg County Chapter of the National Association for the Advancement of Colored People (NAACP) held its annual Calendar Tea on Feb. 2, at which Denmark Tech's recently named president, Dr. Willie L. Todd Jr., was the speaker. Both vocal and instrumental music were contributed by choir members Ashley Jordan and Velik Davis, respectively. Selections included Tamela Mann's "Take Me to the King," composed by Kirk Franklin, and the traditional civil rights anthem, "We Shall Overcome."
You have free articles remaining.
Jordan and Davis represented the college at two performances on Feb. 27, joined by Myron Brooker and Naviree Johnson. These four members of the Alumni & Student Ensemble joined Director of Choral Activities Dr. Yvette McDaniel to provide the entire Black History Month program for the Bamberg Disabilities and Special Needs Board's clients. McDaniel traced African-American music from the Negro spiritual to present day hip hop, pointing out various uses for major genres. These included songs that signaled escape for the enslaved as well as Motown selections used for presidential campaigns. This 10 a.m. performance was followed by a 1 p.m. performance during Vance-Providence Elementary School's Black History Month program. The speaker for the occasion was Shante Sumpter, news anchor for WACH Fox 57. Brooker, a former teacher at the school, was featured on Donnie McClurkin's "Stand." McClurkin is a South Carolina native and an award-winning gospel legend.
Jordan, Davis, Brooker and Johnson traveled to St. George on Feb. 28. Williams Memorial Elementary School held two Black History Month assembly programs on which Denmark Technical College was featured. At both the 8:30 and 10 a.m. programs, McDaniel gave brief histories of the uses of African American music, and the performers sang and played selections ranging from the Negro spiritual "I've Been 'Buked" to the Motown classic "Signed, Sealed, Delivered." It was a special time for McDaniel, whose father was a music teacher and highly acclaimed choir director at Williams Memorial before and through integration in the 1960s and '70s. Comments were made to the young performers, thanking them for their unique contributions. One community leader stated, "This was a Black History program with substance."
The Denmark Technical College Alumni & Student Ensemble will continue to offer music ranging from Latin Renaissance motets to contemporary gospel and R&B. The unique ensemble serves the college as its official ambassadors. The history of the choral program is rich and these choristers desire to continue its legacy. For further information, contact Dr. Yvette McDaniel at mcdaniely@denmarktech.edu or 803-793-5259.
Get local news delivered to your inbox!
Subscribe to our Daily Headlines newsletter.