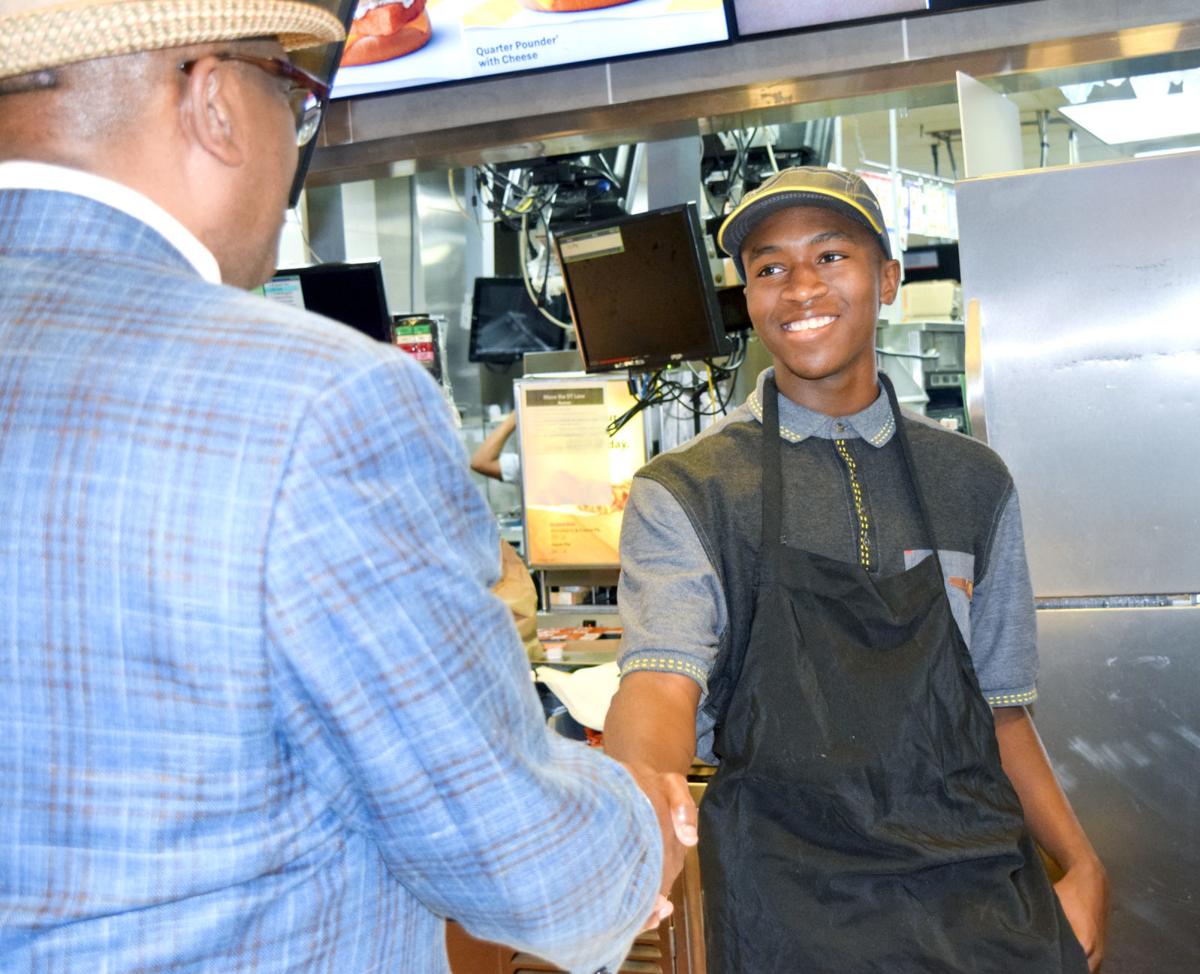 DENMARK – Southern Scholars Initiative Inc. continued the legacy of Denmark natives Dr. Doretha Pressey and Mrs. Clara Mae Coleman by awarding $24,000 total in scholarships this inaugural year to two Denmark-Olar High School students, Larry Sanders and Sheila Serrano-Flores.
Sanders received the Pressey Scholarship for $18,000 to go to college and a plaque at his workplace, McDonald's, on Friday, May 24. Representatives of Southern Scholars Initiative Inc. made the presentation as the entire restaurant applauded. Larry had to work and could not attend the Denmark-Olar High School Senior Night Awards ceremony that evening.
Bre Pressey, executive director of Southern Scholars Initiative Inc. and Dr. Pressey's eldest daughter, stated after the event, "Truth be told, one of the main reasons Larry won the award was because he was the only applicant that managed to work a part-time job, maintain a high GPA and remain involved in extracurricular activities throughout his high school career."
Serrano-Flores received the Coleman Technical Award for $6,000 among other scholarships given out during the awards ceremony Friday evening.
Sanders plans on attending South Carolina State University, and Serrano-Flores plans on attending Aiken Technical College.
"Southern Scholars Initiative Inc.'s most important goal is to honor Dr. Pressey's and Mrs. Coleman's legacies of education, determination, and generosity," Pressey said. "We do this by creating college access, equity, and success for underserved students of color from the rural South."
"My mom passed away in September of 2018, and my grandmother passed away three weeks later in October 2018. We began working on developing the initiative in January 2019," she said.
The late Dr. Pressey, for whom the first scholarship was named, was said to have valued education and always wanted to help people.
"In addition to God and her family, the other great loves of my mother's life were helping those in need and education. Through this scholarship program, we are able to further Dr. Pressey's legacy by merging and shining a light on two of the issues she felt most passionately about and encouraging others to care about and support them as well," Pressey said.
The late Dr. Pressey attended and graduated from the Denmark-Olar Schools and continued her educational journey in the Denmark community by attending and graduating from Voorhees College. After graduating from Voorhees, she worked in the school district as a teacher's aide.
Though not awarded the scholarships, four other applicants -- Amara Tyler, ZayAunna Beard, Sanaa Coleman and Keandra Kearse -- were given $250 gift cards during the awards ceremony to help them pay for the cost of college and dorm room essentials.
Pressey said, "We decided to present these four talented young women with these gift cards because we wanted to express our sincere appreciation to them for taking the time to apply and for making Southern Scholars' inaugural year such a success."
Southern Scholars Initiative Inc. is a charitable organization. To achieve their mission, they will rely on the support of individual donors to help ensure educational equity for all students, including those living in the overlooked and undeserved communities of the rural South.