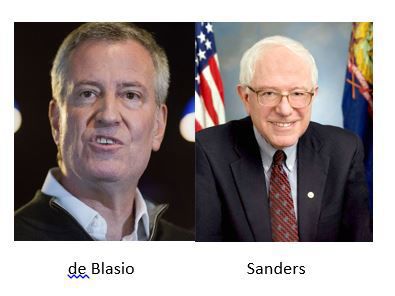 Two Democratic presidential candidates will be returning to Orangeburg.
New York Mayor Bill de Blasio and Sen. Bernie Sanders will be hosting events in the city.
De Blasio will visit Victory Tabernacle Church, where Orangeburg Mayor Michael Butler serves as bishop, to host a meet and greet at 4:30 p.m. Saturday, Sept. 14. Victory Tabernacle is located at 681 Broughton Street.
Butler's church was host to de Blasio and his wife Chirlane McCray for their first visit to Orangeburg, before the NYC mayor declared he was running for president.
De Blasio has since made other visits to Orangeburg and he even picked up his first political endorsement from Butler.
Sanders will be making his stop as a part of a three-day college tour across the Carolinas.
He will host a college town hall event at South Carolina State University at 5 p.m. Saturday, Sept. 21. The event will be held in the Fine Arts Building recital hall.
The event will feature Sanders' National Campaign Co-Chair Sen. Nina Turner and others.
In his previous visit to Orangeburg, Sanders unveiled his K-12 education plan. Sanders also made another stop in The T&D Region, visiting Denmark to address the city's water issues.
Both events are free and open to the public.