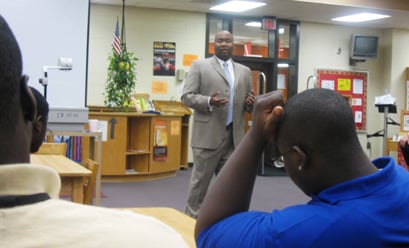 To briefly escape the fast pace of Capitol Hill, Jaime Harrison decided to return to the place where his rise first began: Orangeburg-Wilkinson High School.
Now a partner at a D.C.-based lobbying firm and a preferred guest on political shows, Harrison recalled times that were more challenging. Growing up in Orangeburg, Harrison's life was light years away from boardroom meetings or dinners at trendy Washington restaurants.
But his mother, Patricia Stewart, and grandparents, the late William Harrison and Jimmie Lou, drove home the idea that education was the key to success. Harrison listened.
While at O-W, he served as vice president of the student body and president of its honor society. He went on to graduate from Yale University and Georgetown University School of Law.
"I know what it is like to grow up in a small community, to have financial struggles. It gives me an even greater appreciation. I wouldn't trade my life in Orangeburg for anything," he said.
Harrison's formative years here shaped his perspective on the political landscape. As the mudslinging on the Hill reaches an all-time level of nastiness, he said his focus is on putting aside differences to help people in communities like Orangeburg.
Harrison is a principal at one of Washington's most prominent government relations and lobbying firms, the Podesta Group, which has Google among its clients. But Podesta also represents non-profit organizations such as the Association of Public and Land-Grant Universities, which includes S.C. State and Clemson, a number of environmental groups and United Way Worldwide.
Prior to joining the Podesta Group, Harrison was the executive director of the House Democratic Caucus and later the chief vote counter for U.S. House Majority Whip Jim Clyburn, D-S.C., becoming the first African American to ever hold that title. During that time, the phone numbers of White House officials and House Speaker Nancy Pelosi were often displayed on his caller ID.
Unfortunately, Harrison notes the climate in the nation's capital is becoming hostile. That is making it an uphill battle on the Hill to positively impact the nation, he said.
"It is really bad right now. ... In Congress, there are few people that you can really refer to as true statesman -- people who can put aside their differences to really come up with policies that improve this country. Many would rather score political points than deal with issues Americans are facing," Harrison said.
He says the fear-mongering and labeling of President Obama as a socialist is a form of modern-day McCarthyism.
Harrison took a day recently to get away from the Hill's fierce battles and give something back by talking to students at O-W. It was the first time Harrison had been at his alma mater since 2000, when he taught social studies there for one year before being recruited to work for Clyburn.
He said the experiences O-W students are facing are much like his own. Like many teenagers, Harrison came from a working-class family and was a first-generation college student raised by a young mother.
Harrison told the students to choose a career they are passionate about and to focus on the long-term implications on their decisions. It was the same advice his teachers at O-W gave him when he was a student.
Above all, Harrison told his young audience to believe in themselves. Harrison is proof that advice is solid.
"If I didn't have confidence in myself, then nobody would have confidence me," he said.