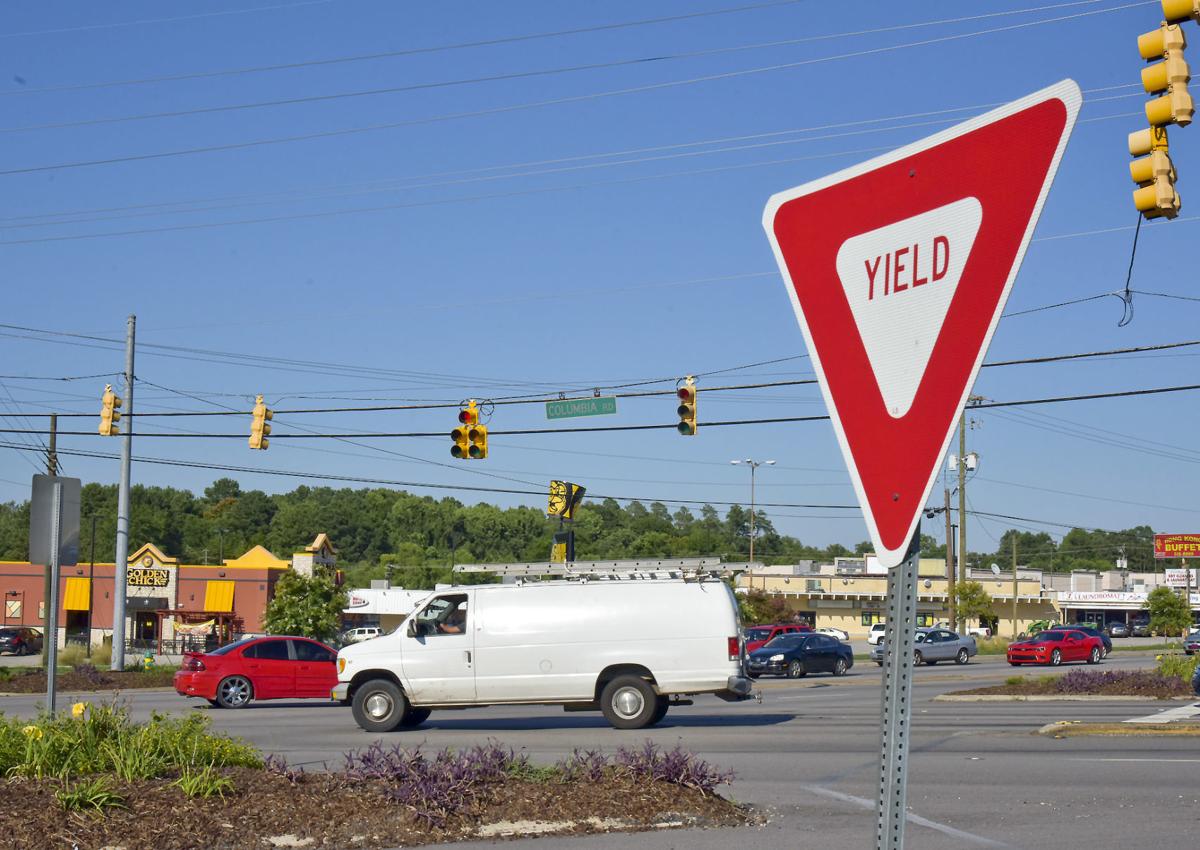 The intersection of Columbia Road and Chestnut Street in Orangeburg is notorious.
It consistently ranks among the most dangerous intersections in Orangeburg County. S.C. Department of Public Safety data for the past three years shows it is living up to its reputation.
Over the three-year period – from 2016 to 2018 -- there have been a total of 88 collisions at the intersection resulting in 48 injuries. There were no fatalities during the time period.
Traffic studies resulted in guide and warning sign upgrades, traffic signal head additions and traffic signal timing improvements.
But S.C. Highway Patrol Capt. Kelley Hughes says traffic accidents are typically not the fault of a particular intersection.
"Please keep in mind that most, if not all, of the time it's not the road or intersection that makes it dangerous but the drivers themselves," Hughes said.
Even so, the S.C. Department of Transportation reports the intersection is set to receive additional traffic signal upgrades this year. An exact date has not been determined for the work.
While the intersection sees its fair share of car crashes, it is not the worst in Orangeburg County.
That dubious honor belongs to the intersection of Interstate 95 and Interstate 26.
Over the same three-year period, there have been 101 total collisions. One person was killed and 35 people were injured.
There are no safety upgrades planned at the interchange.
The third-most dangerous intersection in the county is Magnolia Street and John C. Calhoun Drive. SCDOT is planning upgrades to the traffic signals as part of its operational and safety program.
The fourth-most dangerous is Magnolia Street and Chestnut Street. There are no plans in place to upgrade this intersection.
The fifth is North Road and Willington Road. There are no plans on the part of SCDOT to enhance the safety of the intersection.
In Calhoun County, the most dangerous intersection over the past three years has been the I-26 and Old Sandy Run Road intersection.
About 44 collisions have occurred at this intersection. While there have been no fatalities, 23 people have been injured.
In Bamberg County, the intersection of Country Club Road and Guess Drive is the most dangerous intersection. Over the three-year span, it saw nine collisions and 13 people injured. There have been no fatalities at the intersection.
SCHP Trooper 1st Class Tyler Tidwell noted a high number of crashes correlate to traffic volume at an intersection. He says there are common reasons why accidents occur.
"Sometimes people might run the red light or they might rear-end the vehicle in front of them," he said.
There are ways to avoid becoming a victim.
"Say your light is red and getting ready to turn green," he said. "Before you proceed, make sure you look both ways to make sure someone does not run the light. Make sure there are no emergency vehicles coming through. Generally, just look out for other vehicles. Watch out for pedestrians also."
Distracted drivers are also a cause of a number of accidents. Tidwell reminds all motorists to not text and drive.
Get local news delivered to your inbox!
Subscribe to our Daily Headlines newsletter.