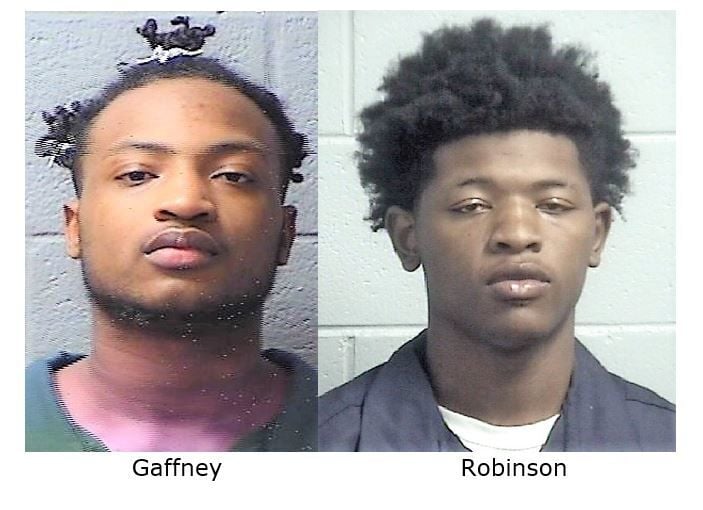 Two more men have been arrested in connection with separate shooting incidents that occurred last week, according to Orangeburg County Sheriff Leroy Ravenell.
"By their actions, they seem to think they are above the law or that it doesn't apply to them," Ravenell said. "For endangering the lives of my deputies and that of the citizens of this community, we've got some hard lessons they're about to learn and we don't mind giving them years to learn these lessons."
Tyrick Gaffney, 21, is charged with three counts of attempted murder and also an enhancement of an attempted murder charge, criminal conspiracy and two counts of possession of a weapon during a violent crime in two different shooting incidents.
Dion Robinson, 18, is charged with 15 counts of attempted murder in two different shooting incidents.
In Robinson's charges, 14 of the 15 attempted murder charges come from an incident involving a Graham Street home.
Someone shot at the Graham Street home on the evening of Sept. 6. Multiple occupants were inside.
About an hour later, residents at another Graham Street home reported their home was shot at, which accounts for Robinson's 15th charge of attempted murder.
Gaffney's initial charge stems from a Sept. 7 shooting in which residents at a Brookdale Drive home reported someone fired at their residence.
About 30 minutes after the Brookdale Drive shooting, Orangeburg County Sheriff's deputies patrolling Magnolia Street attempted to stop a black Infiniti matching the description of a vehicle in one of the previous shooting incidents.
Someone inside the Infiniti began firing at the pursuing deputies, according to the sheriff's office.
The vehicle turned into Roosevelt Gardens Apartments where the occupants abandoned the Infiniti.
A tip led deputies to a vacant apartment. A semi-automatic rifle was found.
Gaffney and Robinson were taken into custody this week.
Two others were arrested last week in connection with the Graham Street shootings. Two people were wounded in those shootings.
"Along with the weapons seized and having taken these suspects off the streets, we've removed a lot of lawlessness from our community," Ravenell said. "These individuals have shown they don't care about you, me, my deputies or even themselves for that matter."
Bond was denied for both Gaffney and Robinson during a hearing on Tuesday.
Sign up for our Crime & Courts newsletter
Get the latest in local public safety news with this weekly email.