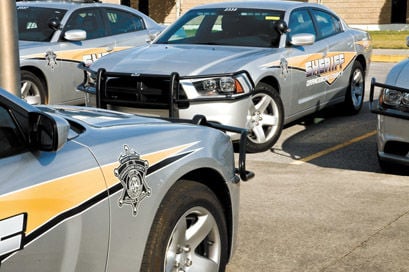 Orangeburg County Sheriff's Office
Someone stole a Cross truck driver's big rig while he was inside a convenience store.
The driver called law enforcement at 10:22 p.m. Sunday from the Hot Spot gas station, located at 12340 Old Number Six Highway in Eutawville.
He said he fueled up his 2009 Peterbilt 18-wheeler and went inside the store.
He exited the business about 20 minutes later and discovered his truck and attached trailer were no longer at the fuel pump.
A deputy noted in the incident report he could, "see tire marks in the dirt where a truck seemed to have left in a hurry."
The driver described the silver-colored, drop bed trailer as holding a load of $40,000 in metal. The trailer measures 53 feet and has a Pennsylvania license plate.
The deputy noted he'd transfer the case to the Eutawville Police Department because it happened in its jurisdiction.
The total value of all that was stolen is $150,000.
• A S.C. State University police officer reported Sunday that someone shattered the front passenger window of his 2017 Ford Taurus patrol cruiser. The incident occurred on Chitwood Street.
The officer told the deputy that nothing was missing from the vehicle.
Damage to the vehicle is estimated at $500.
• An Orangeburg man reported Sunday morning that someone stole his 2018 orange, black and grey Sola moped, which he'd parked on the side of his Fourth Street residence.
The moped is valued at $2,000.
• A Holly Hill woman spotted someone going through her car.
The woman said she dropping off her child at Holly Hill Academy, located at 142 Bunch Ford Road, on Friday morning.
When she returned to her 2018 Mazda CX-5, she noticed an unknown man inside her vehicle. He appeared to be looking through various compartments, the report states.
She screamed at the man to get out of her vehicle, the report states.
She said the man turned his back so she couldn't see his face.
He walked toward Bunch Ford Road and got into a white Mercedes Benz that drove up to him, the report said. The Mercedes took off.
The woman said nothing was missing from her vehicle.
Orangeburg Department of Public Safety
An Orangeburg man reported someone took his moped from outside of a Waring Street residence.
He told an officer that he parked his moped there around 1 a.m. Saturday and left the keys in the ignition.
Around 1:20 a.m., the man went to retrieve his moped and realized it was no longer there.
The moped is valued at $1,800.
Sign up for our Crime & Courts newsletter
Get the latest in local public safety news with this weekly email.