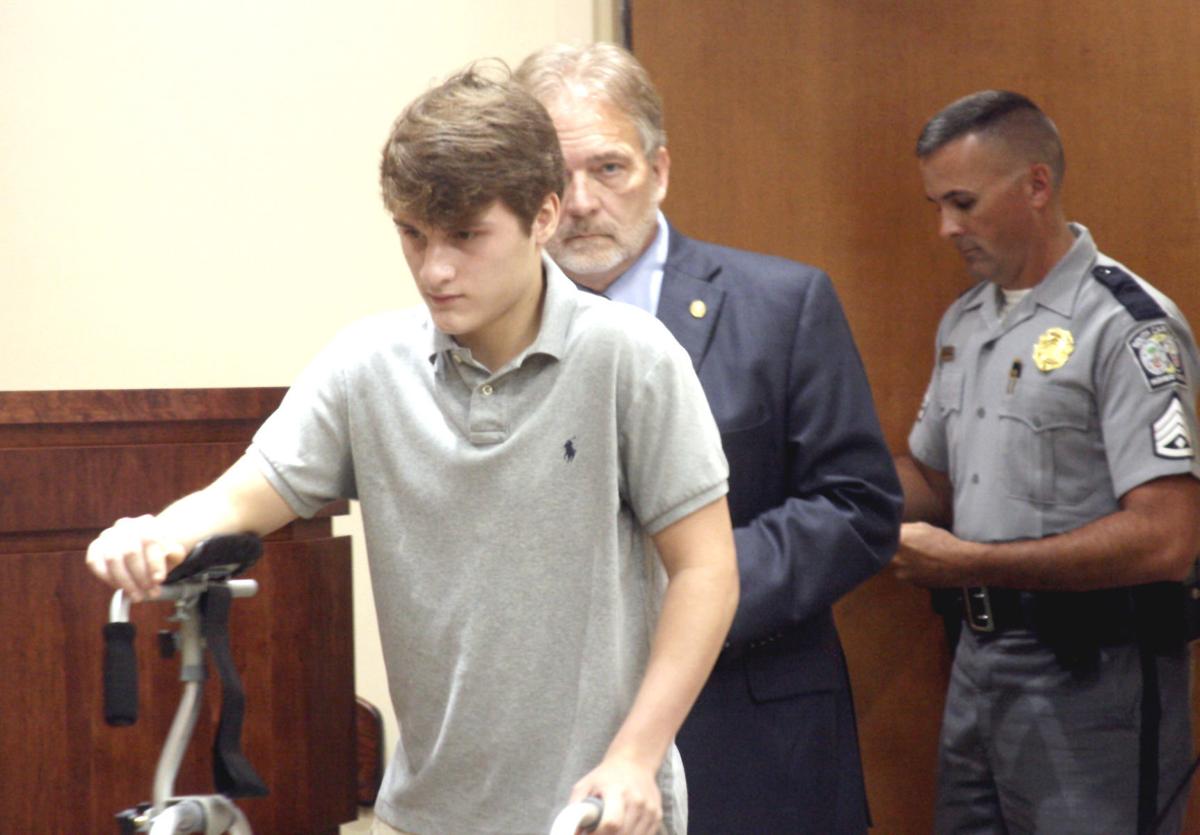 Struggling to get around on a walker due to an apparent leg injury, a Barnwell teenager appeared in court Monday to face allegations that his actions killed one friend and injured two others in Ehrhardt.
Brian Michael Gibson, 17, of 144 North Clemson Drive, is charged with one count of felony driving under the influence resulting in death and two counts of felony DUI resulting in great bodily injury.
He's accused of being under the influence of alcohol when he drove a 2005 Chevrolet Avalanche on July 14.
Gibson allegedly ran off the right side of the road and struck a warehouse on Ehrhardt Road near Washington Street around 4 a.m., South Carolina Highway Patrol Lance Cpl. Matt Southern said.
There were four other occupants in the vehicle.
Matthew Steven Renew, 18, died as a result of the crash.
Stephanie Renew spoke of her son after Monday's bond hearing.
"He was outgoing, he loved his brother, he loved his family, he was excited about the future," she said as tears trickled down her cheeks.
He'd graduated from Barnwell High School on June 1 and had aspirations of joining the Navy or pursuing a degree in electronics.
"He loved his job, he loved getting a paycheck, he loved his truck," his mother said.
"You can have fun without putting everybody at risk, and if you're driving a vehicle and drinking, stop. Let somebody else drive. Call for help," she said.
The situation is "sad all the way around," Rep. Justin Bamberg said. He's the attorney for two of the passengers in the vehicle: 18-year-old Luke Pickering and 20-year-old Brittin Ray.
"Unfortunately, they all knew each other. One of Brian's friends is no longer here and he's going to have to live with that forever. Everybody's going to have to live with that," Bamberg said.
He said Pickering suffered 20 broken bones and has a brain injury.
Ray broke her neck and arm and also has scrapes and bruises from the accident, he said.
Penny McGahan, Pickering's mother, said, "I'm thankful my son's alive. I really hope everybody learns something from this. This is serious. My son's still in the hospital. I've been home three times in 30 days."
Bamberg County Magistrate R. Craig Threatt said during Monday's hearing, "It's sad business that any of us have to be here at all."
Sen. Brad Hutto, Gibson's attorney, said, "It's a terrible tragedy for all of us."
He said Gibson is a rising senior at Barnwell High School. He just turned 17 on Sunday.
Even though he was 16 at the time of the accident, he's being charged as an adult.
SCHP First Sgt. Curtis Burns said, "We've been in touch with the solicitor's office and due to the penalty, he will be tried as an adult."
Threatt set Gibson's bond at $25,000 on his personal recognizance.
As part of the conditions of his bond, Threatt stipulated that Gibson is not to operate a motor vehicle in the state of South Carolina until further notice from the Department of Motor Vehicles.
He placed Gibson under house arrest, without GPS monitoring, allowing him only to go to school, appointments for medical care and church.
Bamberg said he's investigating the possibility that a Barnwell gas station sold alcohol to one of the vehicle's occupants prior to the accident.
"It appears as though one of the individuals in the vehicle was sold alcohol by a store in Barnwell and we're still working to get in under all of that," Bamberg said.
Everyone in the vehicle was under age 21, the legal age in the Palmetto State to lawfully purchase alcohol.
"What starts as a fun night can change the course of a life," Bamberg said.
If convicted of felony DUI resulting in death, Gibson faces up to 25 years in prison and a fine of up to $25,100.
If convicted of DUI resulting in great bodily injury, Gibson faces up to 15 years in prison and a fine of up to $10,100 on each charge.