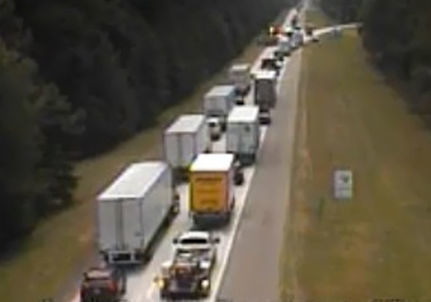 A man suspected of robbing two gas stations and attempting to rob a bank on Wednesday morning is dead.
A motorcyclist died after crashing into a pickup truck on Interstate 95 in Colleton County, according to Lance Cpl. Matt Southern of the S.C. Highway Patrol. He was not wearing a helmet.
Holly Hill Police Chief Josh Detter said the 24-year-old man is a suspect in the robbery of the Marathon gas station on Old State Road at 10:15 a.m.
The robber slipped the clerk a note demanding cash and the clerk complied.
The same man is suspected of attempting to enter Farmers and Merchants Bank, also on Old State Road. He didn't make it past the second set of security doors and fled.
You have free articles remaining.
Major Rene Williams, of the Orangeburg County Sheriff's Office, said the same man is the suspect in the robbery of Hutto Food Market gas station just off I-95 in the Providence community.
Law enforcement officers chased the suspect through Orangeburg and Dorchester counties before he crashed in Colleton County.
Southern said the crash happened at 11:55 a.m. at mile marker 62 on I-95 southbound.
The suspected robber was operating a 2017 Suzuki motorcycle and crashed in to the left rear of a 2015 Chevrolet pickup. The driver of the pickup was wearing a seatbelt and was not injured, Southern said.
When the collision occurred, the robber ran off the road and was thrown from his motorcycle.
He was airlifted to Colleton Medical Center where he succumbed to his injuries, Southern said.
The collision remains under investigation.