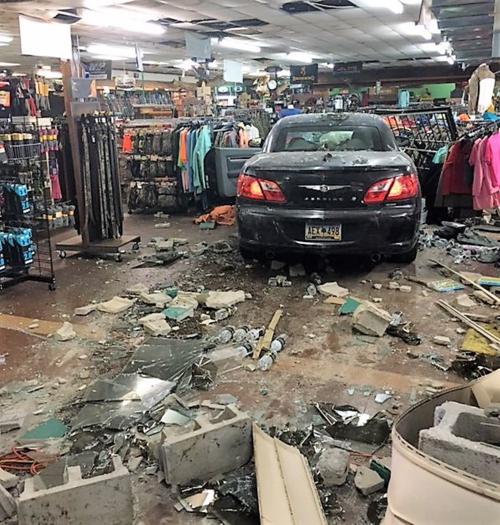 Someone drove a stolen vehicle through an Orangeburg store's wall and stole firearms early Monday morning.
The theft occurred just hours after incidents at the Prince of Orange Mall and Orangeburg Mall.
Investigators don't believe the incidents are related, Orangeburg Department of Public Safety Capt. Alfred Alexander said.
The alarm at Woody's Pawn and Jewelry, located at 898 Russell Street, activated at around 2:30 a.m., owner Chan Holman said.
He and his wife arrived at the store to find a black Chrysler Sebring had been driven through a wall and into the store. The vehicle was stolen from Martin's Auto Electric last Wednesday.
Part of a wall and merchandise were destroyed. A preliminary estimate of the damage is $15,000.
Holman noted Monday he's not certain how many firearms were taken because inventory hasn't been completed.
Holman said he and his wife spent Monday morning cleaning up the mess of the crumbled wall, scattered inventory and other debris.
An agent from the Bureau of Alcohol, Tobacco, Firearms and Explosives has been at the scene to collect information about the stolen weapons.
In addition to public safety officers and the ATF, the S.C. Highway Patrol and Orangeburg County Sheriff's Office responded to assist at the scene.
The case remains under investigation.
A vehicle has crashed into the business before, Holman said. In 1994, someone drove a vehicle through a wall and stole firearms.
He said those firearms were never recovered.
There were two other incidents involving local businesses in the hours before the Woody's Pawn Shop incident.
The first incident happened on Sunday night at the Prince of Orange Mall, located at 2390 Chestnut Street.
A prayer vigil was held in the parking lot of the mall's main entrance at about 9 p.m. When it was over, someone shattered two of the mall's main entrance doors and damaged a door to the T-Mobile store, according ODPS Lt. Col. Ed Conner.
He noted that it appears someone got inside of the mall and damaged a sign or two. The stores inside of the mall were secured.
Organizers of the vigil said the vandal was not associated with their group. Conner said it appeared someone took advantage of the situation.
Just before 10:30 p.m., an activated alarm caused officers to check on SMS Sportsworld at 1100 Orangeburg Mall Circle.
Officers saw one panel of glass shattered to one of the front doors.
A shoebox with a red New Balance sneaker was on the ground by the door, an incident report states.
An officer noted, "The store was found to be empty and several shoeboxes were scattered on the floor in the back room," according to the report.
Once the manager arrived, he told police that he couldn't say if anything was actually missing.
Both of those cases remain under investigation.